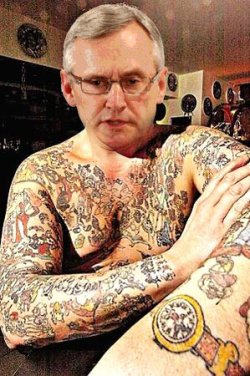 MUST CREDIT ELEVENDUB REPORT.
After submitting an Everybody-Gets-To-View-Your-Skeletons-Cuz-You're-A-Public-Employee Form that we found on LegalZoom.com (I guess years of annoying advertising on sportstalk radio finally paid off), we've uncovered even more forwarded Christopher Cicero emails from what appears to be a highly confused, concerned and Outlook-deficient Coach Tressel.
Clearly, he was confused if forwarding the attorney's emails to Pryor's "uncle Ted" Sarniak seemed like a good idea. Timestamps on the subsequent freshly discovered emails show that after making the ridiculous knee-jerk decision to inform Sarniak, Tressel did attempt to wise up and go into recovery mode but his fear-induced keystrokes illustrate what was a semi-desperate man faced with the predicament of scandal and the reality that he sucks at Outlook.
Just two minutes after forwarding the timebomb to Sarniak, Tressel attempted to fire off an email to Winston Wolf. After all, he wrote, he needed a problem solver. The Vest seemingly surmised The Wolf was probably real even if he only knew of him from a Tarantino movie that he had to watch in secret from Ellen and that The Wolf must be a quality guy, he drove an Acura.
Unfortunately, Tressel didn't select the correct "Wolf" from his Outlook Contacts and instead forwarded his email to Insanity Wolf (NSFW). Unaware of the full scope of the situation but a long time hater of the NCAA, Insanity Wolf's reply was as succinct as you'd expect, "KILL NCAA. SNORT ASHES. DANCE HARD TECHNO."
Seemingly scared straight by Insanity Wolf's retort, records show Tressel finally decided to sack up and forward the emails to his boss, Gene Smith, some eight minutes later. Again, Tressel showed nay Outlook prowess, dialed up "Smith" in his contacts and unwittingly forwarded the lightning rod emails to "Gene Smith", he of Elk City Chevrolet in Oklahoma. Expecting an immediate response from the AD that things would be taken over from there, Tressel instead was offered 0% financing for 72 months and $0 down on a 2009 GMC Sierra 3500HD Crew Cab Long Box 2-Wheel Drive Work Truck. Talk about a bad day getting worse.
Finally, completely defeated by the gravity of the situation described in Cicero's emails and his own despicable inability to massage his Outlook like a three point 4th quarter lead, Tressel turned to the one superfan he knew he could count on most. With his inbox already 40% full of messages from said superfan, Tressel easily, accurately and swiftly sorted his "From" field by the letter "P". He thought to himself, "there she is, PAM" as he pressed the "Forward" button. He wasn't sure she could help but at least he knew she'd have his back. Sure enough, records show she responded in 2.2 seconds. Indicating she'd always have his front (Freudian Slip, we assume), Pam responded simply, "I love you, James Patrick Tressel."
Hopefully, the NCAA loves him, too. (P.S. You know I love you, Pam)