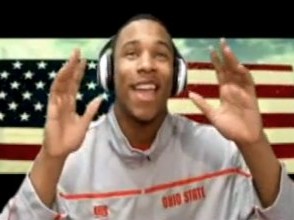 Good news: The Buckeyes rebounded from their first loss of the season to move to 25-1 after handling Michigan State in front of a sellout home crowd.
Better news: OSU now has a 2.5 game lead over the only two teams capable of catching up in the Big Ten standings and those two meet tonight. Right now, the magic number is four with upcoming games against both Purdue (road) and Wisconsin (home).
Bestest news: Satch Sullinger told Dave Biddle that Jared would be returning for his sophomore season.
Word that he might opt to return for a second year has been out there for a while and last Friday, ESPN's Chad Ford, citing a source close to Sully, said the big man was concerned about a potential lockout in the NBA and wanted to stick around anyway. But hearing it from his father takes things from the "hope for the best, expect the letdown" realm to "excuse me while I swap start tallying next season's wins."
With comparisons to Kevin Love ($) accompanying talk of going first overall in the draft, it won't be easy to turn down all of that coin, but Jared is clearly soaking up the college experience and he does not need the money right away to support his family like many other players.
Sullinger's return would be kind to the APR, but more importantly, stem the tide of big men leaving after one season in Columbus. In the last four years, Thad Matta has watched Greg Oden, Kosta Koufos, and B.J. Mullens depart after just one semester at school. All told, six Buckeyes have departed early since the 2006-07 season and there's a great chance William Buford joins that group, so getting Sullinger back would be huge (especially when you factor in the departing seniors).
KA-CHING. Les Wexner is making it rain with the largest philanthropic gift in university history:
This morning, we are announcing a most remarkable investment of $100 million in The Ohio State University by alumnus and Board of Trustees Chair Leslie Wexner and the Limited Brands Foundation. The majority of the gift will be allocated to the University's academic Medical Center and James Cancer Hospital and Solove Research Institute, with additional gifts to the Wexner Center for the Arts and other areas.
Words cannot describe how fantastic this is. As a knowledge center, Ohio State has been making great strides over the course of the last two decades and this is another gigantic step in that direction. The James is already recognized as one of the top hospitals in the United States and the additional funds will directly impact lives in the community. Beyond that, Wexner is making an investment in a primary economic engine for one of the Midwest's few cities on the up.
A "conversation with students" will commemorate the gift at 11am today. It will be streamed over the web if you're interested.
Auburn: Harvard on the Plains. Yesterday, backup Tiger defensive back Jordan Spriggs posted a job opening to his Twitter followers:
After catching heat from his teammates, the freshman apparently decided Twitter was lame and deleted his account. That, or Gene Chizik is choking the life from him as you read this.
Random bits: Like Jared Sullinger, BYU's Jimmer Fredette is dealing with increasingly physical defenses... Count Billy Packer among the few not excited about the new format for televised tournament games (he does make some solid points)... The Big Ten profiles former Buckeye grappler Corey Morrison.