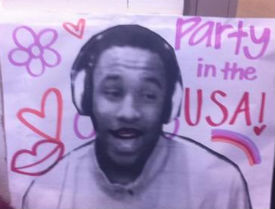 Good morning Buckeye fans and welcome to this edition of Thursday Skull Session. We are now t-minus two days from the big game in Madison and excitement can be felt amongst Buckeye Nation in all areas of the country. Perfection is certainly a hard thing to come by in any competitive sport, but your Buckeyes are on the brink of doing something really special if they maintain their focus down the home stretch of the regular season.
While football should be in the rear view mirror and the number one basketball team should be on your mind, we just can't get away from that old pig skin, and apparently neither can the rest of the nation, as Rivals.com has already come out with their early outlook on Big Ten spring practice. The article hits the obvious nail on the head when saying that the search for a quarterback to start the season will be the focus of the OSU spring session, but there are definitely some interesting tidbits about the other Leaders and Legends that make up the conference.
I'm definitely curious to see what the new look Big Ten will bring next season in both football and basketball, and it's nice to see the Cornhuskers starting to be included regularly when the national media discusses the Big Ten. Speaking of those Cornhuskers, we're all familiar with what they do on the gridiron, but if you haven't followed them on the hardwood, check out their season thus far here. While they haven't done anything too eye-opening, I think they will definitely bring a competitive game to conference play each and every night and have the potential to be a problem as #11 Texas A&M can surely tell you this year. 
We're talking about practice. And one of the newest Buckeyes, Bryce Haynes, certainly knows what it means to practice. The long snapper who signed with OSU last week is the first at his position to receive a scholarship out of high school from Ohio State, quite an impressive statistic considering the emphasis Jim Tressel puts on special teams. Usually long snappers come on as walk-ons for the Bucks and earn a scholarship later in their careers, but Haynes is a special player. After realizing his dream to play Division I college football wouldn't come to fruition as a wide receiver or defensive end (positions he played in high school), Haynes looked for a route to live his dream and found that he was a natural at spinning spirals to punters and holders. You can read his full story here and I suggest doing so as it really is interesting to see how such a small part of the game can have such a big effect on a young man's life. I'm excited to see Bryce snapping come opening day next fall.
Retracting the rankings. While team recruiting rankings are all good and dandy, I've been saying for years that you can't really judge a class until they are juniors or seniors in college to see how they really panned out. That is exactly what SI.com's Andy Staples did with the class of 2008, who will be redshirt juniors and seniors next year. Alabama takes the top spot, just as they did back when these players signed their NLOIs, but the Buckeyes come in at #3, a spot better than where they were ranked by Rivals back in 2008. I'd say Tressel did alright bringing in talent for that class, as Terrelle Pryor, DeVier Posey, JB Shugarts,Mike Brewster, Mike Adams, Jake Stoneburner, Ohrian Johnson, Travis Howard, Etienne Sabino, Andrew Sweat, Nathan Williams, and Ben Buchanan are all expected to start next season, while Garrett Goebel is expected to be in the mix as well. I'd say having 12-13 out of those 20 players becoming starters is a pretty good success rate.
We're going downtown. Tonight's Ohio State vs Purdue women's basketball game will be held in downtown Columbus at Nationwide Arena. The OSU and Columbus Sports Commission staffs hope the game serves as an example to NCAA officials that the city is capable of holding a big time event, such as a Final Four or Elite 8/Sweet 16 at the arena, and is encouraging fans to pack the stands by offering $10 tickets. I personally think that the city would be a great host to a regional for March Madness and that a Final Four wouldn't be out of the question. Besides potential poor weather, the city has hotels located conveniently, affordable restaurants and good dining options, entertaining night life, and plenty of attractions to keep people of all ages busy. What do you think about the tournament possibly being decided in the 614?
Party in the U-S-A won't go away. Just when you thought you got rid of Jon Diebler, Jared Sullinger, and Aaron Craft and their horrific yet hilarious performance of the Miley Cyrus classic, well, it's not gone yet. Sully is apparently having a little fun with opposing fans who are using the video of the star singing the pop hit as a heckling tool when the Buckeyes hit the road. Andrew Wagner of the University of Minnesota was one of those fans who thought it would be humorous to make fun of the big man when the Bucks hit the Twin Cities last weekend, but came away surprised at the events that unfolded after he created a sign displaying Sullinger from the video, but painted up with lipstick and earrings.
Making a long story short, Sullinger noticed the sign after the game and asked Wagner if he could have it. Wagner said no and when Sullinger was asked about it after the game by the media, he said he thought it was funny and wanted it for his mom. After a back and forth conversation on twitter, Wagner has now decided to ship the sign to Sullinger, who will indeed give it to Momma Sully. Not only is this kid a tremendous basketball player, but his personality and sense of humor make him that much easier to root for.
Quick Hits. The Lantern brings up a good point that while the Big Ten is the second ranked conference according to the RPI, the competition hasn't really prepared OSU well for the big dance. Luke Winn continues to fascinate stat nerds with his breakdown of how this year's freshman compare to years past. Winn also shares his list of his magical eight teams that he feels have a a real chance of winning the national championship, and yes, OSU made the cut, but you'll be surprised to see Kansas didn't. Finally, don't look away from the TV, as you may miss Jon Diebler break the Big Ten record for made three-pointers. Jon is just four away from the top spot and could even break the record this Saturday at Wisconsin.
This is a must see. Um wow.