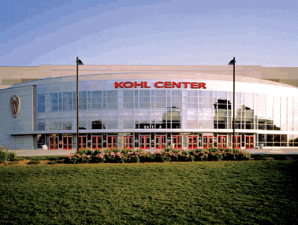 There's no getting around it: The Kohl Center has been a house of horrors for the Buckeyes over the course of the last decade. Ohio State earned wins in their first three trips after the building opened in 1998, but they've now lost their last eight. Matta's teams have gone 0-5 in Madison, including the lone conference blemish for the Thad Five-powered 15-1 squad, but it's not just Matta's Buckeyes -- every team seems to struggle in that building.
Now in his 10th season with Wisconsin, Bo Ryan has suffered just 11 home defeats and is 7-0 against the Buckeyes at the Kohl Center. As tough as they've historically been at home, this year, they are even better when playing in front of their own students:
In achieving this year's gaudy per-possession numbers (and bear in mind they do this every year), Bo Ryan's team has in fact been every bit as bipolar in terms of home vs. road performance as your run-of-the-mill average team. Wisconsin's D in conference play has been more or less the same at the Kohl Center or on an opponent's home floor — very good but not Alabama-good by any means. But it's the Badger offense that really changes depending on the venue. They're no slouch on the road, mind you (1.13 points per trip) but in Madison they've been simply invincible (1.24).
Nervous yet?
Besides the fact that this Sullinger-led group is likely the best Matta has put on the floor during his time in Columbus, Matta's past trips to Madison are a series of close games aside from a romp for the Badgers last season (played against an Ohio State team with Evan Turner on the shelf). Wisconsin's average margin of victory in the previous four games was just 4.75 and all four were against elite Wisconsin teams and featured several lead changes.
Here's a closer look at Matta's five visits to the Kohl Center.
January 11, 2005: Wisconsin 72, Ohio State 66
Fresh off Jim O'Brien's termination, Matta's first crew played under a post-season ban, ineligible for the tournament, but still finished 20-12 with three of the losses coming at the hands of Wisconsin, the last coming in the conference tournament.
The Badgers, who entered the matchup unranked, rode Mike Wilkinson to a career-high 29 points, extending their home winning streak to 37 games. After taking a 26-25 lead with four minutes remaining in the first half, the Buckeyes fell behind and battled to close a late double-digit Wisconsin lead. Terence Dials paced OSU with 15 points and J.J. Sullinger hit a bucket with 2:42 remaining to cut the deficit to four, but Wilkinson answered with a three and that was that.
February 15, 2006: Wisconsin 78, Ohio State 73
Having already defeated Wisconsin in Columbus, Ohio State took an 18-3 record to Madison to face the 17-7 Badgers and took command early, jumping out to a 13 point lead before taking a 37-30 edge into the locker room at halftime. And then Arlando Tucker happened. The conference's leading scorer finished with 27 points and 16 rebounds, including two huge free throws in the last three minutes to help give Wisconsin a lead it would not relinquish.
Dials once again paced the Buckeyes with 24 points and 11 rebounds while Matt Sylvestor chipped in with 6 assists. OSU would end the year 26-6 going down to Georgetown in the 2nd round of the NCAA tournament.
January 9, 2007: Wisconsin 72, Ohio State 69
In a battle of once-beaten top five teams, #4 Wisconsin jumped out to an early lead, stretching it to 16 points before holding on for a three point win over #5 Ohio State. Chris Rock Kammron Taylor led Wisconsin with 25 points, but missed three free throws late that helped the Buckeyes get back into the game a bit. Helping matterss, the Buckeyes also went 12-26 (.462) from downtown.
Despite featuring Greg Oden, Mike Conley and Daequan Cook (and Old Man Lighty), Ivan Harris led Ohio State with 17 points, while Cook pulled down nine rebounds. Oden scored just 10 points but did record six blocks.
OSU would get revenge later in Columbus, beating the #2 Badgers 49-48 to move to the top of the rankings and beat Wisconsin again in the Big Ten Tournament championship game (66-49) before advancing to the NCAA Championship and losing for the second time that season to the Florida Gators.
February 14, 2009: Wisconsin 55, Ohio State 50
On Valentine's Day, the two teams got into the spirit and played close all evening with neither team holding a lead greater than five during the course of the action. Evan Turner led all scorers with 23 points in the affair and the team shot 55 percent from the field, but countered with 19 turnovers against Wisconsin's pressure defense.
Despite the being careless with the ball, the Buckeyes had a chance late, but couldn't hit a shot when needed at the end as they watched the Badgers pull down offensive rebound after offensive rebound at the other end. Joe Krabbenhoft came up big for Bo Ryan, finishing with 8 rebounds, 4 assists and 6 steals.
Ohio State would once again get revenge, dropping Wisconsin in the Big Ten Tourney 61-57, but the season ended in a double-overtime heartbreaker at the hands of Siena in the first round of the NCAA tournament.
December 31, 2009: Wisconsin 65, Ohio State 43
The two teams would meet on New Year's Eve in Madison and Wisconsin welcomed Ohio State into the new year with a whalloping as the Buckeyes played without an injured Evan Turner. The affair was close for the first ten minutes, but the Badgers would jump out to a 16 point first half lead (thanks to a five minute scoreless streak out of OSU) before entering the break up 35-23.
The second half was more of the same as Wisconsin extended its lead thanks to poor shooting out of the Buckeyes. David Lighty and Jon Diebler, held to 10 and 8 points respectively, were each held to 2-7 shooting. William Buford led the Buckeyes with 14 points while the Badgers road Jon Leuer's 11 second half points.
Keeping with the theme, Ohio State returned the favor 16 days later in Columbus, earning a 60-51 victory with Turner back in the lineup (though hampered with foul trouble).
---
With the way the Badgers are shooting the ball at home and the stifling defense they play under Ryan, getting a win Saturday won't be easy. It won't be impossible, either, and this visit represents Ohio State's best chance under Matta.