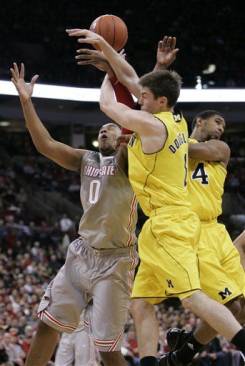 Trailing 26-23 at the half thanks to cold shooting and sloppy play, Ohio State used two 2nd half runs to come away with a 62-53 victory tonight in the Schott. The win moves Ohio State to 23-0 overall and 10-0 in conference play.
Jared Sullinger bullied Ohio State to victory with game highs of 19 points and 15 boards while William Buford added 13 points, 11 of which came after halftime.
After surrendering a Jordan Morgan layup in between turnovers to start the 2ndhalf giving Michigan a 28-23 lead, the Buckeyes went on a 21-8 spurt featuring three triples from Buford to take a 44-36 lead with 9:38 left in regulation. The run stalled after a terrible charging call on Sullinger that drew the ire of Papa Sully in the stands just before the Wolverines received back to back triples from Evan Smotrycz and Tim Hardaway Jr. cutting the Buckeye lead to 44-42 with 8:39 on the clock.
The mini-run would be the last gasp from a hacking-ass Michigan squad that put OSU in the bonus with more than 14 minutes remaining and in the double bonus with well over six minutes to play.
Responding to the pair of treys, Ohio State used a 13-5 run to take a commanding 57-47 lead with 1:09 left thanks to eight points from Sullinger who got busy on the low block depsite frequent double teams, two from Craft off a redux of his spinning layup on JaJuan Johnson last week, a baseline floater from Buford and a free throw from David Lighty. Michigan would cut it to seven twice in the final minute, no doubt a moral victory for a team that just can't hang with Thad Matta.
The 2nd half surge saw Ohio State shoot a blistering 55% raising the game total to 45%. Free throw shooting was sketchy however as OSU converted 15/25 overall including 12/21 after halftime. Overall, the Bucks won the glass 36-28.
Craft responded from a poor first half that saw him turn it over three times in addition to struggling to contain Morris (10 pts, 5/6) with eight points in the 2ndwhile holding Morris to two points on 1/7 shooting.
The overall transition defense improved in the 2nd half as well with OSU holding Michiganto zero fast break points. For the game, the Bucks held UM to 42% shooting.
The Buckeyes jumped out to a quick 7-0 lead behind a long jumper from Buford, a blocked shot and assist by Lighty to Diebler for three from the corner and another Lighty block leading to a Lauderdale spin the lane.
The attack would stall from there and moments later a Darius Morris dunk in transition tied the game at 16 with 8:46 left in the half. Diebler countered with a drive along the left baseline for a natural three point play making it 19-16 at the 8:25 mark but the Buckeyes would go the next 4:12 without a point.
During the drought, Michigan forced Ohio State into three turnovers – two from a very sloppy Aaron Craft – two misfires from distance by Lighty and a medicine ball-esque free throw grenade by Lauderdale while scoring six straight points of their own to take a 22-19 lead with 4:35 left.
It looked like Ohio State might settle in from there as Sullinger took an alley oop from Buford cutting it the deficit to a point before OSU forced a shot clock violation leading to a spinning low block bucket from Thomas (should've been called for a walk) giving OSU the lead once again at 23-22 with 3:16 left but the Buckeyes closed the half shooting 0/4 with three more turnovers including a charging call on Sullinger allowing Michigan to take a 26-23 lead at intermission.
The Buckeyes shot a dismal 36% from the floor (9/25) with 10 turnovers in the opening 20 minutes. Craft was absolutely abysmal turning it over three times in 13 minutes while aiding in Morris getting loose for 10 points on 5/6 shooting. He wasn't alone in the stinkfest as Buford and Lighty combined to shoot 1/8 with four turnovers. That left the heavy lifting to Sullinger and Diebler and both responded with 20 solid minutes apiece. Diebler paced the Bucks with nine points (3/6) as Sully picked up eight points and eight rips. Ohio State held Michigan to 44% shooting but gave up three layups via lazy transition defense.
Oh, and the refs might've been the worst we've seen this season. Both ways in many instances. Remember the names Gene Steratore, Michael Stephens and Ray Barone Perone in case one of them ever becomes your neighbor and you befriend Slayer.
Next up for the Buckeyes, a Sunday 2pm clash in Williams Arena against the 20th ranked Minnesota Golden Gophers. Get ready for another slugfest.