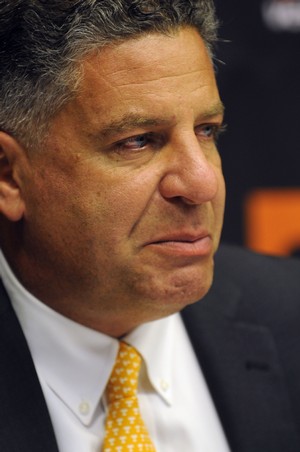 Several weeks ago Luke and I interviewed Spencer Hall (of EDSBS fame) for the Eleven Dubcast, and asked him some general questions about oversigning and shady football recruiting. Hall gave us some interesting and thoughtful answers, but also made sure to point out something else:
"Basketball recruiting is so venal, foul, and unruly and unregulated as to make the worst practices of Gene Chizik and Trooper Taylor look like missionary work in comparison."
Nearly two months later, and given some of the recent information that has come out from the NCAA concerning Bruce Pearl in Tennessee, it seems like Mr. Hall is being proven 100% correct.
It isn't just that Bruce Pearl has broken rules. Secondary violations are at this point as commonplace in a large collegiate athletic program as sports agents in LA. Ohio State football, for example, has committed literally hundreds of these violations since the year 2000, including one in the recruitment of Seantrel Henderson. No, what has now landed Pearl in more trouble than Lane Kiffin could as of yet dream of is the simple fact that he lied directly to the NCAA, specifically about a recruiting visit by a talented point guard named Aaron Craft to his home for a barbeque.
For those who don't know the story, Aaron Craft attended a barbeque hosted by Bruce Pearl at his house while still a recruit, a clear violation of NCAA rules that Pearl knew about; and in fact Pearl told non-roster attendees at the party that their presence was a violation. Later John Craft, Aaron's father, would get a phone call from Pearl again explaining to him that his son had broken the rules by attending the party, that it was John Craft's decision to attend, and thereby both implicitly blaming the elder Craft and attempting to convince him to keep silent about it to the NCAA. When asked about a picture of Aaron Craft taken at his party by NCAA investigators, Pearl would say that he neither recognized the house (his house), or the woman in the photo (a wife of a longtime assistant).
If Bruce Pearl isn't fired at the end of the season something is seriously wrong at the University of Tennessee.
This isn't the first time that Pearl has been at the center of a recruiting controversy. During the 1988-89 season Bruce Pearl was an assistant coach at Iowa when both Iowa and Illinois were in a fierce battle to sign recruit Deon Thomas. Eventually the Illini won out, and shortly afterwards Pearl produced to the NCAA a phone recording apparently between himself and Thomas, where Thomas admitted that an assistant coach for Illinois had offered him a car and money to play for them. The NCAA eventually found this evidence to be "not credible," but a subsequent investigation into the Illini basketball program showed that there were indeed problems and they were eventually hit with the dreaded "lack of institutional control" label.
Interestingly, from there Bruce Pearl's career seems to be somewhat similar to that of our own Thad Matta. Like Matta, Pearl enjoyed considerable success at smaller schools before moving up to a national program. In Pearl's case, he spent 9 seasons at D-II Southern Indiana, winning a national championship in his third season, before moving on to D-I Milwaukee, where he made it to the Sweet Sixteen in his final year, and then to Tennessee, where last year he coached them into the Elite Eight.
Tennessee didn't have the winning pedigree of even Ohio State when Pearl took over. Maybe the Volunteers weren't desperate for a winner, but they also certainly weren't about to look a gift horse in the mouth, at least not initially. Ohio State fans might remember a similar situation as Matta had once promised to stay at Xavier for much longer than he actually did once Ohio State came calling. For fans of both schools, past indiscretions and faux pas were quickly forgotten as the wins started to come in.
But the similarities between Matta and Pearl end there. Matta is an Indiana native with deep roots there and in Ohio, who played at and later coached for Butler, before going on to coach at Xavier; both small, private schools with little national reach. Though an excellent recruiter, Matta is not the showman that Pearl is, and to my knowledge has never been accused of any major recruiting violations. That's great for Thad Matta and the basketball program, but frankly the issue here is much larger than one team.
The real problem is that there now exists an atmosphere where coaches and others are now trying to find as many ways as possible to game the system; not to work within the confines of NCAA rules, but to figure out how to break the rules without actually appearing to break them. And if they are caught, obfuscate the issue as much as possible while fans and alumni equivocate and try to explain. In other words, there are now simply too many people who think that their pedigree, or charisma, or their track record will be enough to hoodwink the NCAA long enough for whatever unsavory action they just undertook to be swept under the rug.
And they'll be right, so as long as the NCAA continues to be an inconsistent, slow, and opaque organization that only goes after these people after they've already accumulated a rap sheet or lied to their faces. College sports are not a court of law, and the people breaking the rules are not some two bit criminals. They are extremely well compensated adults who know exactly what they are doing, and the NCAA needs to become much more transparent and proactive in how they go after them, for the sake of college sports and the fans of teams whose coaches do things the right way.
...
Last September 10th, Bruce Pearl held a press conference, where he admitted to several acts of wrongdoing and NCAA violations.
"I've put my heart and soul into this program," he said tearfully, "...and I will not let you down again."
Four days later he was at Oak Hill Academy in Georgia, committing yet another violation by talking to a potential recruit before practice.