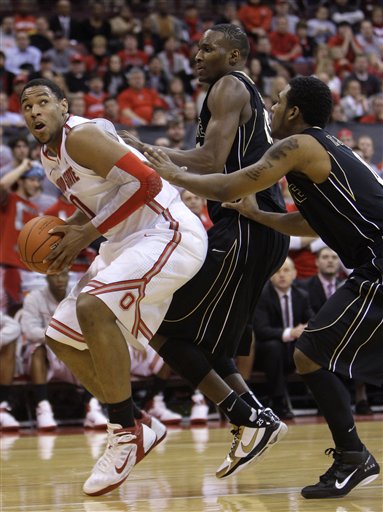 Tuesday's win over a scrappy Michigan State team that put up much more resistance than expected provided a much needed confidence booster for Ohio State after their first loss of the season last Saturday against Wisconsin. Many of us might've been hoping for a blowout on Tuesday, but OSU showed that they can defend a close lead against a talented (if completely out of order) team down the stretch. They also showed that they could make critical defensive adjustments at halftime to help them maintain their control of the game, and that William Buford can go off for 20 plus anytime, anywhere.
So overall it was definitely a very positive win, but a few worrying issues did arise: Jared Sullinger was frustrated all game, as he was against Wisconsin. Sully did manage 11 points, but was a non factor on the glass, and that is something that OSU can ill afford to have happen. John Diebler, though he made a few very important threes, is having difficulty creating shots for himself. The Diebster actually has gone 8/20 from behind the arc in his past four games, which is certainly not terrible but well below his season average of .467% made; in comparison William Buford has gone 10/20 from three in that same time period. David Lighty has been sporadic at best on offense, scoring a decent 12 points against MSU, but only having two made field goals against Wisconsin.
Looming on Sunday is a game at Purdue. Purdue, you'll remember, is the current #2 team in the Big Ten who also had the pleasure of getting completely destroyed by the Buckeyes when they visited the Schott on January 25th. It is also a team that I am predicting will possibly beat the Buckeyes if they don't make some adjustments to their game.
Before I get into the nitty gritty, I should point out that I made a similar prediction about Indiana during football season and that turned out, uh... badly. Apples and oranges to be sure, but I just want to point out that I'm not trying to anoint OSU as a bad basketball team (maybe a tired one, though).
A lot has been made of Jared Sullinger's promise to come back for his sophomore season, and honestly I'm one of the people who thinks it'll happen, but I also think that promise should be taken with a giant grain of salt. He's been visibly off his game at times in the past few games, and I think he's starting to feel some of his limitations right now as a player. He's still very, very, very good of course, but to counter any frustration the first thing that I feel needs to happen on Sunday is that OSU involves Sully early and often. Matta and company attempted to do that at the beginning of the second half of the MSU game with some success, but at that point Sully was already in some uncharacteristic foul trouble. The initial matchup between JaJuan Johnson and Jared Sullinger was a push offensively, and the game on Sunday might hinge on who has the most consistent game. Since Purdue really doesn't have anyone with a combination of size and skill to match up with Sully outside of JaJuan, it'll be important to win the paint as early as possible.
Secondly, John Diebler needs to start finding more open shots on the perimeter. This is more than a little ironic, because just last season many were calling for him to drive inside more often. The difference this year is twofold: OSU now has an inside scoring threat in Sullinger, and Diebler has become much, much more consistent from the three than he had been in previous seasons. His overall offensive rating (as listed by Ken Pomeroy's stats), is now third in the country overall; when they guy gets the ball and shoots it, he has become very, very good.
With that said, Diebler's main issue right now is that he's having difficulty getting shots. Tuesday against Sparty was the first time in a month he had attempted more than 5 three balls in a game. In those six games he was highly efficient, going 13/26, but making a high percentage of shots doesn't mean quite as much when you aren't making more than 3 of them a game. Simply put: if Sullinger is getting bottled up inside, William Buford can't be the only guy making perimeter shots.
Finally, the Buckeyes need to stay out of foul trouble. One of the defining characteristics of this team is its ability to keep their opponents away from the charity stripe and themselves from being in danger of fouling out. Against Michigan State, however, Sully got into trouble with 4 fouls, and against Wisconsin it was even worse, with Buford and Craft almost having to sit the bench. Admittedly, for most teams this wouldn't be seen as a huge issue, but for Ohio State this can be especially worrisome due to the very short bench they play with. On the road at Purdue, with some possible home field home cooking, it will be vital that the Buckeyes are able to keep everyone out of any kind of trouble.
Of course, like with the Indiana game, I could be completely wrong about this. Ohio State could come out, do none of the things I've suggested they do here, and still win by 20 points. Still, if the Buckeyes want to regain their midseason form against a tough opponent on the road, they're going to have to work twice as hard against some tired legs and the grind of the Big Ten season to get back to being as dominant as they are capable of.