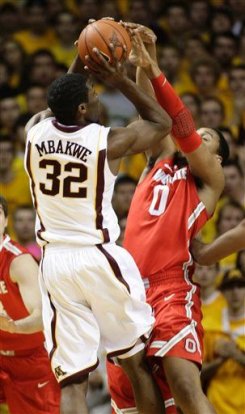 Ohio State placed all five starters in double figures led by 19 from David Lighty and used 2nd half runs of 11-2 and 10-2 to bury Minnesota 82-69 this afternoon in The Barn.
Jared Sullinger struggled with his touch in the rough and tumble affair but still posted his 11th dub-dub with 18 points and 13 boards, eight of the offensive variety as Ohio State picked up a ridiculous 20 o-boards compared to just six for the Gophers. Sullinger was 8/20 from the floor and 2/8 from the stripe. Meanwhile, fellow big Dallas Lauderdale had his best outing in conference play with 10 points (5/6 FG) and five boards.
Twin Cities had eight of OSU's first 10 points of the 2nd half and six in an 11-2 spurt - all via dunks - that boosted the Ohio State lead to 51-37 with 14:20 to play. The run began with a Dallas alley oop dunk off an out of bounds feed from Wiliam Buford and included another two handed flush after Lauderdale got away with blocking a Rodney Williams dunk attempt by reaching up through the rim at the other end. Finally, Sullinger found Dallas off a double team for another rim rattler to cap Lauderdale's best offensive day since December 12th when he tallied 13 against Western Carolina.
With Minnesota clinging to life trailing 55-44 with 10:09 left, Ohio State delivered the knockout blow in the form of a 10-2 blitz pushing the lead to 65-46 with 6:37 left in regulation. Jon Diebler started the run with a triple followed by a trey from Aaron Craft and four points from Sullinger, three by way of an and-1 off a nice feed from Craft. The Gophers would not get closer than 13 points the rest of the way.
That sequence was pretty much the lone highlight for Craft as he struggled to find rhythm at both ends of the floor. He finished with five points and four dimes but turned it over three times and fouled out in just 21 minutes, the 2nd fewest he's logged all season. Lauderdale's success played somewhat of a factor in Craft's diminished minutes but it defintely wasn't his day.
Diebler finished with 10 points while Buford added 15 (5/12 FG). All five starters had at least three assists apiece. Ohio State's big edge on the offensive glass led to a 36-29 advantage overall and they forced 19 Gopher miscues but Minnesota shot it well hitting 51% on the day. The Buckeyes shot just 45% but attempted an astonishing 71 shots compared to 49 for Minnesota thanks to all those o-boards.
The charity stripe was once again an achilles heel as OSU shot just 10/20 while Minnesota knocked down 14/18.
Jumping out fast similar to Thursday night, Ohio State used a 13-4 run to take a 15-8 lead at 13:28 of the opening half started by two slashing layups from Lighty and capped by two bombs from Diebler. The Gophers answered right back with a with a modest 8-3 surge via two triples from Blake Hoffarber and a horrible-even-for-Ed-Hightower charging call on Sullinger trimming the OSU lead to 18-16 at 10:36 mark.
Countering Minnesota's attack, the Buckeyes ripped off a 10-0 run off five straight points from Buford, a Sully layup off a steal and a deep baseline trey from Lighty making it 28-16 good guys with 8:34 until intermission. The Gophers settled in a bit from there as Ralph Sampson Jr. scored 12 of Minnesota's final 14 points of the half cutting the lead to 38-30 at the half.
Sampson Jr. repeatedly attacked the Buckeyes with jump hooks and short jumpers in the middle of the paint as OSU refused to double team, at times to keep Hoffarber covered on the wing. The lefty sharpshooter still scored 10 of his 16 in the opening 20 minutes but Sampson was held to the donut in the 2nd half - taking just one shot - with a committee assigned to slowing him down including the undersized Lighty on occasion.
The win improves Ohio State to 11-0 in conference play with a trip to the Kohl Center on tap for Saturday. Ohio State has never won in Madison under Thad Matta so all eyes nationally wil be on OSU to see if they can continue their perfect run.