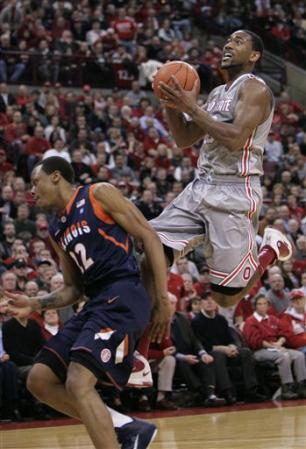 Looking to bounce back from the salty trip to West Lafayette, Ohio State placed five in double figures led by 21 from a previously struggling David Lighty, to overwhelm Illinois 89-70 tonight in an underwhelming Value City Arena. (Seriously, if the Nuthouse can't do any better than that, we might as well revert back to the blue hairs.)
William Buford, after foul trouble kept him from ever establishing a rhythm at Purdue, added 17 points, all in the 1st half. Jon Diebler chipped in 13 (3/3 3FG), Aaron Craft tossed in 12 points and six dimes while Jared Sullinger had the quietest dub-dub I've ever seen with 12 points and 11 rips.
Hell bent on erasing the taste of the convincing beating handed out by Purdue, the Buckeyes started fast jumping out to an 8-2 lead behind two long jumpers from Buford, a Lauderdunk of a Lighty miss and a nice pull up jumper in the lane by Jon Diebler.
Mike Tisdale then proceeded to ignite a three point barrage from Illinois, draining two straight treys in between a silky smooth elbow jumper from Buford to make it 10-8 with 14:47 left. Out of the starting lineup despite making 109 career starts, Demetri McCamey entered at the stoppage in play and promptly buried a trey of his own after back to back Buckeye layups. Moments later, Bradon Paul struck from distance before an OSU goaltending call brought the Illini to within 19-18 at the 10:23 mark.
The Buckeyes gained some separation via an 8-0 run with six points coming from Buford via a triple off a nice baseline screen from Sullinger and another three points coming at the stripe as Buford was hacked in the act beyond the arc to make it 27-18 good guys.
An amazing four threes later – on four attempts – Illinois was back in business trailing just 33-30 with 6:07 left in the half.
Time to flip the switch. Behind Buford, Ohio State closed the final 6:07 on a 14-2 tear to take a 47-32 lead into the locker room. Sully got it started with a putback in traffic and Lighty made a contribution with a bank shot in the lane before the WB converted a conventional and-1 off a tip in of an Aaron Craft miss to push OSU in front 40-30.
Finally, after Craft hit a jumper from the top of the key answered by a Paul jumper, Buford dropped two sick dimes, one to Sullinger for a dunk and the other off a sweet drive and dish to a wide open Diebler who capitalized by splashing the triple to give OSU the 15 point halftime bulge.
Ohio State was able to overcome the Illini's 8/9 performance from distance in the opening half thanks to 57% shooting of their own without committing a turnover. At the other end, Illinois turned it over nine times allowing the Buckeyes to post a lopsided 18-0 points off turnovers edge. Though the perimeter D struggled once again, Illinois registered just four points in the paint compared to 26 for the Buckeyes.
It appeared another 2nd half sleepwalk might in store as Illinois opened the half with an 11-2 burst cutting the OSU lead to 49-43 at the 14:58 mark but an unexpected cameo by Good David Lighty followed.
Struggling in virtually every facet of his game for what seems like a few weeks, Lighty scored all 13 Buckeye points during a 13-2 blitz giving OSU a comfortable 62-45 lead with 11:42 remaining. Lighty's freaky outburst began with a three pointer, followed by an actual conversion of a pair of free throws, then a steal leading to steal and dunk while hacked in the act. Lighty again buried the free throw then converted another steal into a layup before capping his orgasmic burst with another triple.
Illinois tried to fight back with an 8-0 run capped by a McCamey threeball but another guy needing to get back on track, Deshaun Thomas, scored six straight points with a triple of his own followed by a conventional three point play, off a putback of a Lighty miss, putting the Buckeyes in front 68-53 with 9:28 left. Illinois would cut the lead to 10 twice in the final nine minutes but never threatened as Ohio State improved to 26-2 overall and 13-2 in conference action.
Keeping with the 1st half theme of valuing the ball, Ohio State finished with just three turnovers against 16 for Illinois, producing a 25-6 bulge in points off turnovers. The Buckeyes shot a blistering 53% from the floor overall. While Matta's crew forced a gaggle of turnovers, they allowed the Illini to connect on 52% from the floor. To their credit, OSU did tighten up on the perimeter in the final 20 minutes holding the Illini to 3/12 after their ridicuolus 8/9 showing in the 1st half. Ohio State won the boards 30-29 against the lanky (and pasty) Illini front line including a 13-9 edge on the offensive glass.
Next up for Ohio State, a date with Tom Crean's Hoosiers in the Schott at 4pm on Sunday. Can you smell the regular season title?