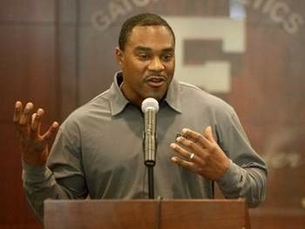 Coming to you live from our Forever Lazy on a cold January morning, welcome to your Wednesday Skull Session, ladies and gentlemen.
Do you like rumors? You do? Good, because a doozy of one began appearing on various Buckeye message boards yesterday related to OSU's open position to coach the team's wide receivers. Not long after Darrell Hazell accepted the top job at Kent State last month, P.J. Fleck's name started to pop up as a potential replacement. The former Northern Illinois wide receiver spent 2007 in Columbus as an offensive graduate assistant and seemed like a shoe-in to fill the spot, but word is Stan Drayton, currently the running backs coach and assistant recruiting coordinator for Will Muschamp at Florida will be coming to Columbus.
Technically, the position is still open for four more days, but one source we trust is saying he has already interviewed for the spot and will be named the new wide receivers coach on the 23rd.
It's an interesting choice for a few reasons, primarily because Drayton just accepted a position on Muschamp's staff and he's been a running backs coach for most of his career, but he is also a Cleveland native and has experience working with receivers from his stint as the offensive quality control coach for the Green Bay Packers from 2001-03.
Drayton held the same position on Urban Meyer's staff from 2005-07 before moving on to Tennessee for the 2008 season and then on to Syracuse to coach the running backs in 2009. Bringing him in would obviously help with recruiting in the southeast and his pro experience coaching special teams (also with the Packers) would help a staff that struggled with coverage last season.
The bottom line is that this is one of those things that's so far out there, it almost has to be true, but I guess we'll find out soon enough.
Hokementum. New Wolverine head man Brady Hoke hired defensive coordinator Greg Mattison away from the Baltimore Ravens and the move is getting universal praise. Here's MGoBlog's Brian Cook:
Mattison is the best possible hire of all rumored names, a veteran with a history of excellent defenses in both college and the NFL. He coordinated Michigan's stout '95 and '96 defenses and can probably take some credit for the national championship-winning '97 edition. After leaving Michigan, Mattison was Notre Dame's DC for a few seasons, then moved on to be co-DC at Florida with Charlie Strong. He's been with the Ravens the last three years.

This isn't exactly hiring Gus Malzahn—Chizik was a great DC himself before becoming a head coach—but it's the closest possible thing, an indication that Michigan is no longer skimping on assistant salaries.
For Mattison, it was all about returning home:
"The biggest reason is Brady," Mattison told The News on Tuesday night. "I know he's going to win. Michigan is a special place. The longer you're away from it, even when you're in the NFL, it's still Michigan. Every Saturday when we're in our rooms relaxing before the Sunday games, I always watched Michigan. That doesn't leave you."
I realize there are some of you that want to see Michigan go 4-8 until the end of time, but you have to admit that it will be nice to see the Wolverines actually playing defense again.
Is Ohio State poised to be basketball's next great power? Friend of the blog Darren Everson asks this question, somewhat rhetorically, in an article in the Wall Street Journal:
With a young coach (43-year-old Thad Matta), a strong recruiting base, a parade of recent first-round NBA draft picks (six in the past four years) and spare-no-expense facilities (Ohio State plays in a near-20,000-seat arena and is raising funds for a practice facility) the Buckeyes are set up for the future as well as arguably any team. All the program needs to do to vault itself into the sport's upper crust, observers say, is to win a championship.
It's fluff backed with science -- the best kind of fluff, really, and a fun read if you're a fan of the hoops program (which you should be). If nothing else, check it out for the absolute fun in seeing the phrase "Mr. Sullinger" in print.
Undecided on who to root for this weekend in the Steelers/Jets game? Chances are, if you're an Ohioan, you either love the Steelers because you're from the east side of the state or perhaps have a family member that is a huge fan, or you hate them because of your allegiance to the Browns or Bengals. If you're one of the few with no real opinion, the Big Ten Network's Brent Yarina has a breakdown of former Big Ten players on the rosters of the four remaining teams in the NFL playoffs and the Steelers are represented by three former Wolverines (Foote, Mundy and Woodley), while the Jets feature four former Buckeyes (Gholston, Hartsock, Holmes and Mangold). Problem solved.
Giving the team's draft day production over the course of the last decade, it's no surprise that Ohio State paces the league with eight former players still in action, while the Big Ten as a whole has 38 players going this weekend -- 14 on the New York Jets, alone.
 Random bits: TSB ranks Tressel's recruiting classes and gives high marks to the one currently in the works... There's a Connor Crowell highlight video on YouTube and it's worth watching... Michigan State dropped a road loss at Illinois last night and then things went from bad to worse as the Spartan plane was fresh out of deicing fluid and were forced to take a six hour bus trip home... Laurence Maroney was pinched Monday in St. Louis on weapons and drug charges and channels Coolio in his mugshot... There's obviously still a ton of ball to be played, but as expected, your 18-0 Ohio State Buckeyes are currently the #1 seed overall in the Cleveland Regional in Lunardi's latest Bracketology.