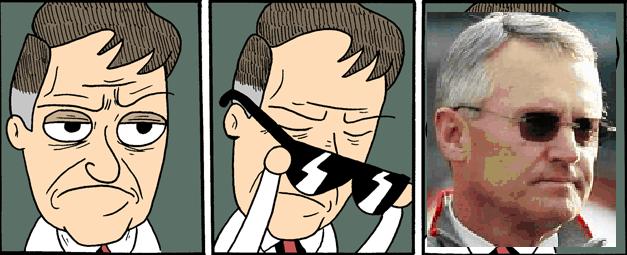 Way back in June I wrote a post about Jim Tressel, recruiting, and the general circus that surrounds this general time period where student-athletes are making the decision to either go pro or to stay at their colleges for another year. For fans (especially those basking in the afterglow of a Sugar bowl win), it is probably not nearly quite as stressful as it might be for coaches, who have to deal with the inevitable unexpected changes to their lineups that can completely alter how they plan for the next season.
Where Ohio State is concerned, Tressel has been fairly consistent in how he advises players considering the NFL draft: while encouraging them to fill out the paperwork to determine their possible draft status, he also generally has made clear that if a player is not projected to go in the first few rounds, then their best move is to stay in school. Obviously there are a lot of mitigating factors to this policy, depending on the player and situation, but for the most part it's a sound policy to stick to.
This year, of course, presented the situation of having several juniors on the team possibly leaving for reasons related to their suspension by the NCAA, but as we all now know, all five will be coming back (including some others, like Mike Brewster, who could've also left). This accomplishment is no small potatoes, but put in context it is even more impressive. This is an age of college football where oversigning is the norm in the most dominant conference, negative recruiting runs rampant, and the nature of sports media in the 24 hour news cycle tends to reinforce the worst aspects of both; in that it continually reinforces the idea that results are the only thing that matters. The ends justify the means, even if the means are immoral and can have hugely negative consequences on a player's life.
Jim Tressel knows this, and rejects it. He does not oversign, and as Oversigning.com pointed out, has even talked at length about making sure that he adheres to the established limits on scholarships. Granted, the Big Ten, more than any other conference, is particularly strident when it comes to enforcing scholarship limits, but Jim Tressel clearly takes that concept to heart. As a fan, the concept of oversigning was initially something relatively foreign to me, in that I had always felt that part of the "game" of recruiting was trying to find the best players to fit a limited number of slots. Finding out that other schools aren't playing by the rules makes me as angry as it makes me glad that the coach of the team I root for does.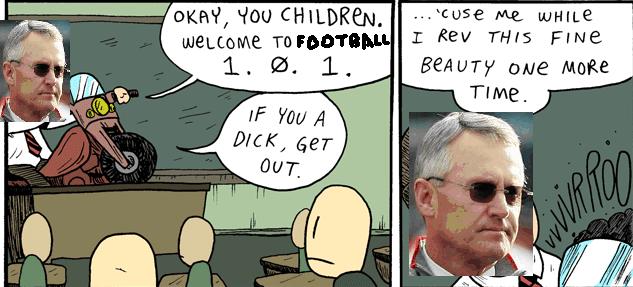 Negative recruiting is a part of this as well. Over Christmas some idiot posted a rumor saying that Jim Tressel was going to step down as the head coach of OSU after the bowl game. He was roundly mocked, proven wrong, and we all went back to our lives. But the real story here is not that a Chicago hockey blogger posted an obviously false rumor, it's that a Chicago hockey blogger was fed disinformation from "insiders" at other schools who were attempting to negatively impact OSU recruiting.
This kind of thing has happened before, will happen again, and, given that signing day is approaching quickly, is likely happening right now. For a few seasons a common meme among OSU fans was the idea that Tressel was losing out on recruits because he simply couldn't hack it in the cutthroat world of recruiting; he was nice, boring, low pressure (all true), and high school kids wouldn't respond to that (not true). It was an idea reinforced when the father of high profile recruit Seantrel Henderson said this about him:
Henderson's father described the talk as "pretty long-winded." Afterward, Tressel mentioned to the Hendersons that he was always told he talked a lot.

"He's so informative and so to the point and so much about business, that it was a little boring," Sean Henderson said.
And a month ago, Duane Long shared this anecdote on Bucknuts:
I will never forget a few years ago talking with the mother of an out-of-state recruit I got friendly with during recruiting. This was post-signing day. Her son did not sign with the Buckeyes. She saw them all. About the only major coach who did not offer her son was Mack Brown at Texas. Every other coach made his way into her living room. She told me the only coach who did not negatively recruit was Tressel.
What this seemingly adds up to is a man who is by the book, honest, boring, and possibly completely out of touch with the current world of college football. But what Duane Long, myself, and many others who have seen how Jim Tressel approaches this part of college football coaching would tell you is that yes, that may be true, but it works. Somehow, it works.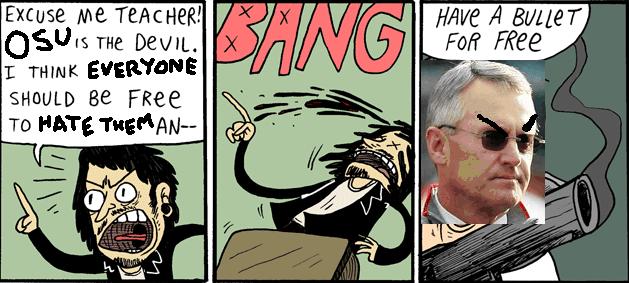 The 2011 OSU recruiting class is shaping up to be an incredible one. They've secured one of the best DEs in the nation along with one of the best QBs, and have landed an outstanding array of complementary players to go along with them. Many are early enrollees, and because of that when the suspended Juniors return they will find the cupboard not bare, but filled with players with experience who came to Ohio State not because they were lied to, or pressured, or bribed. Those players will be there because Jim Tressel was an honest man who only asked that they made sure OSU was where they wanted to be.
Never let anyone tell you that there isn't room for this in college football. Jim Tressel is not a fluke. He will keep winning games, a lot of them, until he decides to step down and move on to the next phase of his life. And he will keep doing it the right way.
With apologies to the always excellent KC Green.