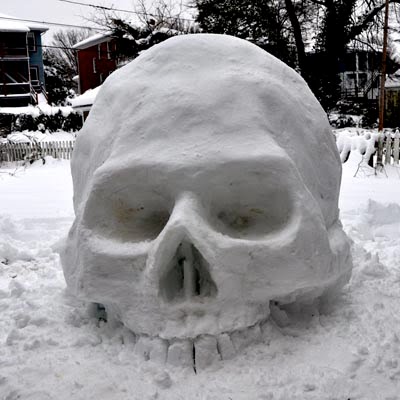 Hello everyone, and welcome to your Tuesday Skull Session. As you are all surely aware by now, the second ice age forecasted by paleoclimatologist Dr. Jack Hall has begun. The Larsen Ice Shelf has collapsed into the Atlantic Ocean, melting and disrupting the North Atlantic Current. Foolishly, Vice President Raymond Becker and the rest of the conference in New Delhi was ignorant of Dr. Hall's dire warnings, and now North America is beset with a blizzard superstorm that threatens to engulf most of the United States and (along with a tidal wave for some reason, that never really gets explained), send New York City into a deep freeze that will threaten Dr. Hall's plucky son Sam. Sam and his friends must fend off roving packs of wolves (I guess?!?), blood poisoning, and the cold to stay alive while Dr. Hall attempts a daring rescue.
It is unknown how this will impact football recruiting.
The Number Onest Despite a scare against Nerdwestern (we can call them that because we can beat them up), both the basketball writers and the basketball coaches have decided to make Ohio State the unanimous #1 in college basketball. It's not particularly surprising, as OSU is now the lone undefeated team, but at this late in the season a consensus #1 ranking is nothing to sneeze at, right? Well, apparently not, because some people are still dealing with a Buckeye induced bout of hayfever. Honestly, even I still have some (very, very small) doubts about this team, but they're as good a pick to be #1 as any other top five team right now. Going undefeated in the regular season is still a longshot, but the fact that it's a legit conversation to have about this team speaks volumes.
Operation: THE ITIS If you were frustrated by the slow pace the Northwestern game, a contest that had only 49 total possessions for the Buckeyes and the Wildcats, expect more of the same. B-ball genius and 11W best bud John Gasaway shows us that it isn't just the wacky Princeton offense running Wildcats who have decided to slow down games to beat more talented opponents, it's darn near everybody. Gasaway questions the actual success of such a strategy, and frankly I do too, but it does seem to me that a not so great free throw shooting team could be more vulnerable to this approach than usual. Still, chances are that superior talent is going to win out more often than not, and if their perimeter shooting is falling, the Buckeyes should be in it to win it against pretty much everybody.
In The Not Too Distant Past ESPN has, for some reason, decided to do a little retrospective on their ESPN 150 best recruits for the 2007 class. A lot of these guys they had nailed, but the sheer amount of flops on here, especially from numbers 50 and up, is enough to shake anyone's faith in the recruit evaluation process. Also of note, only two dudes from OSU made the list: Devon Torrence (#129) and Eugene Clifford (#36). No Cam Heyward, no Brian Rolle, no Brandon Saine. I guess the point I'm making here isn't that analysis of high school recruits is bogus, but that arbitrarily ranking them definitely is. Star ratings and overall class rankings may be a decent indicator of what percentage many kids from a certain talent pool will become an All American, but give me OSU's relatively unheralded 2007 class over the more highly regarded 2007 Michigan Wolverine class any day.
Somehow This Seems Even Less Fair In 2009, the International Federation of American Football hosted the Junior World Championship of American Football in Canton, a tournament that included 8 teams from four continents. Predictably, a US squad loaded with FBS recruits destroyed every team they played, beating Canada 41-3 in the gold medal game. This time, team USA is taking on an All Star World Team in Austin on February 2nd. Two Ohio State recruits, Michael Bennett and Ronald Tanner, are taking part, although I believe Bennett is injured and won't be playing. Still, it should be a lot of fun, and what better way to celebrate Groundhog's Day than with a beatdown of some foreign kids just trying to participate in our favorite game? MMMERICA!
Do (good) Work, Son! Volunteering is great. It helps other people, shows you that you can make a positive influence in the world, and according to the movies, is a total chick magnet. Unless you tell them that's why you got into it. Then you're screwed. Anyway, as @OSU_Compliance happily tells us with this tweet, OSU student athletes have racked up 3,483 hours of community service this academic year.
"YEAH as a condition of their parole!! HAHAHAHAHA" thought an obnoxious Michigan fan somewhere, before closing his Netscape browser and kissing his Lloyd Carr poster goodnight.
I Can't Defend This, Though Mommas, don't let your children grow up to be English majors. Or vampires that sparkle in the sunlight and give their wives cesarean sections with their fangs and then have their vampire baby fall in love with a werewolf and then have some kind of vampire security council negotiations in the Vatican or some junk oh my God why did I have my little cousin explain this to me and why is it part of a college course at Ohio State?!? WHY??