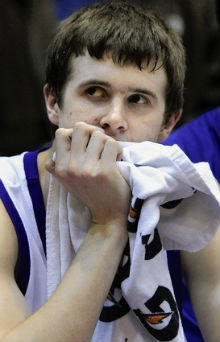 The Buckeye basketball machine rolls into Evanston Saturday evening on the highest of highs, coming off an 87-64 demolition of 12th-ranked Purdue. The win seems to have convinced the entire country that Ohio State is a legitimate #1 team, and even ESPN is convinced that the top ranking is their "rightful place". Now the team faces a pair of "should win" games before heading into the meat of the Big Ten schedule.
First up are the Wildcats of Northwestern, who are reeling from back-to-back losses against conference powers Wisconsin and Minnesota. They were never in the game against the Badgers, which was particularly humiliating since it came at home. Against the Gophers they rallied from a 13-point deficit to take a 34-33 lead at halftime, only to fold in the 2nd half for an 81-70 road loss. To add insult to injury, leading scorer John Shurna suffered a concussion as Ralph Sampson III upheld the tradition of Williams Arena by shoving him into the basket stanchion on an attempted layup. As I am writing this, he is still questionable for the game and it may be an up-to-tipoff decision.
In the all-time series between the teams, Ohio State holds a commanding 107-45 lead. However, the lead is only 43-31 in Evanston, and fans probably remember OSU's last trip there with special disdain. Two years ago, Shurna buried a 3-pointer with 3.3 seconds remaining in the game to complete a comeback from a 37-28 halftime deficit and cap a 72-69 win over the Buckeyes. It was the middle game of a 3-game losing streak for OSU which represented the low point of the season. Veterans like William Buford, Jon Diebler and Dallas Lauderdale were key players on that team and they will want to make sure history does not repeat on Saturday.
| # | Name | PTS | REB | ASST | POS | # | Name | PTS | REB | ASST |
| --- | --- | --- | --- | --- | --- | --- | --- | --- | --- | --- |
| 44 | William Buford | 13.7 | 4.1 | 3.3 | G | 22 | Michael Thompson | 14.1 | 1.9 | 4.6 |
| 33 | Jon Diebler | 11.7 | 2.1 | 2.7 | G | 23 | JerShon Cobb | 7.7 | 2.9 | 1.8 |
| 23 | David Lighty | 12.7 | 4.0 | 3.6 | F | 1 | Drew Crawford | 12.8 | 4.4 | 1.9 |
| 0 | Jared Sullinger | 17.8 | 10.0 | 1.4 | F | 24 | John Shurna | 19.0 | 4.7 | 2.9 |
| 52 | Dallas Lauderdale | 4.6 | 4.0 | 0.2 | C | 12 | Luka Mirkovic | 8.8 | 6.0 | 2.1 |
Opponent
Northwestern coach Bill Carmody is a disciple of legendary Princeton coach Pete Carril and he runs the "Princeton Offense" at Northwestern the same way he did when he was the coach of the Ivy League school after succeeding Carril in that position. What that means is a lot of cutting, passing, and open shots. NU spreads the ball around and shuffles players in and out of the game like inter-changeable parts in a machine. As annoying as it is to play against, you do have to respect the discipline that is necessary to play that style and do it well. The Wildcats parlayed their 20-13 record into an NIT berth last season, but lost in the first game to Rhode Island 76-64.
This season NU started well (9-1) but faltered in Big Ten play and now stand in 8th place in the conference. Besides Shurna, point guard Michael "Juice" Thompson is probably the most dangerous offensive player. He led the 'Cats against Minnesota with 18 points, but hit only 5/16 from the field and 4/13 from distance. Shurna had a nice game despite the injury, but even at that he had 5 turnovers. The only consistent offensive threat on Wednesday was sophomore Drew Crawford, a 6'5" swingman who can also grab a rebound or two. Crawford lit up Georgia Tech for 19 points in Northwestern's convincing 91-71 victory in the ACC/Big 10 Challenge back in November, so he knows how to rise to the occasion against good opponents. 
Buckeye Breakdown:
The accolades for Ohio State after the win over Purdue were near universal, leading to more speculation about the perfect season. Having watched the old UCLA Bruins and Bob Knight's perfect Indiana Hoosiers I have to say there are some similarities, but also some important differences. For starters, the number of games is higher, creating more opportunities for a loss. The other factor is that players sometimes lose concentration, and end up losing in tough road environments. Welsh-Ryan Arena is not the most difficult road test in the Big Ten, but it can be loud if the home team stays in the game. 
On the other hand, there are some problems for those who are looking for the upset, even assuming Shurna is 100%. Northwestern blog Welsh-Ryan Ramblings sums up the problems that the match-up creates for the Wildcats:
Looking at the numbers this isn't a matchup which offers much hope for NU. Yes, Ohio State has had several close calls, but they just annihilated a Purdue team which handed NU a double-digit defeat. Making matters worse, Ohio State's strengths are Northwestern's weaknesses and NU's limited strengths don't seem enough to counter...Obviously, NU's perimeter players need to pressure the ball with intensity to prevent easy post feeds. This will take a major concentrated effort from a number of players who are much too often extremely passive on defense. 
Purdue attempted to slow down Jared Sullinger on Tuesday with quick double-teams, but the strategy backfired as OSU repeatedly made the most of the wide-open 3-point shots this created. Illinois was successful in defending the perimeter late in the game against OSU, but it left their big men to fend for themselves against Sullinger and he made them pay in the final minutes. Luka Mirkovic has some size, but not a lot of agility, and Sullinger will eat him for dinner if he does not get help. It could be another parade to the free-throw line for the freshman if that happens. If they adopt the Purdue strategy, look for William Buford and Jon Diebler to be licking their chops from beyond the arc.
Etc
With a win over the Wildcats, Ohio State will set a new record for most consecutive wins by a team the lost the National Player of the Year from the previous season. UCLA opened the 1969-70 season 21-0 after losing POY Lew Alcindor from the previous season.
Two years ago in Evanston, Jon Diebler hit 8 3-point shots and finished with 28 points. He needs only 6 on Saturday to pass Cory Bradford of Illinois and move into 3rd place on the Big Ten's All-Time 3-point Leaders list. Diebler has 322, and is only 10 behind the all-time leader Pete Lisicky of Penn State (332).
Ohio State is now 62-4 when ranked #1 by the Associated Press.
The win on Tuesday over Purdue was OSU's 17th straight home win.