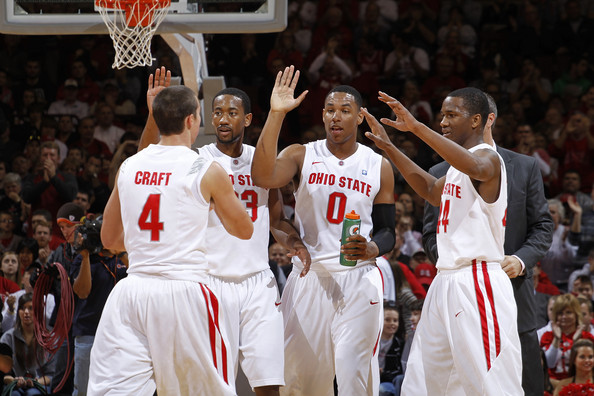 Yes, these are exciting times in Columbus.
Barring a loss to Penn State on Saturday, Ohio State will assume the No. 1 ranking when the polls are released Monday. Since Thad Matta was hired to lead the basketball program, Ohio State's major sports (football and basketball) have seen almost unprecedented success.
At 17-0, the Buckeyes are off to their third-best start in school history. The No. 1 ranking and undefeated season are all fine and dandy.
Just keep in mind it isn't going to last.
There is nothing wrong with that, though. This is college basketball, not football. In reality, being the top-ranked team during the regular season doesn't really matter all that much. Building a solid resume, boosting the RPI and winning a conference championship is all much more important. If the No. 1 ranking comes with it, so be it.
The Big Ten is loaded and, like always, winning on the road is a chore. Remaining on the Buckeyes' schedule are games at Illinois, Minnesota, Wisconsin, Purdue and Penn State. You think they are winning all of those games? Sign me up for whatever you are taking.    
Don't worry, Buckeye fans. Ohio State is well on its way to earning a high-seed in the NCAA Tournament. At this point, it'd be surprising if they were not a one-seed. This team has proven a tremendous amount about themselves in just 17 games.
There is no question they are better than last season's squad that won 29 games and featured the national player of the year. Arguments can be made that they are better than the 2006-07 team that lost in the national championship game. The Buckeyes have already clobbered a then-Top 10 team on its home court (Florida) and handled Florida State in Tallahassee. That's the same place where Florida State beat No. 1 Duke last night. 
Thad Matta's freshman class has distinguished itself as the best in the country. Jared Sullinger is a lock for Big Ten Freshman of the Year. Aaron Craft is the point guard the program has been looking for since Mike Conley, Jr. departed for the NBA four seasons ago. Deshaun Thomas has been a spark off the bench.
That being said, anything can and, most of the time, does happen in college hoops. It is the wackiest (in a good way) sport we have. Mid-majors thrive and actually have a realistic chance at winning the national title. San Diego State, led by former Michigan head coach Steve Fisher, is currently one of the four remaining undefeated teams and ranked sixth in the country.   
Not since the Bob Knight-led Indiana Hoosiers won the 1976 national title going 32-0 in the process has college basketball seen a team finish undefeated. UNLV, St. Joseph's and Illinois have all flirted with the feat, but no one has been able to complete the dream.
Could the Buckeyes be the team that ends a 35-year trend? Yes. Is it probable? No.
Every team has that game where its weaknesses are exposed, they can't handle the atmosphere on the road or a perfect storm engulfs them.
Jared Sullinger getting in foul trouble (which happened against Michigan), going cold from the three-point line, turnovers and defensive lapses are things that will probably happen when Ohio State loses.
The beauty of it all? Nothing will change when they drop a game. They will still be a prime contender to win a conference title, they'll still be a Top 5 team and they'll still have their sights set on Reliant Stadium and the Final Four.
Ohio State won't go through the regular season undefeated. But why worry about that? Going 6-0 from the middle of March to the first week of April is all that matters in college basketball.