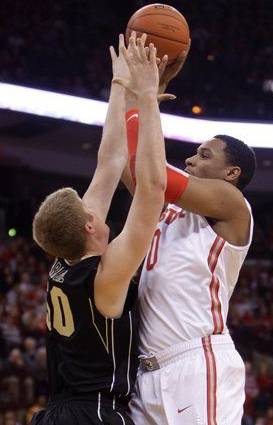 Well, I guess that takes care of any questions as to which team is truly the cream of the crop in the B1G - and the country - for that matter. Featuring a balanced attack that saw six Buckeyes reach double figures, Ohio State simply outmanned and out hustled the Purdue Boilermakers on the way to an uber-convincing 87-64 blowout victory in front of a national TV audience.
William Buford poured in 19 points on the strength of 5/6 shooting from beyond the arc and Jared Sullinger held his own against Purdue senior all-everything JaJuan Johnson racking up 17 points and seven boards, bouncing back from a four point first half.
Jon Diebler also had a strong showing with 13 points on 3/5 from deep and team highs of eight boards and six assists, tossing in a block of a Johnson dunk attempt taboot. I've been critical of Diebs over the years for being a one dimensional player but he certainly showed impressive versatility tonight.
Aaron Craft was a difference maker in the 1sthalf and finished with 11 points, six rebounds and six assists while DeShaun Thomas chipped in 13 and six boards.
Behind a raucous crowd, Ohio State flashed an intensity not yet seen this year on the way to an electric 16-5 burst forcing Matt Painter to call a timeout with 13:07 left in the half. Buford got it started with two triples before Dallas Lauderdale showcased a lefty jump hook moving through the lane. After an E'Twaun Moore free throw, Diebler got into the three point party burying one from the the wing making it 11-5 good guys. After Sullinger tipped in a Craft miss, Craft drained a triple in transition giving Painter heartburn and OSU the 16-5 cushion. Purdue was forced to call timeout as the Buckeyes hit four of their first five from distance and 6/13 overall while the Boilers managed just 2/8 shooting with a pair of turnovers.
The timeout did little to cool off the Buckeyes as DeShaun Thomas dialed one up from distance before a Terone Johnson layup gave Purdue their first bucket in roughly five and half minutes. Undeterred, Lighty converted an and-1 off a hard drive along the right baseline pushing the lead to 22-7 with 11:31 remaining. After a layup from Moore, Craft took over converting back to back sick layups in traffic building the lead to 26-9 and forcing Painter to call another timeout.
A little over three minutes later, Craft again put on a show in the lane making it 33-13 forcing Painter to again try to stop the Boiler bleeding. The move was futile once again as Lighty picked up a steal and went coast to coast on Purdue's out of timeout possession pushing the lead to 22 at 35-13 with 5:52 left.
Another bomb from Diebler at the 1:19 mark again put OSU in front by 22, at 44-22 and OSU eventually took a 46-26 lead to the locker room.
The 20 minute blitzkrieg saw OSU shoot a blistering 67% from downtown (6/9) and 57% overall behind 4/6 shooting from Craft (9 pts), 3/4 from Thomas and 2/4 from both Diebler and Buford. Diebler paced the attack with 10 points with Buford, Thomas and Lighty adding seven each but Craft was the straw that stirred the drink. The kid is gaining confidence at a rate that should alarm the rest of the country and his nine point, five board, four assist effort in 15 minutes was a thing of point guard beauty.
The Buckeyes were also impressive at the defensive end in the opening 20 minutes as Lighty locked up Moore holding him to 1/7 shooting (7 pts) while the rest of the Boilers not named JaJuan Johnson combined to shoot 4/11 as the aggressive Buckeye man to man held Purdue to 39% from the floor while owning the glass 21-10.
Purdue came out game in the 2ndhalf but could only work the deficit down to 50-33 after an E'Twaun Moore layup before a wild sequence saw Sullinger drain a trey from the top of the key, Diebler pack Johnson on a dunk attempt and finally Sullinger pick up a steal before Buford splashed a triple to make it 56-33 Buckeyes with 16:36 left.
The Boilers wouldn't get closer than 20 the rest of the way as Ohio State cruised to victory.
On the night, Ohio State shot a marksman-like 58% from deep (11/19) and 55% overall while holding Purdue to 38%. The Buckeyes also dominated the glass 39-26. Lighty harassed Moore into 4/13 shooting (16 points) while Johnson faired better with an impressive 24 point (10/18), seven rebound effort. The only real blemish was a 12/22 night at the stripe but it mattered little as the Buckeyes had their way with the offensively challenged Boilers.
The win improves Ohio State to 21-0 overall and 8-0 in conference play with a Saturday date with Northwestern, in Evanston, set for 6:00pm.