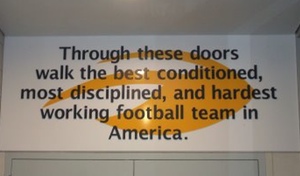 And like that, poof. He's gone.
Wednesday I mentioned that there was a good chance Brady Hoke would bring his own S&C guy, Aaron Wellman, with him from San Diego State and yesterday that assumption took on a bit of truthiness when Devin Gardner bade Mike Barwis goodbye via a tweet.
It seems like only yesterday when things were all "Eeee Barwis" as he and his pet wolves began work transforming 180-pound dynamos into 190-pound open field turnstyles, but the Barwis Method now joins the rest of the Wolverine football staff looking for work. Final grade? Incomplete.
Also on Twitter yesterday, where all news seems to break these days (don't forget to follow us), AD Dave Brandon confirmed that reigning Big Ten Offensive Player of the Year Denard Robinson will be staying in Ann Arbor. The news comes after two meetings between the quarterback and coach and Hoke stating in a radio interview that he'll look to tweak his offense to utilize Robinson, saying "We're not going to try to put a square peg into a round hole."
It will be interesting to see how Al Borges uses Robinson. He's written a book on molding West Coast quarterbacks and contributed a chapter on the I formation to an AFCA publication, but he's also no idiot and will come up with ways to get the ball into Denard's hands whether that's at quarterback or in some sort of "slash" capacity.
T-Minus one day. Eligible underclassmen have until tomorrow to declare for the 2011 NFL Draft and barring any major, last-minute surprises, it appears as if the Buckeyes will be returning everyone. When Tressel announced that the suspended players had agreed to return for their senior season as a condition for traveling and playing in the Sugar Bowl, I thought it was a brilliant tactical move, but had reservations. Surely one of the five would later go back on his word, an uproar would last for about two weeks and then we'd be on to the next thing, but that does not appear to be the case. Hats-off to the group for taking their punishment, which should go a long way towards redeeming them in the eyes of those that are still bitter about the situation.
Time to shrine. Speaking of the draft, it's that time of the year again when you get to see Ohio State helmets rocking unnatural stickers and clashing with uniform colors as seniors take part in the annual exhibition circuit hoping to impress NFL scouts in places like Orlando and Mobile, Alabama. As of right now, no Buckeyes are set to play in the Senior Bowl, but three will take part in the East-West Shrine Game on January 22nd: Bryant Browning, Brian Rolle and Jermale Hines will lace them up for the East squad.
Guys like Sanzenbacher, Boren, Homan and Heyward can probably get by without playing in one of these games, but other players, primarily draft tweeners like Larimore, Saine and Torrence might need every opportunity to showcase their skills, so look for additions to these rosters in the coming days.
Jim Foster is sweating. The drubbing the Lady Bucks suffered against UConn in early December seems to have taken some wind out of the team as they've now lost four of their last six after last night's 64-53 setback to Northwestern in Evanston. The loss snapped a 19-game winning streak against the Wildcats and a team that returned five starters from a 31-win season is clearly lost at sea right now as the six-time defending Big Ten champions are just one game out of the cellar in the conference standings. Usually, Foster's teams wait until the postseason to meltdown, but if things don't turn around quickly, he might not have that many more postseasons to look forward to/dread.
All in for charity. We've taken our shots at Rich Rodriguez through the years, but his decision to donate 432 Michigan items to the Salvation Army was a pretty classy move. As poorly as he was treated at times up there, I wouldn't have blamed him if he had thrown the entire collection of jackets, hats, sweatshirts and other articles into a bonfire on his front lawn.