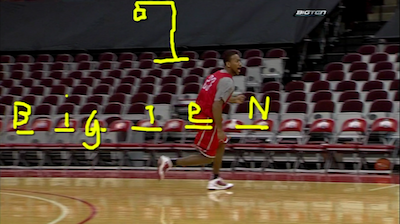 Your fearless podcasters, Luke and Johnny, are joined by a bevy of hoopscentric guests in this, the de facto official/unofficial shift over from football to Ohio State basketball coverage (mostly). Adjust your attention spans accordingly.
This podcast keeps the topic on basketball, the whole basketball, and nothing but the basketball (so help us Basketball God). Everything from Jared Sullinger's ascension to Ohio State's season end ceiling are covered in full by a world class panel of hoops minds. Think a venerable basketball McLaughlin Group, but cool enough to go out with afterwards.
The guests for the fifth incarnation of the Eleven Warriors Eleven Dubcast are as follows:
11W's own resident Ohio State hoops expert Chris breaks down Jared Sullinger in relation to other Buckeye freshmen historically as well as to how he perceives he measures up to some of Ohio State's other most significant impact makers throughout the history of the program.
Chris of slowstates.com and Slow States Podcast (also @scrappled on twitter) stops by to discuss Ohio State's forthcoming scuffle with the Penn State Nittany Lions and arguably the lone obstacle remaining between tOSU and college hoops' #1 ranking.
Finally, our heroes are privileged to be joined by John Gasaway of basketballprospectus.com, the College Basketball Prospectus 2010/11, and ESPN Insider to discuss OSU's ceiling and how Deshaun Thomas fits into Ohio State fans' (not so?) delusions of grandeur.
You know the routine. Right click->'Save As' here to download or check us out/subscribe on iTunes. Also, if you're so inclined, feel free to stream below: