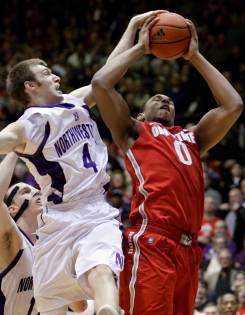 No Shurna, no problem. Almost.
Facing an uphill battle, albeit at home, without their 19 ppg scorer, Northwestern gave Ohio State all they could handle before a Jared Sullinger free throw with 3.5 seconds left gave the Buckeyes a 58-57 victory moving them 22-0 overall and 9-0 in conference play.
Sullinger's 21 points and eight rips paced the good guys and Aaron Craft was also a beast adding 13 points while William Buford chipped in 11.
It looked like the Buckeyes might have finally shaken off the pesky Wildcats by way of a 14-4 blitz fueled by six points apiece from Sully and Buford to open the 2nd half giving Ohio State what seemed like a comfortable 41-29 lead with 14:07 to play but to their credit, Northwestern would not go away.
Still trailing by 12 with 8:25 to play following a strong driving layup from Craft making it 51-39 OSU, the unnerved Wildcats unveiled a frustrating seven point possession igniting a 16-3 spurt. During a Michael Thompson triple, Dallas Lauderdale judo chopped Davide Curletti in the windpipe on a blockout attempt and was whistled for an intentional foul. Curletti stepped to the line making just one of two free throws but it was still Northwestern's ball on the side. On the ensuing inbounds, JerShon Cobb dialed up from distance trimming the Buckeye lead to 51-46 with 7:24 left.
After David Lighty converted two free throws, Thompson struck again from downtown cutting the lead to 53-49. Poor free throw shooting would hurt the Buckeyes as Sullinger missed the front end of a 1-and-1 and Lighty missed two charity tosses before Alex Marcotullio connected from beyond the arc cutting the lead to 53-52. After Sullinger was fouled again but only could only hit one of two, Thompson again got just enough space and bombed another triple putting Northwestern in front 55-54 with 3:53 left. The three pointer was Northwestern's fifth in six attempts during the run while Sully and Lighty were busy combining to miss four of five free throw attempts.
On the ensuing possession, however, some kid named Diebler who hadn't scored all night answered with a triple of his own from the top of the circle reclaiming the lead for OSU at 57-55 with 3:38 left.
After the teams traded two empty possessions each, the Wildcats used up the rest of the tank as Thompson hit an impressive driving teardrop over Lighty tying it up at 57 apiece with 1:33 left in regulation.
Craft committed what could have been a costly turnover off a bad pass to Diebler on the following possession but Lighty picked off a backdoor pass from Marcotullio. Still tied at 57 with :17 left, Matta elected not to call timeout as the Buckeyes pounded the ball inside to Sullinger on the left block who was fouled by Marcotullio. Sullinger missed the first but hit the second giving Ohio State a 58-57 lead with 3.5 to play. Having to go the length of the floor, Drew Crawford was effectively defended and his shot from midcourt failed to strike iron keeping OSU's perfect season intact.
Despite shooting a ridiculous 57% from the field with just five turnovers, the Buckeyes were still far from perfect allowing eight long offensive rebounds while losing Wildcats on their fair share of backdoor cuts helping Northwestern assist on 16 of their 20 field goals. The Buckeyes also lost the glass 22-18 and forced just six turnovers but held Northwestern to 40% shooting including 9/29 (31%) from beyond the arc.  
Thompson led Northwestern with 16 points and eight assists while Mike Capocci added 11 in Shurna's absence.
Diebler took just four shots in 40 minutes finishing with three points and three boards. Lighty was also ineffective at the offensive end adding just six points.
With Northwestern selling out on the perimeter to start the game, Ohio State was forced to attack the paint building a 6-5 lead to 15-8 behind a shocking 19 foot dribble drive from Lauderdale before Sullinger picked the pocket of Mike Capocci and used a behind the back dribble to gain space for the end to end layup and a 10-5 lead. After Craft foolishly fouled Drew Crawford on a triple try, Buford converted a baseline and-1 off a nice feed from Craft and Sullinger hit a pair of free throws.
The lead was short lived as Northwestern stuck to the script of exhausting the shot clock with the Princeton offense producing a methodical 13-4 run capped by back to back bombs from JerShon Cobb and Michael Thompson to take a 21-19 lead with 3:51 left in the half.
Craft assured Ohio State a 27-25 halftime lead scoring eight of OSU's final 10 points while Sullinger added 10 points and four boards for the half with Buford tossing in five. Lighty and Diebler were non-factors, both picked up two fouls, combining for just two points on 1/3 shooting.
The Buckeyes shot a healthy 50% in the opening 20 minutes but assisted on just 3/11 field goals as Northwestern's switching defense triggered plenty of one of one action. Meanwhile, the OSU defense didn't win any points for intensity but still managed to hold the Wildcats to 36% shooting as Northwestern consistently ran the clock before launching a trey on 12 of their 22 field goal tries.  
In addition to making it 22 straight W's this season, the victory is OSU's 26thstraight in the regular season and moves them to 37-2 in their last 39 games overall.
The Buckeyes now head back to Value City Arena where they await the Michigan Wolverines for a 7:00pm tip next Thursday night.