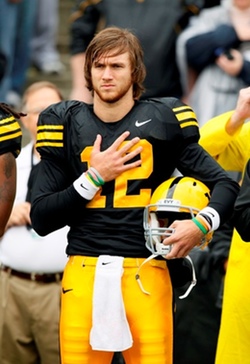 If you went to bed early last night, shame on you because you missed an incredible finish to the Big Ten's first bowl game of the season. Behind reserve freshman running back Marcus Coker's 113 first half yards and two touchdowns (he'd finish with an Iowa bowl record 219 yards on 33 attempts), the Hawkeyes took a 17-10 lead to the locker room.
And then Missouri's Blaine Gabbert caught fire, leading the Tigers to a 24-20 edge heading into the final stanza. Compounding Iowa's troubles, quarterback Ricky Stanzi looked downright awful for much of the second half against the veteran Missouri secondary, throwing two interceptions (and what nearly turned into two more) as he watched the Tigers seize control of the game late.
With all of the game's momentum, Missouri was driving late in the fourth when Gabbert scrambled to his left and forced a throw in the flat that landed in corner Micah Hyde's chest and Hyde promptly returned the pick 72 yards with just over five minutes remaining to ice the game for Iowa, 27-24. Missouri staged a late rally, but a fourth down completion at the Iowa 33 was overruled after a review and the Hawkeyes ran out the clock.
The defense surrendered 512 yards to Gabbert through the air and things looked bleak for most of the second half, but in the end, an 7-5 Big Ten team proved to be better than a 10-2 Big 12 squad and the Hawkeyes got the conference off to a crucial 1-0 start to bowl season, turmoil and all.
For the record. After the player suspensions were announced for Tatgate last week, former Buckeye Thaddeus Gibson spoke to The Lantern and said administrators preached not selling personal items to players while he was in Columbus. This contradicted what Gene Smith had said a day earlier and, as you can imagine, caused a bit of a stir. Well, Gibson would like to clear things up and did so via a statement to the National Football Post:
"As a team we were made aware on multiple occasions that obtaining any extra benefits as a student- athlete was a violation of NCAA rules and could lead to punishment for the player as well as for the team. At the time of the interview, I was simply commenting on having been made aware of rules regarding extra benefits for student athletes, not on selling any personal items."
Got that? He was referring to extra benefits, not necessarily the selling of personal items. Oh, and if you're in the media, make sure Gibson is the last person you talk to when another scandal hits.
Bring on UGA. Georgia and Ohio State have signed a "memorandum of understanding" for a home-and-home series to be played in 2020 and 2021, athletic directors from each school confirmed yesterday. The meetings will be the first between the two schools since Garrison Hearst ran wild for 163 yards in a 24-14 Bulldog victory in the 1993 Citrus Bowl and Georgia AD Greg McGarity (the guy that replaced the guy caught with the undies) hopes to schedule a "big-time, traditional opponent" for a home-and-home "every 8-10 years". How adventurous! The Buckeyes, meanwhile, will play Colorado next season, Cal in 2012-13, Virginia Tech in 2014-15, Oklahoma in 2016-17 and Tennessee in 2018-19 before taking on Georgia.
WHAT'S THAT, YOU SAY?!. Rumors had been flying all week that Joe Paterno was a) retiring or b) being forced out, but the 84-year-old stepped out of his living room just long enough to shoot down any of that nonsense, taking particular aim at social media:
"It drives me nuts. I get in a bus and I gotta tell a bunch of kids, 'Take that thing sticking in your ears and shove it.' I don't particularly like the idea of people having that much access to anything."
The coach went on to say:
People think I'm gonna quit this year or next year, I haven't even thought of it. The situation around me is very stable. The athletic director was a kid I recruited as a walk on.
So there you have it. Penn State's dance with mediocrity will continue for the foreseeable future.
LIKE! West Virginia put up seven whole points against North Carolina State in the Champs Sports Bowl and as you'd imagine, that wasn't enough to win the game. The anemic outing was of no concern to reserve running back, who admitted to posting Facebook status updates at halftime. I guess when you finish with two carries for six yards, you might have time for social networking at the intermission.