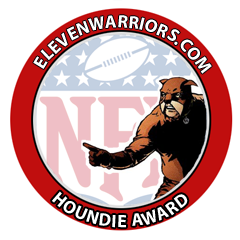 The Houndie is an award formerly known as the Buckeye NFLer of the Week.  After 2 years of existence, we searched for a catchier name, so with the help of a well placed typo and the ensuing 11W comments, the current title was created.
Buried below the news of TatGate, the playoff picture is pretty much set in the AFC, with the Ravens, Jets and Chiefs clinching a spot this past weekend, with the final spot going to the Colts or Jaguars. The NFC is a bit fuzzier, as four teams have a chance to punch their ticket in the final week.  
The week once again started on Thursday, with dismal Carolina going down to Pittsburgh 27-3. Chris Gamble sat his fourth straight with an ankle injury, while Will Allen recorded a special teams tackle for Pittsburgh. Carolina did win on Sunday though, as Cincinnati and Detroit each won their games, giving the Panthers the first pick in the 2011 draft.
Christmas night brought us a crazy game, as Arizona kicked a last second FG to knock off Dallas, 27-26. Beanie Wells rushed 11 times for 47 yards, sadly his best game since week 8 and 4th best yardage wise on the season. Wells will need to have an incredible offseason if he wants to keep his starting job, as he enters week 17 with 111 carries for 381 yards and just 4 receptions.
The tackling machine, Donte Whitner added to his career high with 9 solo stops and 3 assists in Buffalo's 34-3 loss to New England. Whitner now sits by himself at 4th in the league with 136 tackles, 3 behind teammate Paul Posluszny and looks to have made himself some serious cheddar this offseason. Ashton Youboty also recorded just his second tackle of the season for Buffalo. 
The game of the day was in Chicago, where the Bears inched closer to a first round bye and the Jets still clinched a playoff spot in their 38-34 road loss. Santonio caught 4 balls for 69 yards, including a 29 yard TD in the 3rd quarter to tie the game at 31, but lost a fumble in the first that lead to a Bears touchdown. Ben Hartstock had one thrown his way, but didn't catch it, while The Gun Show entered the box score for the third straight week with a solo tackle. The most impressive performance though came from Nick Mangold, who lead an O-Line that kept the Bears D off Mark Sanchez the entire game.
In Cleveland, Brian Robiskie continued his second half push, hauling in 2 for 35 yards, including a 29 yard TD in the first quarter to put the Browns up 7-0, but they fell to the Ravens, 20-10. Robo has caught a TD in his last 2 games and seems to have some chemistry with Colt McMoy with 17 catches over the last 5 games.
Kansas City clinched the AFC West with a 34-14 win over Tennessee. Mike Vrabel had 2 solo tackles and though his numbers don't show it, there's no question his leadership has helped turn this franchise around. On the other side, Donnie Nickey had a couple of solo tackles, marking a season high.
In what became Mike Singletary's final game, Troy Smith got the start and didn't fare well in San Fran's 25-17 loss at St. Louis. Smith and Singletary got in a shouting match after Troy started off the second half with a pick that lead to a Rams FG and 15-14 lead. Troy was eventually benched in the 4th after going 7/19 for 153 yards and a TD. The 49ers first score came on a Ted Ginn 78 yard punt return in the second quarter, his first of the season, while Nate Clements had 7 total tackles on the defensive side. For the Rams, Laurainitis had 7 solo tackles, as their victory sets up a winner take all matchup with Seattle this Sunday night.
Speaking of Seattle, Jay Richardson saw his most action of the season, registering 2 tackles in the Seahawk's 38-15 loss at Tampa. In Green Bay's 45-17 spanking of the Giants, A.J. Hawk had 6 total tackles and Ryan Pickett had 2 solo stops. The victory set up a win and in scenario for the Pack this week against the Bears.
In Monday's action, New Orleans held off Atlanta 17-14, not allowing the Falcons to clinch the division and giving the Bears a slim hope for home field throughout the playoffs. Michael Jenkins lead Atlanta in reception with 5 for 40 yards, but was targeted 9 times. For the Saints, Will Smith had 3 total tackles, which included 1 for a loss and he added a sack, while Malcolm Jenkins just had a single tackle.
This week's award goes to a player who has been labeled a first round bust and is on his fourth team over the last year, but finally got some significant playing time this past weekend. Bobby Carpenter has been in Detroit since week 8, registering 12 tackles thus far, but in Detroit's 34-27 win over Miami, he lead the Lions with a season high 10 tackles, including 9 solos and a TFL. The Lions have now won 3 straight and took themselves out of the running for the top overall draft pick. It is good to see Carpenter finally getting some action and hopefully his play lately will help him stick with the roster going into next season, as their young D-Line is starting to dominate games.