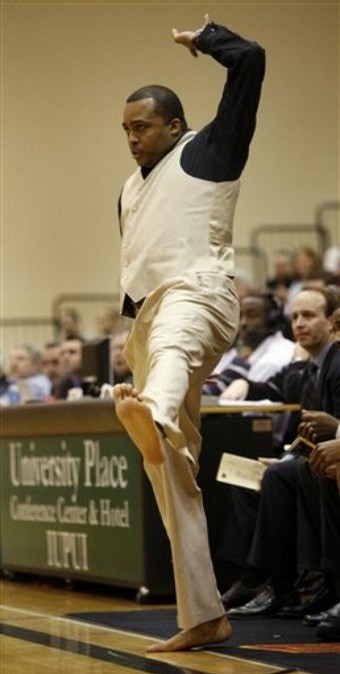 It's the traditional lull in the Ohio State basketball schedule. Every year at this time the Buckeyes go a week or more between games because of final exams. Quarters are the topic, as the freshman now have an academic quarter and a quarter of the regular season under their belts. Ohio State has ran roughshod over the competition thus far. Florida and Florida State were the only legitimate threats and the Buckeyes passed the test both times they went to the Sunshine State. 
IUPUI will attempt to break the trend for OSU opponents, which is getting blown out. The Jaguars come into Value City Arena winners of three of their past four games. The only loss was to Oral Roberts, who made a shot with one second remaining to pull out a victory. IUPUI has been successful in years past going to the NCAA Tournament in 2003 and winning 25 games last season.
Head coach Ron Hunter, who has been at IUPUI for 16 years, has received publicity in recent seasons for coaching barefoot. He does it to benefit Samaritan's Feet, a foundation that donates shoes to those who cannot afford them. Other coaches have also taken part. Hunter has been able to donate millions of pairs of shoes to the needy.   
| # | Name | PTS | REB | ASST | POS | # | Name | PTS | REB | ASST |
| --- | --- | --- | --- | --- | --- | --- | --- | --- | --- | --- |
| 44 | William Buford | 11.0 | 4.6 | 3.5 | G | 2 | Stephen Thomas | 10.3 | 3.3 | 2.4 |
| 33 | Jon Diebler | 11.2 | 2.0 | 2.3 | G | 42 | John Ashworth | 4.3 | 3.1 | 2.2 |
| 23 | David Lighty | 14.7 | 5.2 | 3.8 | F | 1 | Leroy Nobles | 16.3 | 4.8 | 1.8 |
| 0 | Jared Sullinger | 14.5 | 9.3 | 0.8 | F | 5 | Alex Young | 17.2 | 6.3 | 2.2 |
| 52 | Dallas Lauderdale | 4.8 | 5.5 | 0.2 | C | 55 | Christian Siakam | 5.0 | 4.6 | 0.1 |
Opponent
Similar to Ohio State, IUPUI has a short rotation. While a team like Ohio State has superb athletes and can get away with it, IUPUI cannot (at least not against Big Ten teams). The Jaguars' three best players all play over 30 minutes a game. Thad Matta is sure to exploit that trait. Expect the pace of the game to be vastly different from the Miami (Ohio) snooze fest. 
Alex Young is clearly the Jags' best player. He is averaging over 17 points a game, but was limited to just six in IUPUIs loss to Oral Roberts on Saturday. Young has made nearly 50 percent of his shots from the field and also pulled down six rebounds and dished out two assists per game. He is someone that will need to be accounted for at all times. Other offensive threats are Leroy Nobles and Stephen Thomas. Nobles is averaging 16 points a game for the season but has averaged 24 over the past three games. Thomas, the floor general, is very efficient shooting the basketball. 
Buckeye Breakdown:
Ohio State should have no problem with IUPUI. The Jaguars employ a zone defense, which can give teams fits, but Ohio State shouldn't have a problem getting the ball into the post. IUPUI is athletic and has good players, but they will be over matched from the opening tip on. I would expect Ohio State, which leads the nation in defensive efficiency, to shut down Alex Young like Oral Roberts did. Ohio State figures to have a huge advantage down low (offensively and defensively) with Jared Sullinger and Dallas Lauderdale. Pounding the ball into the post will be an all night affair. IUPUI will likely settle for a lot of jump shots because of the presence in the post.  
What this game will be good for is getting the young guys valuable minutes. The freshmen, even Craft and Thomas, can gain from playing big minutes against lesser opponents. The flow of a game is a much greater learning experience than practice. The Buckeyes have seven non-conference games remaining on the schedule and all but one of them (South Carolina) is likely to be a cakewalk. This is the time to get young guys fully entrenched into the Division I game. Yes, the conference portion of the schedule will be harder on them, but this is a good preparation.
Make no mistake, though, the veterans can also use this time to make themselves better. With Aaron Craft running the point, the Buckeyes will need to be totally gelled when the Big Ten season comes a callin'. An advantage the team has (not necessarily the older guys) is that Craft was their point guard in AAU. That was one huge advantage the Thad Five had with Conley; he had been their point guard for four years. They didn't skip a beat when they arrived in Columbus. In a six game sample, which is minute in the grand scheme of things, this team has shown brilliance and maybe that they are better than the 2006-07 national runners-up. In mid-December, that is a scary thought to ponder for the rest of the Big Ten and the country. 
Ohio State 88, IUPUI 61
Etc
IUPUI is 0-9 all-time vs. ranked opponents
Ohio State won the only previous game between the schools, 83-70, during the 2001-02 campaign. Boban Savovic scored a game-high 25 points. Oh wait, none of that ever actually happened. Thanks, Jim O'Brien!
The only common opponent the teams share is Miami (Ohio). The RedHawks defeated IUPUI by one point.