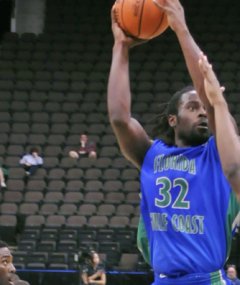 Fresh off a 85-60 feasting of cupcake Western Carolina, the undefeated Buckeyes welcome another pastry to Columbus in the form of the Florida Gulf Coast Eagles. This one will be back across the Olentangy in the Schott after Ohio State placed five in doubles figures led by Jared Sullinger's 17 in Sunday's win at St. John Arena.
While the opponent and venue are different, the result likely won't be. That's welcome news in my opinion as the game will afford Matta the luxury of giving his starters a tuneup while hopefully allowing his bench to log even more than the 83 minutes played against the Catamounts in prep for South Carolina (7-1) on Saturday and the giant slaying Golden Grizzlies of Oakland the following Thursday.
Lucky for you, the BTN will keep this blowout exciting by having the white man's Gus Johnson call the game, aka Tom Hamilton along with former Buckeye Tony White from the bustling metropolis of Pataskala. Or, if that doesn't do it for you, there's always the fact Florida Gulf Coast's head coach, Dave Balza, is a Michigan alum. Feel free to channel your hate.
| # | Name | PTS | REB | ASST | POS | # | Name | PTS | REB | ASST |
| --- | --- | --- | --- | --- | --- | --- | --- | --- | --- | --- |
| 44 | William Buford | 11.7 | 5.1 | 4.0 | G | 21 | Marlon Rivera | 7.9 | 5.7 | 4.4 |
| 33 | Jon Diebler | 11.3 | 1.8 | 2.5 | G | 3 | Reid Baker | 17.7 | 3.1 | 1.1 |
| 23 | David Lighty | 12.5 | 4.5 | 3.6 | F | 5 | Christophe Varidel | 7.9 | 2.4 | 1.0 |
| 0 | Jared Sullinger | 18.0 | 9.3 | 0.9 | F | 32 | Anthony Banks | 15.4 | 7.4 | 0.3 |
| 52 | Dallas Lauderdale | 5.3 | 4.9 | 0.1 | C | 12 | Tim Snyder | 7.3 | 3.8 | 0.7 |
Opponent
Out of the Atlantic Sun Conference, Florida Gulf Coast is quite simply a team of bad shooters that like to turn the ball over. Losers of four straight and five of seven, the Eagles are currently ranked 321st in the country hitting just 38.1% of their shots with 18 turnovers a game sprinkled on top. No wonder their coach is bald. In all seriousness, Dave Balza is the only coach the Eagles have ever had (9 seasons) and they've posted a 58.6 winning percentage with an up-tempo style. The Eagles haven't played since a 71-56 setback at Jacksonville back on Saturday, 12/4 due to finals. It's probably worth nothing they only lost to Miami, FL by 12 in late November.
FGC is led by their two big guns in 6'1" senior guard Reed Baker and 6'6" sophomore Anthony Banks. Entering the season fourth all-time at FGC in 3-pointers made (109), Baker is putting together another strong campaign leading the team in scoring at 17.7 per including a 28 point performance against SE Missouri State and 20 against the 'Canes though he scored just nine on 2/9 shooting in FGC's latest loss to Jacksonville. Baker is hitting just 27% of his triple tries this year after connecting on 34% a season ago.
Banks, a baseline complement to Baker, made the Atlantic Sun all-rookie team last year and comes is averaging 15.4 points and 7.4 boards including a 21/11 dub-dub against the Hurricanes. He's hit double figures in scoring in six of seven contests and comes in averaging 19.3 pts and and 10.7 boards over his last three outings.
Marlon Rivera is a versatile true point guard averaging 4.0 turnovers a game but with 4.4 assists. He doesn't look to shoot the three but fellow guard Christophe Varidel does, taking 71% of his FGA's from beyond the arc. A 32% 3FG shooter on the season, he's hit three triples twice in a game but also coughs it up to the tune of 2.4 per.
Tim Snyder, a 6'7" junior, missed the Jacksonville tilt after suffering a concussion the game prior at North Florida. I've not seen definitive word on his status but he'll be 13 days removed from the incident. Balza has used his entire bench thus far with Chase Fieler and and Nick Goshay receving the most minutes as of late. Fieler is a stringbean freshman (6'7", 190 lbs) averaging 3.1 boards but he better wear kevlar if he ventures into the paint with Dallas Lauderdale and Sullinger. He's shooting a hilarious 23% on the season but did manage 11 points and five boards against Miami. Goshay played a season high 20 minutes against Jax recording five points. Sophomore guard Sherwood Brown didn't play against Jacksonville after averaging 14 minutes the previous five games.
Buckeye Breakdown
Ranked 2nd in the conference in Scoring Defense (54.4) and 1st in Turnover Margin (+6.88), expect Matta to again challenge his team to play smothering Raftery from the opening tip to exploit FGC's penchant to give up the rock. Once he checks in for Lauderdale in the early going, expect Aaron Craft to be at the center of the defensive disruption. Through eight games, Craft hasn't gotten much pub in the shadow of Sullinger and the four upperclassmen starters but he has shown an ability to get in the shorts of the opposing point guard and currently sits 12th in the B10 in steals. With Craft's ball hawking out top, length on the wings from Wil Buford, Jon Diebler and David Lighty and a back line of Sullinger and/or Lauderdale, FGC will likely be forced to settle for lengthy jumpers deep in the shot clock.
Offensively, the unselfish Buckeyes have shown excellent ball movement ranking 3rd in the B10 in assists (17.0) with Craft leading the way at 4.5, good for 4th in the conference while Buford ranks 11th at 4.0 per night. Due to a lack of size, the Eagles may choose to employ some zone or use constant double teams to keep Sullinger from getting the ball on the low block freeing up open jump shots on the perimeter similiar to IUPUI's approach but due to the talent mismatch, it's really a pick your poison scenario.
Buford, clearly focused on expanding the depth of his all-around game this season, has looked balanced averaging 12.5 points, 6.5 boards and 3.5 assists against just 1.5 turnovers in his last two outings. Running mate Diebler has reached double figures in three straight and his hit five of his last eight 3FGA's, moving within one made 3FG of tying AJ Guyton for 7th place on the conference's all time list.
Meanwhile, Lighty looks to be more of a factor after failing to reach double figures in his last two games after totaling at least 10 points in the first six games, averaging 14.7 points. The tempo of this game should allow Lighty to get back in the offensive flow.
Reserve Deshaun Thomas hit only 2/7 against Western Carolina, again showing an itchy trigger finger, but he did hit 8/8 from the line. He has just two rebounds in the last two games (only 9 min against IUPUI to be fair) after averaging six in his previous four outings. I'd love to see him begin settling in to his role and show better shot selection. Fellow reserve Jordan Sibert earned more time after hitting 2/4 from downtown with two steals in 18 minutes against Western Carolina. As discussed, Thad likely won't go eight deep in conference play unless he has to but Sibert showed improved acumen at the defensive end meaning he's probably earned another 15+ minutes tonight if the game unfolds as planned.
Etc
Freshmen have provided exactly 50% of OSU's points so far this season.
At home against unranked foes, Matta is 92-2.
Buford needs 14 points to become the 47th Buckeye to reach 1,000 career points.