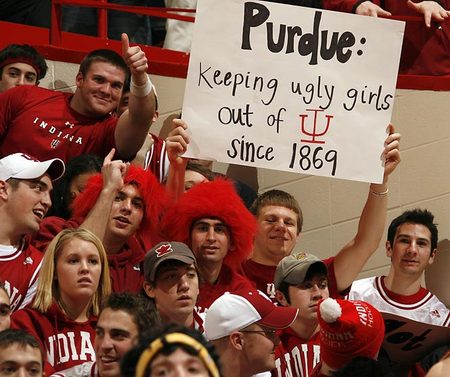 Tonight Ohio State begins their Big Ten season on the road against the guys with the striped warm-up pants. The Buckeyes take their high-powered offense into historic Assembly Hall for a 6:00 PM tilt to ring in the new year. Tom Crean's Hoosiers are coming off a humiliating home loss to Penn State in their Big Ten opener Monday night, the second year in a row they have lost at home to the Nittany Lions. Overall, IU has lost 3 straight after starting the season 9-2.
Indiana leads the all-time series 101-75 but OSU easily swept both meetings last season, blowing out the Hoosiers in Columbus 79-54 on January 6th and winning convincingly in Bloomington on February 10th 69-52. Overall, Ohio State has won 4 straight in the series since Tom Crean replaced Kelvin Sampson as the Hoosiers' head coach. 
Ohio State will follow this game with another road trip to Iowa and play the Hawkeyes while the football Bucks are taking on Arkansas. After that, OSU will face a couple of difficult challenges as they host Minnesota and go on the road to take on Michigan. Getting road wins in Bloomington and Iowa City will be important confidence builders for the young team before they face the meat of the B10 schedule.
| # | Name | PTS | REB | ASST | POS | # | Name | PTS | REB | ASST |
| --- | --- | --- | --- | --- | --- | --- | --- | --- | --- | --- |
| 44 | William Buford | 13.3 | 4.7 | 3.9 | G | 1 | Jordan Hulls | 9.5 | 2.5 | 3.2 |
| 33 | Jon Diebler | 12.2 | 2.1 | 2.5 | G | 12 | Verdell Jones III | 12.5 | 2.7 | 3.4 |
| 23 | David Lighty | 12.9 | 4.1 | 3.7 | F | 4 | Victor Oladipo | 7.6 | 4.1 | 1.1 |
| 0 | Jared Sullinger | 17.5 | 10.2 | 1.2 | F | 32 | Derek Elston | 6.6 | 3.8 | 0.5 |
| 52 | Dallas Lauderdale | 5.4 | 5.2 | 0.1 | C | 2 | Christian Watford | 17.2 | 5.7 | 1.7 |
Opponent
Indiana fans were optimistic about their team as the season approached, partly based on the expected arrival of 7'1" center Guy-Marc Michel. However, Michel was declared ineligible by the NCAA due to having taken classes at a French university and so the team has operated this season without a true center. Sophomore forward Christian Watford is the closest thing IU has to a dominant big man, and he weighs in with only 230 pounds on his 6'8" frame. However, Watford is an excellent all-around player, leading the team in scoring and rebounding. He shoots over 80% from the line, and so OSU will not want to foul him often. Watford is also a threat from behind the arc, shooting nearly 40% from distance on the season. 
The Hoosiers have gone with a 3-guard line-up for most of the season, the only change coming when long-time starter Maurice Creek was replaced in the line-up by fellow 6'5" guard Victor Oladipo. Still, Creek will see significant minutes off the bench, and he's 4th on the team in scoring at 9 points per game. Sophomore point guard Jordan Hulls has been a solid contributor all season long and is a major threat from distance. He is currently shooting 53.8% from the 3-point line and hit 6 of 9 in their season-opening win over Florida Gulf Coast. 
Overall, Indiana is a perimeter-oriented team that will shoot mostly from the outside. Crean plays most of his bench, with 11 players regularly seeing playing time. In addition to Creek, 6'5" senior guard Jeremiah Rivers has seen significant time in the guard rotation this season, although he averages only 3 points per game. The main scoring threat at the guard position is 6'5" junior Verdell Jones III, although Jones is in a bit of a shooting slump. He has hit only 10 of 35 shots in his last three games, all of which were losses. Indiana is not a physical team, and so they will have trouble with OSU's big men, especially Jared Sullinger.
Buckeye Breakdown:
Ohio State is currently rated #1 in Ken Pomeroy's College Basketball Ratings, and IU blog The Crimson Quarry is believing the hype:
The Buckeyes' numbers, in short, are overwhelming.  Pomeroy predicts a 16-2 conference record for OSU, but the Bucks are favored in all of their conference game.  Their best chance for a loss is at Purdue, where Pom gives OSU "only" a 63 percent chance of victory.  They are at 70 percent or higher in all other games (they don't have to play at Michigan State, either).  No team has gone undefeated in the Big Ten since IU did so in 1975 and 1976.  The Buckeyes present the best chance to go undefeated in the conference since Illinois made it to the last game of the season in 2005 (losing to Thad Matta's first Ohio State team).
What can be said about the OSU team that has not been said already? All across the sports media and beyond, one commentator after another is singing the Buckeyes' praises. And this is dangerous. It seems extremely unlikely that Ohio State could trip up against a team like Indiana, but anything can happen on the road in the Big Ten and so the team needs to keep their focus and show up early or the struggling Hoosiers will regain their confidence and make it a game. On paper, OSU is a match-up nightmare for IU, and if Ohio State comes to play it will not be close. Look for the Buckeyes to go inside to Sullinger early and often, and look for Jon Diebler to have a big game against the smaller IU defenders. 
Etc
Tom Crean was a candidate for the Ohio State job before Thad Matta was hired to replace Jim O'Brien. Crean was coaching at Marquette at the time.
Fort Wayne (IN) native Deshaun Thomas will be making his first trip to an Indiana college since signing with Ohio State. Thomas chose the Buckeyes over IU and their hated rival Purdue.