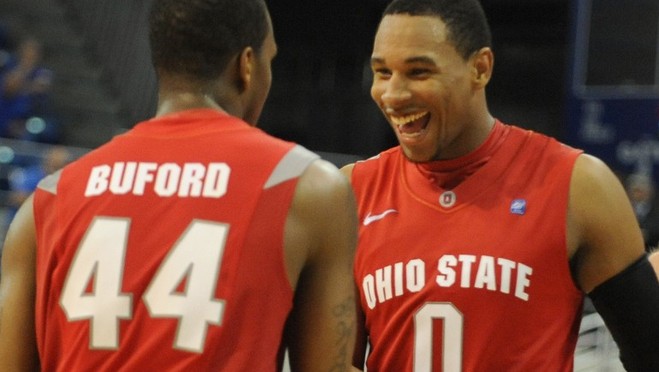 When I found out Ohio State was ranked 5th in preseason polls, I'll admit that I was a a little concerned. Not only did I think they were ranked higher than they should be, I thought a rough first month, with trips to very good Florida and solid Florida State, might provide ample opportunity for obnoxious southerners to break out the usual chants for a team that, in my mind, probably was indeed a tad overrated but still a very talented, elite-eight-or-bust squad. 
But, as usual, I underestimated the Buckeye roundball squad to a degree I usually reserve for my overestimation of the football Buckeyes. Jared Sullinger and the boys crushed both Florida and Florida State, silenced the redneck crowds, and at the same time silenced many of their preseason doubters, including myself. The Buckeyes are 8-0, and although six of those teams were patsies through and through, Ohio State annihilated 7 of 8 and presently stands at #2 in the national polls.
The next month is going to give the Buckeyes a lot of time to learn and get better. Take a look at the remaining schedule. Ohio State has five non-conference games to go until the conference schedule begins. Only one of those games (South Carolina) is against a team that currently boasts a better-than-.500 record. Each game should be a win, most of them decisively so. Then Big Ten play begins with a rare winnable game at Indiana. Tom Crean's team is 7-2 with losses to Kentucky (respectable) and Boston College (bleh). Over the course of the following three weeks, the Buckeyes play Iowa twice, and host Minnesota as well as perennial doormat Penn State in the Schott. They travel to Michigan on the 12th of next month. 19 games in, the Buckeyes will have played two teams (Florida and Minnesota) currently ranked.
As a wise man once said, I need to know: am I a man possessed with optimism (some would say homerism), or is this a team that could get to 19-0 heading into the showdown with Illinois in Assembly Hall? They're already all-but-assured of 13-0 barring a collapse against South Carolina, and would need truly epic collapses to lose to Iowa or Penn State at home. I can see the Buckeyes struggling on the road at Iowa, Indiana and Michigan, and again at home against a big, physical Minnesota team, but all four games still seem like wins to me. Necessary caveat: if the Buckeyes play like they did against IUPUI for most of the game, they'll get rolled by these more talented teams.
Of course, this set-up just means the Buckeyes' schedule is shockingly backloaded. After the road date with Illinois, the Buckeyes host Purdue, get relative breathers against Northwestern and Michigan, then go back on the road to take on the Gophers, Badgers and Boilers. The one home game in that stretch? It's against Tom Izzo's Michigan State Spartans. Good times. And there's still a trip to Wisconsin - where Ohio State hasn't won since the dawn of time, if my calculations are correct - lurking at the end of the schedule.
So what do you think? Is this team good enough to go 19-0? Could they go even farther than that? Nobody expects a Wooden-esque 30-0 regular season in a Big Ten of this caliber, so where do you think the Buckeyes fall along the way?