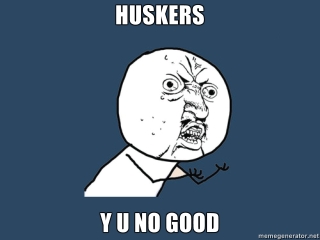 Well. That sucked. I imagine most of you went to bed thinking there wasn't a snowball's chance in hell that Washington would upset Bo Pelini's Nebraska Cornhuskers. You, along with I, and pretty much everyone on the planet outside of Seattle, were sorely mistaken. I'm not sure I can even begin to explain the festering, stinking turd Taylor Martinez and the Husker offense laid in San Diego last night, but I'll give it a shot: after racking up 533 yards of offense in a 56-21 stomping in Seattle in September, the Husker offense totaled 199 yards of offense, 14 first downs and seven points in a head-scratching debacle of a bowl game for the Big Ten's newest addition. Nebraska's offense pretty much cratered over the last few weeks of the season season, so it's not quite Troy Smith et al. in the MNC against Florida, but... it's pretty darn close. Washington came into the game 84th in total defense, had given up 20 or more points in 10 games, and needed three straight wins at the end of the season just to make a bowl game. The only other offense they had held to 7 points? UCLA, dead last in the Pac-10 in total offense and 99th nationally. They won with Jake Locker completing 5 of 16 passes for 56 yards. Nebraska, your offense, WOOF!
It's hard to know exactly what to make of this game. I had personally expected Nebraska to come into the Big Ten in 2011 and compete for a spot in the conference title game right away, and there is still an outside chance of that happening, but given how the Big 12 looks in bowl games (more on that later), it's looking like it'll be much more of an uphill climb for the Cornhuskers in the Big Ten than most had envisioned.
 Hey, here's more stuff you can't sell, Terrelle and Co. "Why so many damn college football awards?", wonders the hopefully-intentionally-obtuse Howard Primer of the News-Herald. It's true that there is an abundance of potential awards that can be handed out to college football players, including but not limited to:
- All-Big Ten (media)

- All-Big Ten (coaches)

- Big Ten postseason awards — the ones announced earlier this month that are each named after two players. There are 17 individual awards available.

- National awards ranging from the Heisman to various positional awards. There are at least 20.

- All-American teams, including Associated Press, coaches, football writers, Walter Camp and The Sporting News

- Ohio State's in-season weekly awards, such as the Jack Tatum hit of the week.
However, not every single one of these awards comes with its own little trinket; many do, but not all. Even so, each award that does come with a trophy of some sort is ripe for the picking by those with sufficient funds seeking college football collectibles, and college football players in need of some extra dough must be hard pressed to not pawn this stuff off at the first opportunity. We've gone over Tat-gate enough, but I will admit that I had yet to consider just how many trophies and awards these players accrue over their time at Ohio State.
 All about the Benjamins Buckeyes. The biggest spenders in college football are your Ohio State Buckeyes, at least up until June 1st of this year. Their nearest competition? None other than the Alabama Crimson Tide, followed by...
...Notre Dame, Auburn and LSU, according to the database.

[...]

Broken down on a per-student basis, the Irish spend the most, the database says. Their trip to the Sun Bowl is coming at a price of $3,531 for each of Notre Dame's 8,351 undergraduates -- an overall budget of $29.4 million -- while TCU spends $2,822 per student to run its Rose Bowl-bound football program.

For all the money they fork out, at least the TCUs and LSUs of the world are going somewhere this season. Texas, last year's national runner-up, spent $25.1 million and is sitting home for New Year's after going 5-7.
Gee, I can't help but wonder what Auburn is spending all its money on! All kidding aside, OC Gus Malzahn commands a hefty paycheck, far heftier than anything Cecil Newton was asking for, and that goes along with the usual outsized SEC recruiting budget. The Buckeyes have a pretty sizable recruiting budget themselves, and considering the pittance the AD pays for coordinators, there must be a lot of money flowing elsewhere in the program as well. I'd like to see a breakdown somewhere, but this article lacks it.
 Big Ten good or Big 12 bad? With Iowa's win over Mizzou and Illinois thumping Baylor, the Big Ten is 2-0 headed into a massive Saturday for the conference's credibility. For now, it's looking like Mizzou and Baylor are just part of an ongoing post-season collapse by the Big 12, which is 1-4 thus far in postseason play. The run-down for New Year's Day: Michigan State takes on Alabama in the Cap One, Michigan faces Mississippi State in the Gator Bowl, Penn State goes up against Florida Northwestern squares off against Texas Tech, and Wisconsin will try to put an end to TCU's undefeated season in the Rose Bowl. The Big Ten isn't favored in a single game, but wasn't favored in either Illinois or Iowa's game either. At midnight Saturday, we'll have a far better idea of where the conference stands nationally after a regular season in which seemingly everyone who didn't win a share of the conference went 7-5.
 Quick Hits. The Dispatch offers a recap of the week that was in basketball, a fluff piece on hopefully-outgoing Wisconsin DE JJ Watt, Michigan's loss is Penn State's gain in the form of DL Anthony Zettel, the Dispatch provides a profile of the Arkansas fanbase, which has the Hogs and nothing else, and Ohio State defenders have plenty of praise for Ryan Mallet, though Jermale Hines notably stops short of comparing him to Mark Sanchez and Colt McCoy.