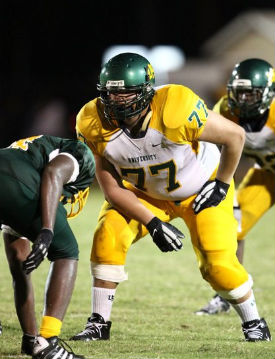 Jim Tressel and the Ohio State coaching staff have undergone one crazy week. At the same time they are trying to prepare the team for their match-up against Arkansas, they hosted a handful of elite prospects that they hope will fill out their recruiting class of 2011, as well as continued to recruit for the year ahead, trying to add to the already solid foundation for the class of 2012. 
The week started off with a Wednesday visit for Plantation (FL) LB Ryan Shazier, which resulted in him switching his commitment from Florida to OSU at his graduation party on Friday night upon his return to the Sunshine State. That news was certainly a sign of good things to come and gave the coaches a ton of momentum as they prepared to host a group featuring some of the best remaining uncommitted prospects in the nation, including DB Doran Grant, LB Curtis Grant, LS Bryce Haynes, ATH Darius Jennings, LB Ejuan Price, and DB Byron Moore. Apparently all of those visits went as good as they possibly could have and from what I'm hearing, it looks like the Bucks have a legitimate shot at landing half of those players, along with OT Aundrey Walker to finish out what is looking like a top 10, and possibly top 5 class nationally.
While it seems like the class of 2011 could be one for the ages, the truth is that the class of 2012 could be even better. The current commitment list includes LB Joshua Perry, C/G Jacoby Boren, RB Warren Ball, RB Brionte Dunn, and OT Kyle Kalis. The remaining players interested in OSU are made up of some of the best America has to offer, and the Bucks have as good a shot as anyone to land what could end up being the country's #1 class for next year. One player who would certainly be a big part of that is University School OL Abraham "Nacho" Garcia.
Nacho, who stands at 6-6/340, is being recruited by Ohio State, LSU, Florida, Miami, Wisconsin, Oregon, and other top schools. He plays on the South Florida Express 7-on-7 team in the off-season along with Buckeye commits Shazier and Jeremy Cash, and could be the next southern Floridian to make the move to the Buckeye state. He's a hot enough commodity where even Andy Staples of SI.com did a nice piece on him earlier this year and we were lucky enough to sit down with Nacho to get the latest scoop on his commitment, how he got his nickname, what he's looking for in his future school, and more.
First off, your real name is Abraham. Where did the nickname "Nacho" originate?
My coach, Daniel Luque, gave it to me after meeting me. He said I reminded him of a person he played football with that was nicknamed Nacho.
How did your junior year go? What are the things you do really well? What are some thing you want to work on for next year and the next level?
Well I was injured this year, but I am told that I have great leadership skills and that I have great pass and run blocking ability. I need to work on getting to the secondary.
What schools are currently recruiting you? Do you have a favorite or list of favorites? When will you decide?
I have many schools talking to me. I like Ohio State, LSU, and Wisconsin a lot. I plan to choose a school sometime during my senior year.
Have you spoken to any Ohio State coaches yet?
I haven't spoken to any yet [on the phone]. 
What was it like playing with the South Florida Express and some of the top recruits in the nation on that team?
They are all normal people. It was simple. I was just being me and I made a lot of new friends.
Has Jeremy Cash tried to get in your ear at all about Ohio State?
Not really too much, but I do ask him questions about OSU a lot.
If other players like Jabari Gorman go to OSU along with Jeremy and Ryan Shazier, would that bump the Buckeyes up on your list at all?
Well OSU is pretty high on my list already, so it probably wouldn't have much of an effect if they go there.
What factors are going to contribute to your college decision?
For me, distance from home doesn't make a difference, because no matter where I go my family will still visit. Academics, playing time, putting offensive linemen in the NFL, and coaching stability are very important to me. I also want to be comfortable in the area [that the school is in].
What are your plans for the summer, both on the football field and on the recruiting trail?
Well nothing will change too much. I am going to train hard and be the best I will be. God will put everything else where it needs to be.
Finally, what do you want fans to know about Nacho Garcia that they don't already know?
There really isn't anything I can think of off the top of my head, but let them know that I have no issues answering any questions that anyone may have for me.