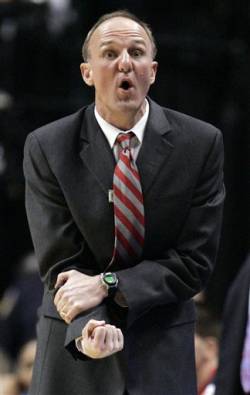 As expected, Thad Matta's basketball Buckeyes showed a bit more emotion out of the gate and overwhelmed the Western Carolina Catamounts 85-60 this afternoon in venerable St. John Arena.
Jared Sullinger led five Buckeyes in double figures with 17 points (9/12 FT) while Dallas Lauderdale (6 reb) and Deshaun Thomas (8/8 FT) added 13 apiece. Jon Diebler added 10 points and moved to within one 3FG of AJ Guyton for 7thhplace in conference history. Wil Buford played a well balanced game with 13 points (5/11 FG), seven rips and six assists.
Despite a decided winter chill in the air, the Buckeye defense came out red hot building a 24-9 lead at the under eight TV timeout thanks to a swarming effort that held Western Carolina to 4/12 from the field with 10 turnovers. That count would swell to 14 by intermission and OSU capitalized, scoring 14 points off those Catamount miscues on the way to a comfortable 42-25 lead at the half.
The not even half full crowd at St. John approved of the effort but didn't really get involved until a sick sequence brought them to their wellies. Already leading 31-16 at the 5:11 mark, Aaron Craft's ball hawking defense started a Globetrotters sequence in which David Lighty fed a baseline cutting Buford who then made the extra pass to a slashing Lauderdale for the two handed flush. Quickly racing to the other end, Lighty swatted Harouna Mutombo triggering another fast break in which Buford found Lauderdale for another rim rattler and a 35-16 lead with 4:09 left in the half.
Not only did the defense impress, the offense showed superior ball movement in contrast to the IUPUI contest as the Buckeyes assisted on 11 of their 12 first half field goals. Sullinger was once again in the middle of it all scoring 12 points in 12 minutes but it was WB who was the most active with nine points, five boards and five dimes while Thomas added seven points off the pine.
Just as they did to start the game, OSU started the 2ndhalf strong with a 10-3 run pushing the lead to 52-28 featuring a triple from Diebler, two buckets from Buford and a nifty spin move from Sullinger. Things got a little chippy just after that as Lauderdale was whistled for hip checking Richie Gordon then Gordon returned the favor shoving Sullinger to the floor. Minutes later, apparently salty due to the physical play, Catamount head coach Larry Hunter (or his bench?) was T'd up and Diebler hit one of two giving OSU a 56-33 lead.
The highlights kept coming as little used Jordan Sibert stepped into a triple off a nice rotation from Lighty giving OSU a 63-34 cushion. Moments later, Lighty made an acrobatic scoop shot in the lane putting OSU in front 69-38 and Sibert added another triple increasing the lead to 74-40 with just under eight minutes to play.
The huge lead allowed Thad Matta to get deep into his rotation as Sibert, JD Weatherspoon and Lenzelle Smith Jr. all saw extended minutes. Sibert was by far the most impressive displaying a confident and quick release from downtown. I can see him being that 8thguy that Matta will actually use here and there but that's as deep as he'll go unless he has no choice. Matta actually had five frosh on the floor for much of the under eight portion of the game with Sully, Thomas, Sibert, Smith and Weatherspoon on the court together.
On the afternoon, Ohio State shot 52% from the floor and committed just six turnovers while holding the Catamounts to 40% and 19 turnovers.
The 8-0 Buckeyes next face Florida Gulf Coast this Wednesday night at 6:30pm, back over the Schott.