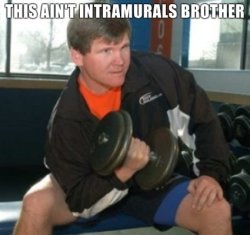 Cam You Dig It? Not that he's been a huge disappointment but we're still waiting on a dominant 2010 performance from Cameron Heyward. He definitely faired well against the 'Canes with a huge INT and drunken scamper down the field but he's stil missing that signature game from this year's resume. While I'd prefer that effort come next week at Iowa, there's reason to believe it could come Saturday against Penn State.
Coming off a six tackle, one pass breakup effort in '08, Cam straight blew up last year in State College totaling a team high 11 tackles, 3 TFL and 2 sacks. Though Joe Pa's likely forgotten Cam's dominance last year, the offensive line and coaches born well after Joe Pa witnessed Murderers' Row sweep the Pirates to claim the '27 World Series likely remember the carnage enough to focus their efforts on slowing Heyward's assault.
Word of caution to the Lion staff, be careful paying too much attention to him because Nate Williams will be ready to take full advantage.
 God Fordid We Compromise The Bowl System. With this year's expansion to 35 bowl games, that means the NCAA has to locate 70 teams who can lay claim to being bowl-eligible. As the azcentral notes, that might be a tall task thanks to some early season upsets at the hands of FCS teams. The article notes 47 teams are currently bowl-eligible with another 51 still in the running and 22 already eliminated. Seventy-one teams qualified for 68 bowl slots a year ago.
With concerns for this bowl season at the forefront, the NCAA Football Issues Committee (?) has already met to discuss alternative bowl-qualifier plans and could meet again, if necessary, to decide if they'll need to allow 6-6 teams with more than one win against FCS schools or maybe even allow 5-7 team into the bowl mix. They better hurry, the bowl season starts in roughly 38 days. Lame.
 The Other Cam's Jam. First, it was a stolen laptop that seemed to be the reason he fled Florida. Then, reports surfaced that The Gambler Kenny Rogers, a dude representing Newton as he shopped for programs following his one year of juco, asked for 180k worth of chickens for Newton's commitment to Mississippi State. This particular event, though denied by the Newton family, has sparked an NCAA investigation expected to involve state and federal officials. Now, a source tells the world that Newton "had three different instances of academic cheating" and was looking at possibly getting the boot from Gainesville. Just another day in the SEC.
The brush fire has since fallen into a swiss bank account brimming with kerosene as rumors circulate that Urban Meyer or someone on his staff / close to the program leaked the info while both Newton and his pop have chosen not to deny the report, with Cam saying, "I don't want to beat a dead horse talking about it. It's not going to affect me." Sounds like words of a cheater, to me. Similar to early Brett Favre comments about Jen Sterger - he didn't deny it, just tried to avoid it whereas most of the population would issue staunch emotional denials if they were innocent. Of course, deciding to sidestep the issue with a more wordy version of "no comment" doesn't guarantee guilt but, c'mon, man.
Now, it's 11:15pm Tuesday as I type and the 4 letter just reported a source indicates both Cam and his daddy admitted in separate phone conversations that Cam's services were of the pay-for-play variety. The source says pappy Newton told a Mississippi State recruiter it would take "more than a scholarship" to obtain his son's services and Cam, after changing his commitment from Miss. St. to Auburn, told an MSU recruiter that his father had chosen Auburn for him because "the money was too much." Nice.
Admittedly, I'm growing older and more cynical as the days go by and in this day and age it's hard to truly be surprised by any of this stuff and even harder to assume innocence until proven guilty. I'm not sure what's worse, the fact myself and countless others have already assumed him guilty of the academic and pay-for-play allegations due to being hardened by the sins of players past, or that if Cam isn't proven to be completely innocent in the next few weeks, he can wave goodbye to the Heisman. Time will tell, but I'm pretty sure I won't feel bad about my assumptions in due time. Especially after this latest bombshell.
 It's Almost Time For Gift Giving Receiving. With your favorite gift receiving holiday about a month and a half away, it's high time you start planting seeds as to which gifts you'd like so your mother, wife, kid, mistress doesn't choke in the clutch. That said, I'd like to introduce you to Shoot A Brew, "the world's only remote controlled, beverage tossing cooler". Unfortunately, the Shoot A Brew production team needs to be Six Sigma'd as I just noticed it'll take 6-8 months to have your $295 cooler delivered.
 Go Coach Intramurals, Brother. It is with heavy hearts that we must say goodbye to Dan Hawkins. Colorado finally pushed aside their financial woes and sent Hawkins packing despite the fact they'll owe him a roughly $2 million buyout on a contract that was set to run through 2012. That may seem like chump change to Buckeye fans but CU is broke; the athletic department was still in debt with Gary Barnett's $4 million buyout in 2005 still hurting the Buffaloes bank.
Already sporting a 19-32 record during his tenure, Colorado squandered a 28 point lead in the 4th quarter to Kansas on Saturday resulting in a 52-45 loss. Oh, and they've now lost 17 straight games outside the state of Colorado. Yikes. Despite his record, we'll always love Hawkins for his tirade after receiving a letter from a parent protesting players only getting a two week break from off-season conditioning, down from three weeks in previous years. Hawk, you will be missed, brother.