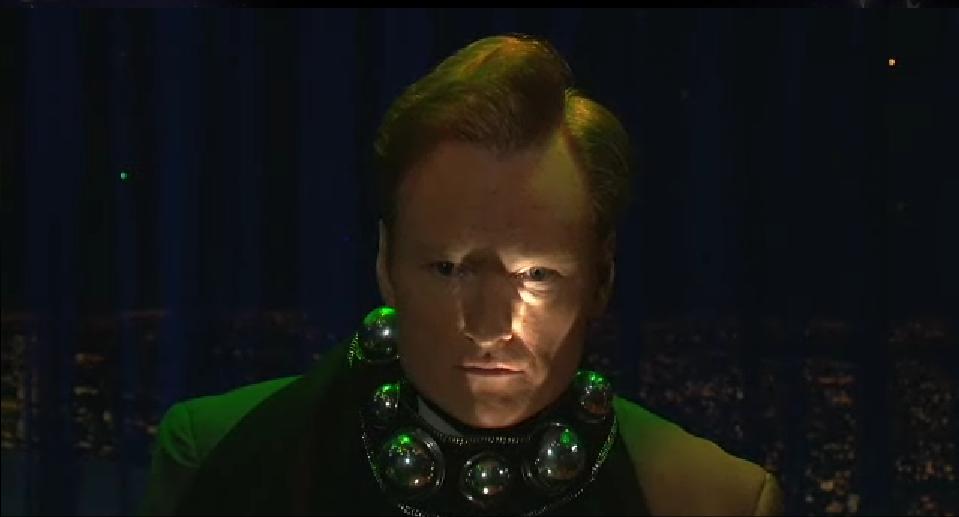 The future, Conan?
"That's right, Johnny. ALL THE WAY TO THE INAUGURAL SEASON OF THE BIG TWELEVEN."
Yes, ladies and gentlemen, thanks to the Bye week, we here at Eleven Warriors can now devote our full mental faculties (normally directed toward determining which image macro to use for an article and writing random historical allusions that have very little to do with football) to the noble task of peering through the ether in a truly H.G. Wellsian effort. Yes, loyal reader, today we shall examine the 2011 Ohio State Big Ten schedule, and attempt to see through the fog of Chronos so that we may understand the shifting landscape of college football and how the Buckeyes might navigate a truly murky path. Prepare yourself! For this journey is not for those faint of heart or spirit. Those with weak constitutions or an aversion to away games in Lincoln should leave at once.
However, my friends, if you think you can handle endless rows of corn and a maddening beat pounded out by the world's largest drum, we shall press on...
October 1st, 2011: Michigan State
Our first stop into the future takes us to a home game against Sparty to open the Big Ten season. In 2010, Michigan State is able to avoid the Ohio State Buckeyes due to a scheduling quirk and is able to ride a win over Wisconsin and uncharacteristically steady play to an 8-0 record and a #5 ranking (despite not getting any Top 25 votes in the preseason poll), when they are unceremoniously dumped by Iowa to end any National Championship dreams they might've had. In 2011 they will lose most of a senior-laden offensive line, plus LB Greg Jones, but most of the skill position players will be back, including Kirk Cousins, Edwin Baker, and Le'Veon Bell. A very dangerous team, much moreso than many thought, especially to begin Big Ten season against.
October 8th, 2011: @Nebraska
Ohio State will venture into Lincoln, Nebraska to take on Bo Pelini and a tough Nebraska team. In 2010 Nebraska fields a very young defense that still ranks 19th in the country in total yardage allowed per game. Make no mistake though, in 2011 the identity of the team will be very closely tied to Taylor Martinez, a dual threat QB capable of both Denard-like brilliance and Nick Sheridan-like incompetence. The defense will likely be very good to excellent; the real question is if Martinez can carry the offense the way Pelini hopes he can.
October 15th, 2011: @Illinois
The fighting Ron Zooks showed some surprising grit in 2010, with a promising young QB in Nathan Scheelhaase and a tough defense that ranked 15th in the country 8 games into their season. The Illini lose very little going into 2011, and, like Nebraska, will base most of their offensive identity on a sophomore QB, and like MSU, will hope that their good defense will carry them through the games that Scheelhaase has any growing pains. Make no mistake, this three game stretch is much, much tougher than it looked a few months ago, especially if the young defenses on these teams continue to improve.
October 29th, 2011: Wisconsin
2011 will be very, very interesting for the Wisconsin Badgers. No Scott Tolzien. No TE Lance Kendricks. Four men on defense lost, including Jay Valai. Two offensive linemen gone. Possibly no John Clay (or maybe even DE J.J. Watt). With that said, there is no doubt about the offensive gameplan: if Clay comes back, all sophomore QB Jon Budmayr will be asked to do is hand it off to him 50 times a game. If Clay doesn't, Budmayr will be handing off to James White 50 times a game. Of course, on October 29th, a very angry OSU team and fanbase looking for revenge might be the more pressing issue for the men from Madison...
November 5th, 2011: Indiana
In 2011 Indiana will lose QB Ben Chappell and WR Tandon Doss, faced with the prospect of having to catch passes from a sophomore named Dusty with a 51.16 passer rating, will most likely decide to leave early. That means that a reeling Hoosier team will probably rely on Darius Willis, an RB who has never rushed for more than 5 ypc in a season, to carry them. Truly this is a disturbing future indeed.
November 12th, 2011: @Purdue
Like Indiana, in 2011 Purdue will also lose their best player in DE Ryan Kerrigan, and like many other Big Ten teams, will hope that a young and athletic QB, Rob Henry, can carry them through the season. In other words, the 2011 version of Purdue will be much like the 2010 version of Purdue. That version, by the way, lost to Ohio State 49-0. Hmmm.
November 19th, 2011: Penn State
Sensing a theme here? Mainstay offensive starters (WR Zug, WR Brackett, OG Wisniewski, RB Royster) gone. Young QB trying to keep an offense treading water with not a lot of support. A somewhat decent defense will help here, but either Bolden or McGloin had better be spectacular or Penn State is going to come into Ohio Stadium like a leaky, urine filled balloon, and Ohio State would be all too happy to pop it right over the heads of the visiting Lion faithful.
November 26th, 2011: @Michigan
A wildcard. Does it really matter at all who will remain on defense in 2011? It's highly unlikely whoever plays will be any better than "not too embarrassing," but the real issue here is whether the University of Michigan will be willing to pony up the $6,000,000 to rebuild Denard Robinson. Better. Stronger. Faster. They have the technology (remember, it's the future). Or, will Michigan somehow find a complementary RB so that Denard doesn't risk life and limb every game? Will it even matter, with the defense being so bad? Will Rich Rod even be around to coach this team made up of flesh and bone and steel and computer chips? The answer to all of these questions: "Probably not."
And so, we pull back the lever on our time machine, and return to the present day. After looking into the future, a few things become clear: the beginning of the Big Ten schedule will be brutal, especially for a young OSU defense. They will be helped out, however, by not having to face a "complete" offense; that is to say, one with a veteran QB, RB, and O-Line. Nebraska will, unsurprisingly, be the most difficult game in all likelihood, but any of the first four teams have a shot at taking down the Buckeyes.
The back end of the schedule is much easier, but in this new look Big Ten, the games are going to get even tougher. The future, for now at least, seems laden with danger. Hopefully Pryor and company can navigate the tides of time and peril unscathed.