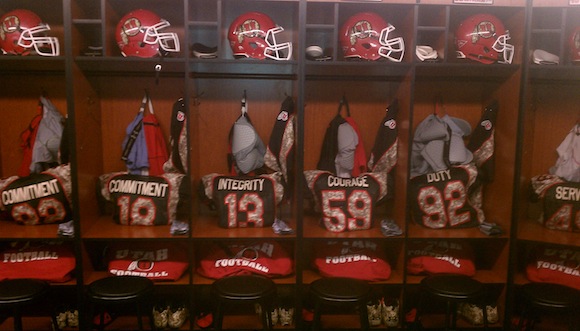 Speaking of pandering... We're all about the troops here (having vets amongst us and plenty of family and friends serving and who have served), but had Under Armour spent the research & development, design, and production dollars on these abominations towards job placement for vets, care for wounded soldiers, and helping provide our troops the mental health services post-war that far too often go neglected, the country would be vastly better place for it.
Also: it's your biggest game of the year, how do you *NOT* wear red?!
Those breakfast tacos sure were swank. It's almost time for a burger (or maybe ordering in a pizza eh?) Fire up the grill, work that iPhone, and do work, then cozy up on the recliner/couch for arguably the game of November. PLUS: MIKE LEACH, Y'ALL!
| TIME | MATCHUP | NETWORK |
| --- | --- | --- |
| 3:30PM ET | #6 Utah at #4 TCU | CBS College Sports (HD) |
| 3:30PM ET | #5 Alabama at #12 LSU | CBS (HD) |
| 3:30PM ET | Hawaii at #3 Boise State | ESPNU (HD) |
| 3:30PM ET | Northwestern at Penn State | ABC (HD)/ESPN2 (HD) (Regional) |
| 3:30PM ET | North Carolina at #23 Florida State | ABC (HD) (Regional) |
| 3:30PM ET | Washington at #1 Oregon | ABC (HD)/ESPN2 (HD) (Regional) |