The college football season is a lot like a one stoplight town; blink and you'll miss it. Certainly, baseball could learn a thing or two. In what seems like only a few days ago, we were scouting Marshall and now here we are eight games into the season and nearing the final stretch. If you hadn't noticed, only two home games remain and one of them will send off the seniors to either the workforce or the League, depending on any number of factors.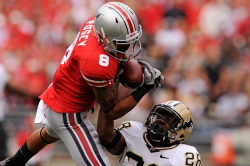 As the season has rolled on, we've watched the team win and lose, either convincingly or bitterly. We've questioned coaches, armchair quarterbacked and screamed at the television like lunatics. But, keeping a watchful eye on our gifted players and what kind of season they are having is important too. Sometimes they don't quite reach the heights we expect in terms of shear quantifable production. While Terrelle Pryor attracts much of the media's attention and scrutiny, both Devier Posey and Cameron Heyward are big time players who have fallen on the disappointing side of the equation so far this year.
What's unusual about both players is a month ago, I would have argued both are playing about on par to their ability. Posey had a big game against Miami despite being targeted by their secondary. He put up over 100 yards receiving and looked like the player who can get the tough, possession yardage while still getting behind defenders when needed. Recently, however, he's been prone to drop passes and key ones at that. I haven't gone back to count but I would venture the number of dropped passes are in double digits over the last month. What's worse, he's almost been almost completely invisible away from Ohio State, hauling in only seven passes for 57 yards against Illinois and Wisconsin combined. Those are rough numbers.
Perhaps my biggest gripe with Devier is the laziness with some of his routes. As the nation saw telestrated, he missed the soft spot in the zone early against Wisconsin which nearly led to an interception. Later in the game, he ran a disgustingly sloppy quick out which was broken up because Posey gave the route away early by not keeping his arms quiet going into his break/stop. Overall, attention to detail is lacking and we even saw it this past week getting stripped coming down after initially catching a deep pass from Pryor. Essentially, Devier should be our top receiver but he isn't and as a result he is behind in production compared to last year.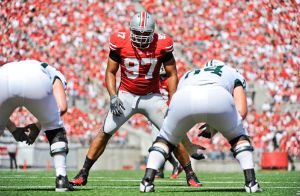 Heyward, too, started relatively quickly this season. He had pivotal interception against the Hurricanes on a zone blitz which he returned 80 yards in a most graceful way. Plus, he worked over Miami left tackle Orlando Franklin all day. The following week he recorded a safety and a fumble return. Since then, though, it's been hit or miss. Count me as disappointed he only has 1.5 sacks on the year through eight games, regardless of how much opposing teams are keying on him. He and Gabe Carimi fought to a stalemate in Wisconsin, and that's being generous, but I'm looking for my all-American to rise up and make a statement in games like those.
And, I don't think I'm the only one who is a little befuddled. There are whispers of falling draft stock and talk of being overrated. Cam is a little different being he's more of a 3-4 defensive end who isn't going to line up in a 9 technique all that much (although he's capable). He's more suited to 5 technique spot and possibly even more inside than that . Perhaps that flexiblity has limited his production somewhat which in turn makes folks like me question his effectiveness. No matter where he lines up, shouldn't a guy of his caliber be getting more penetration and redirecting plays at a higher clip? I tend think so.
Nevertheless, I bring up both of these players now because of timing.  We are at a critical point with only four games left in Cam's career and possibly Posey's. The season is quickly slipping away and if Ohio State is to run the table and somehow find themselves in Pasadena, each of them need to start playing better. They need to find that peak where they maximize potential for the final stretch and each of them can. Both of them have the type of personality to accept a challenge.
I hesitated to even write about this because it's sure to fire up some diehards who think it's out of bounds to question either player.   Hopefully, it comes off not so much as criticism but a wake up that there needs to be a sense of urgency.  It's apparent to me that now is the time for our best players to start producing and it could go without saying that any number of players could be singled out, from Terrelle to Brian Rolle to Chimdi Chekwa and Devon Torrence.   But for me, Devier and Cam stick out based on preseason expectations and both need to elevate their play and lead their respective units.   It would go a long way as we head into the teeth of the schedule.