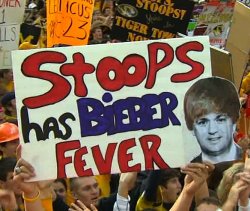 Sabino to play Saturday? Rumors swirled on Tuesday afternoon that Etienne Sabino could burn his redshirt and play against Minnesota. That notion seems confirmed after Chimdi Chekwa told various media types that Sabino will indeed be suited up and ready to roll in the Twin Cities. This revelation caused even more speculation such as Homan potentially being more banged than originally thought and Dorian Bell possibly being done for the season though Tressel seemed to indicate today that he'd be back after the bye week. This might sound like a silly way to burn a redshirt nine games in but I can't help but wonder if the primary reason he could see the field is to help out our struggling special teams coverage units with a secondary focus on providing LB depth. In his presser, Tressel went out of his way to talk about all the game changing special teams plays at the college and pro levels this past weekend. This news also makes me wonder if something might be up with Newsome. Time will tell. Paul Haynes will certainly be asked about this development tonight during his scheduled media session.
 What's in a name? Our friends at Big Ten headquarters are still struggling to come up with names for the two new divisions, the championship game and the actual trophy itself. According to the article, some officials have even scoured message boards looking for ideas.
Obviously, their intent is to come up with meaningful names that will be memorable and sound good when discussed by fans and media alike. As you may recall when Delaney unveiled the divisional alignment back on September 1st, he indicated a hope to have the whole naming fiasco resolved in roughly 90 days. So, the conference still has time but what's taking so long?
Maybe they'll take the honest approach and call the divisions "Paper" and "Cheddar" while naming the championship game "The Big Ten Championship presented by the Highest Bidder"? Anyway, since there's a chance we've got the eyes of the conference honchos on us today, throw out your best ideas for the divisions, the championship game and the winning trophy. Delaney needs you.
 Kurt Coleman gets it. This might be old news to some but Coleman was recently spotlighted in The Lantern for being the founding member of OSU's chapter of Uplifting Athletes. The organization is non-profit and focuses on raising money to fight rare diseases. Coleman's motivation came from both his father and roomate's father (fellow founder and OSU fullback Matt Daniels) being diagnosed with cancer.
Coleman organized an event last year to raise awareness for CMT, a disease that both Terrelle Pryor's father and aunt are forced to deal with. The football team has also gotten involved and Donnie Evege currently serves as chapter president. Good stuff.
 Notre Dame football is still junk. Fresh off a 35-17 pimp hand delivered by none other than Navy, Brian Kelly is openly wishing to play in any bowl game whatsoever which clearly makes sense as this group needs plenty of practice time. The loss dropped ND to 4-4 on the season and the embarrasment hasn't slowed down. In the aftermath of Navy's rushing clinic emerged video showing Irish senior LB Kerry Neal delivering an atomic stomp to the gut of Midshipman John Howell:
Adding insult to injury, a letter to the Notre Dame school newspaper editor crafted by senior student Matthew McManus was published yesterday. In it, McManus suggests senior students should rush the field following a (potential) loss to Utah on November 13 because, assuming ND beats Tulsa this weekend, a defeat would mean the Irish footballers will have broken the record for losses in a four year period, currently held by the Class of 1964. Ouch. A pretty tasteless letter but since it takes a shot at Notre Dame, we'll allow it.
  Switching to the hardwood (you said hard wood)...the wolves are already out waiting for Evan Turner to fail. The Villain averaged just 7.7 points on 31% shooting in the preseason to go along with 5.9 boards and 3.7 assists in 29 minutes per game. Doug Collins is saying all the right things but the fact Turner isn't really sure what position he plays has to be somewhat of a concern for Philly fans. Personally, I'm still saying ET won't be a superstar that justifies a #2 pick but that he will be a productive NBA player for many years. I think it's just going to take some time for him to find his way. Turner seems to agree:
"I understand how I am. I understand that I'm still trying to find my way. If people are worried, they're worried. I'm not really worried because I know what's in me. I never really express worry openly because I know what's in me. I know I start off slow, and I end up dominating. I understand people want to rush me. I'm an impatient person myself."
Turner kicks off his season tonight as the Sixers host the Heat at 7pm. Rip it up, Villain.
  Smorgasbored. Some other random links for your perusal include...Joe Pa may be ripe for another public dookie with the news that Denard Robinson is healthy and is expected to start in State College. Rich Rod (see this sign yet?) needs Robinson to halt a two game losing streak before Michigan (5-2) closes the season with Illinois, @Purdue, Wisconsin and @Ohio State. Somebody smell 6-6? Or will they pull off 7-5?...Lost Letterman presents the Top 10 Steve Spurrier Jabs at Tennessee Football. "You can't spell Citrus without UT" will always be classic.