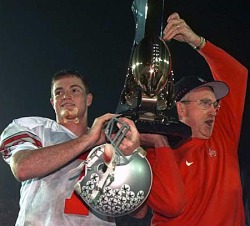 The perfect spiral. The man with the finest spiral in OSU history, Joe Germaine, has taken his arm and leadership skills to the sidelines, serving as the head coach at Queen Creek High School after being hired by former Sun Devil linebacker Paul Reynolds.
A former teammate of Pat Tillman and member of the ASU squad that lost to OSU in the '97 Rose Bowl thanks the heroics of Germaine, Reynolds recalled a defining moment in his dealings with the former Buckeye gunslinger:
Pat Tillman and I saw this baby-faced guy with big ear pads come running onto the field. We looked at each other and said, 'We've got this in the bag.' Unfortunately, we know how that turned out.
What a game that was. At the time (born in '73), the win was by far the biggest I remembered/witnessed in my Buckeye fan career.
 White's got the runs. While we're all familiar with Badger tailback John Clay, Wisky sports a two headed monster in the backfield with the emergence of James White. The true frosh has caught the attention of the Bucky faithful moving up the depth chart from 3rd to 1A alongside Clay thanks to a hefty 7.7 yards per tote and 8 TD. White's coming out party was a 10 carry, 98 yard 2 TD performance in the loss at Sparty while Clay went 17 for 80 (0 TD). It sounds as if the kid has also stood up to the pass blocking test and he figures to be a guy the Buckeyes need to stop Saturday night if they wish to escape victorious.
The good news for OSU is they are currently ranked 4th in rushing defense (78.67 per game), 3rd in total defense surrendering 237 yards per contest and 6th in scoring defense (13.5 ppg). My money's on Nasty Nate, Simon, Larimore and Heyward doin' work. 
 Valai will be ready for Game Day. 11W nemesis and resident head hunter Jay Valai will return from injury and patrol the Badger secondary in front of the nation and the ESPN Game Day crew. The senior missile who dished out some questionable blows to both Dane Sanzenbacher and Boom Herron in his career will line up in his safety spot so the Buckeyes must keep their head on a swivel. Valai's one of those guys that you hate if he's playing against you but love if he's on your side. Lord knows he'd have a place in our secondary but here's to hoping Zach Boren gets a chance to decleat him on Saturday.
 Wisky primer. Keeping our eyes on the enemy, Rittenberg offers a midseason report card on the Jump Arounders. Of note is the fact Wisconsin sports a legit TE in Lance Kendricks. With Rolle and Homan's seemingly only collective weakness being a penchant for biting on play action, the LB's and safeties must keep an eye on Kendricks in coverage to avoid big plays down the seam.
 Cougars harvesting tree. Two redshirt freshmen members of the Washington State football team were arrested after a visit from the popo turned up 38 marijuana plants. The players lived with two other dudes and the involvement of the players has yet to be determined however both were reported to have stock in Hot Pockets so things aren't looking good.
 Return to the Dark Ages? In an effort to leave you with a bit of good news, David Jones of the Patriot News is is confident armageddon is just over the horizon for Joe Pa and the Nittany Lions. Jones doesn't paint a pretty picture in discussion the state of the Lions union:
Penn State has finally reached the point – about six years after I thought it had already permanently arrived – where it can no longer compensate for the age of its coach.
Ouch. In all seriousness, I respect Joe Pa's body of work as much as the next guy but I was hoping he wouldn't go out like Evander Holyfield dressed in floods.