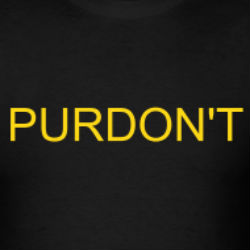 Adding Impatience To Injury Ken Gordon informs us that not only did the team have to make the trek back to Columbus after getting their behinds whooped in Madison, but they had to wait a while to get back. Apparently, the charter company who runs the plane the Bucks were supposed to fly back, booked the same exact air craft to fly the Hawkeyes back from TSUN to Iowa City. The Iowa-UM game was a 3:30 contest, so in reality, if all went smooth, it shouldn't have been an issue with the Bucks game ending after 10. But flights never run smoothly, and of course the plane was late getting to Wisco. As if the team wasn't mad enough, I'm surprised the dispatcher for the charter flight made it out alive! 
 Payback is a B*tch The Dispatch goes into discussion about what Purdue is walking into. Not only do the Bucks want revenge from Purdue Harbor last season, but coming off a loss, they are going to be hungry to get out and prove a point Saturday. Purdue blog, Hammer and Rails, previews the game here, saying the Boilers could pull the upset again, but I'm sorry, even with two "starting" defenders out, I think the Bucks cover the 23 points. Yes, we have a lot to work on, but the Purdue line isn't anything close to Wisco's and same things go for their running backs and special teams. I think you see a hungry Cam Heyward notch two sacks this weekend and Andrew Sweat play another solid game in place of Ross Homan.
 And you thought Joe was looking back on Purdue Our own Joe flashes back at the opponent each week and this week was no different, as we featured the 1982 match-up between OSU and the Boilermakers. While that game is definitely a throwback, Jack Park goes even further back, recounting the 1940 game. Park continues to amaze me every time I read his stuff and his memory truly is a vault of Ohio State football. Definitely an interesting read. 
 Oh Latwan! If you missed it yesterday, it appears Latwan Anderson is leaving "Da U". Anderson, who played at Glenville last season, originally committed to West Virginia before taking a track scholarship at Miami to play football (no football schollies left---I smell a new rule coming to the NCAA). Anderson supposedly wanted to be a Buckeye, but his offer was contingent upon grades and off-the-field behavior. He must've not passed the grade or didn't live up to standards satisfying Tress, because  Latwan was publicly not happy about how things went down. Unlike his attitude, there is no questioning his talent, which Miami players Travis Benjamin and Brandon Harris talk up in this article about Anderson's departure. Also in the article, Randy Shannon insists that Anderson is just leaving the team for track purposes, a move trying to cover up bad recruiting publicity if I've ever seen one. Anderson has spent the past few weeks complaining about the Miami coaching staff on Facebook and Twitter, so I'm pretty sure it's not just because of track. I know a lot of Buckeye fans are willing to give L.A. a second chance. I personally see Ray Small 2.0 here and don't want him anywhere near the program. No matter how talented he is and how bad Orhian Johnson continues to look at safety.
 Stuck on 17 Speaking of recruiting, the OSU class of 2011 still stands at 17 members. While it is a quality 17 members, things have been quiet on the commitment front since August. The Buckeyes are waiting to hear back from a few studs, mostly on the defensive side of the ball. Those players include LB Connor Crowell (announcing November 5 between OSU and PSU), LB Anthony Wallace, LB Ejuan Price (down to Iowa and OSU), DB Doran Grant (favors OSU and MSU), DB Jabari Gorman (down to OSU, Miami, and Alabama), OT Aundrey Walker (Bucks in top five), WR/KR Shane Wynn (OSU in top five), and DE Jadevon Clowney (OSU in top four). Others on the fringe are WR/ATH Darius Jennings, S Damiann Swan, QB Cardale Jones, LB Andre Sturdivant, and WR/DB Darius Patton.
In addition to those high school stars the Bucks are recruiting three JuCo players. Those include former Buckeyes Duron Carter and Keith Wells, as well as Cornelius "Tank" Carradine. Carradine is a 6-4/230 defensive end/linebacker, who originally committed to Illinois in the class of 2008. Carradine always wanted to be a Buckeye, but his grades kept him out of Columbus and apparently out of Champaign as well. Carradine is currently ranked as the #2 JuCo player in the nation and would provide a nice boost to the linebacking corps or defensive line.
 One Last Mention of the Wisco Game I know you don't want to hear it, and this would have been 10-times cooler if we actually won, but the Bucks sure did jump around! Check out the video below, courtesy of Scouting Ohio.