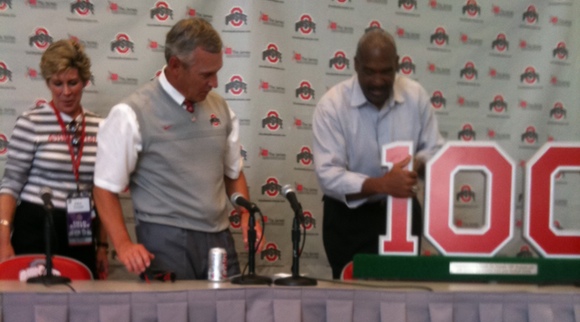 On a gorgeous fall Saturday in Columbus, the Indiana Hoosiers were educated on the differences between the Wolverine defense Ben Chappell carved up for 480 yards in Bloomington and the Silver Bullets. Among the differences: tackling in space, a punishing front seven and a secondary that keeps everything in front of them.
With the Terrelle Pryor and the offense clicking, the two units conspired to throttle Bill Lynch's Hoosiers 38-10, handing Jim Tressel his 100th win as the head coach of the Buckeyes.
Pryor threw for 334 yards (with 280 of them coming in the first half), becoming the first Buckeye to top 300 since Troy Smith against Michigan in 2006 and pretty much squashing all of the injury talk that led up to this game.  The air raid started early with the Buckeyes somewhat amusingly showing the pistol formation (we honor our opponents like that) on the game's first play from scrimmage, leading to a 13 yard completion to Brandon Saine on a swing pass.  Pryor connected with Posey on the next two plays, setting up a 2nd-and-7 from the Hoosier 39.  Boom Herron then took a handoff off left tackle to the house, putting OSU up 7-0.
Chappell and the Hoosiers were able to move the chains once on their first possession before being forced to punt.  The Buckeyes were then held to a three-and-out on their 2nd series, which included Pryor just missing an open Dane Sanzenbacher on a post pattern, and were forced to give the ball back to the IU offense (via a nice 49-yard punt out of Ben Buchanan).  On 2nd-and-9, Chappell threw up an arm punt, which was picked off by Devon Torrence on the left sideline. I am not exaggerating at all when I say there was nobody within 10 yards of Torrence and it almost looked like he could have fair caught the ball.
It didn't take long for Pryor and OSU to capitalize on the turnover. After a holding call on first down, Pryor hit Sanzenbacher over the middle for 17 and then followed it up with a 22-yard scoring toss to Sanzenbacher, putting the good guys up 14-0.
The Hoosiers showed some signs of life on their next series, but ultimately two false start penalties did them in again and they were forced to punt once again. J.B. Shugarts, not wanting to get left out on all of the fun, was whistled for a false start on first down before Pryor hit Taurian Washington for 19 and Zach Boren for a short gain (which included the sweet, rare fullback hurdle).  Eventually, the drive stalled and Drew Basil was brought in to attempt a 53-yard field goal, but just like his long attempt against Marshall, it was blocked.  The Hoosiers were held to a three-and-out and the Buckeyes, seemingly making up for the blocked field goal, had a quick answer. On first-and-10 from the OSU 40, Pryor hit Brandon Saine perfectly in stride on a wheel route for a 60-yard touchdown, making it 21-0 just 90 seconds into the 2nd quarter.
The defense again held IU to a three-and-out, but the next Buckeye possession was pretty awful. After getting whistled for an illegal crackback block on first down, and then responding with a 10-yard completion to DeVier Posey, Pryor took two sacks and the Buckeyes were forced to punt.  Two plays later, a Chappell pass was tipped by Ross Homan before being scooped off the turf by Brian Rolle in a pretty spectacular play that survived a challenge from Bill Lynch. Five plays later, Pryor hit Posey for an 18-yarder to make it 28-0, Buckeyes.
Ohio State would add a late field goal, a 36-yarder from Devin Barclay, taking a commanding 31-0 lead into the locker room at halftime.
The second half would feature an 8-yard touchdown run from Boom out of the wildcat formation and some garbage time points out of the Hoosiers, but the end result was a dominating performance out of the Buckeyes in all three aspects of the game. Pryor finished 24/30 for 334 yards and three touchdowns, with Posey collecting 8 of those passes for 103 yards and a score. Dane chipped in with four catches for 60 yards and his Big Ten-leading seventh receiving touchdown of the season. The defense held Chappell to a meager 106 yards through the air, or about 250 fewer than he had been averaging coming into the matchup.  Indiana running backs accounted for just 69 yards on 29 carries, with much of that coming late, when the game was already out of hand hound.  Further, the offense did a fantastic job of capitalizing on early turnovers.
Special teams even got in on the act, holding Tandon Doss, one of the more dangerous return guys in the nation in check, and Buchanan finished with a 50 yard average on three punts.  The blocked field goal was unfortunate, but kickers often drive the ball lower on the longer attempts, so it's not that unusual. Still, it's something that we'd like to see fixed.
Bullets:
Saine saw a lot more activity catching passes out of the backfield today, even starting the game in the slot with Boom at tailback.  He, like Pryor, finished the game without a carry.  Carlos Hyde looked good when he entered the game in the 2nd half, chewing up yards before his fumble inside the IU five yard line. Berry was his electric self and averaged 8.4/carry, exciting the contingent of fans that would like to see more of him.
Nine Buckeyes caught passes, including a 2 for 33 performance out of Taurian Washington.  The blocks that plagued most of his career are a thing of the past, we hope. Also, Pryor was one of the receivers that caught a pass, catching one of his own deflected passes in a play I hope I never get to see again.  IU's pass defense is atrocious, but Pryor put some balls right on the money, including a nice string of 11-straight completions in the 2nd quarter. He's developing and getting scarier every day.
J.B. Shugarts was out of pads in the second half with what Tressel described as a "foot problem" that's been with him for three years. Andrew Norwell filled in admirably, but I'd imagine we'll see Shugarts next week against the Badgers from the way Tressel described the situation.
It was interesting to see Hyde enter the game ahead of Berry, but I'm not trying to read into that too much yet.
Indiana finished with eight TFLs and three sacks, both high marks for the season. How?
Tressel became the 3rd-fastest coach to 100 wins in Big Ten history, achieving the mark in 121 games. I will not mention the two coaches to get their faster than him, but they coached the Great Satan up north.
From the interesting stats department: OSU is 14-0 when Saine scores a touchdown and Boom now has touchdowns in five-straight games.
I want the Torrence hit on that screen played at my funeral.  I'm serious, it was beautiful.