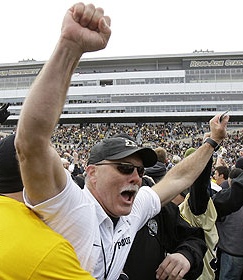 Danny Hope brings his Boilermakers to town Saturday under rare circumstances as the only coach in the Big Ten to have never suffered a defeat at the hands of Jim Tressel.  Sure, they've only met once before, but last season's upset win in West Lafayette left one of the more bitter tastes in the mouths of Buckeye fans in a long, long time.  Purdue had entered on a five-game losing streak, including a two touchdown setback at Minnesota of all places, before stunning the Buckeyes 26-18, thanks to a particularly pedestrian outing out of Terrelle Pryor and a dominating performance out of Purdue defensive end Ryan Kerrigan.
The Boilermakers make the return trip to the Horseshoe without many of the seniors that were instrumental in last season's upset and the Purdue offense has been hit hard by injuries this season, losing their three best skill players for the year, but here they are at 4-2 and sitting atop the Big Ten with an undefeated league mark, having rebounded nicely, taking advantage of an early bye week to respond with wins over Northwestern and the Gophers after an ugly home loss to the Toledo Rockets.
The early read on Hope is that his team plays hard, if not always smart, but they will have their hands full with a Buckeye team coming off its first loss of the season while also mindful of the embarrassment of last season's collapse at Ross-Ade Stadium.
Opponent
Like most teams, Purdue strives for a 50/50 blend between running and throwing on offense, but recently, it's been the rushing attack that's carried the team.  Freshman quarterback Rob Henry (#15) has filled in admirably after starter and Miami transfer Robert Marve went down with a knee injury against the Rockets. Henry has rushed for 256 yards, while throwing for just 350 in his last three games, showing his durability with the ball, but also highlighting the fact that he's not quite there as a dangerous passer at this stage of his career.  Unless the Boilers fall behind quickly, don't be surprised to see Henry finish with nearly as many rushing attempts as he has passes for the afternoon.
Running back Ralph Bolden was lost for the year before a down of football was even played, but has been replaced by the two-headed monster of fullback Dan Dierking (#25) and tailback Keith Carlos (#1).  Both seniors, neither will blow you away with their measurables, but each has had moments of effectiveness this season, particularly the rugged Dierking.
When Henry does put the ball in the air, look for senior wide receiver Cortez Smith (#7) to have his number called.  He, along with freshman O.J. Ross (#4) and tight end Kyle Adams (#85) constitute what is a pretty average group of targets, while offensive coordinator Gary Nord will also look to find ways to get the ball into the hands of the dynamic Antavian Edison (#13) whether through the air or designed rushes.
The Purdue offensive line, led by senior left guard Justin Pierce (#72) has powered the team to a resurgence as of late while rushing the ball, and enters having not allowed a sack in their last two outings after getting abused a bit earlier in the season. Hope credits the unit with toughening up with the commitment to the run and from some spirited practices in which both the offensive and defensive lines have flourished.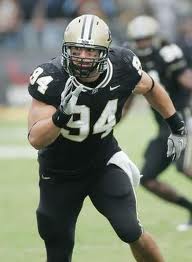 Speaking of the defensive line, I don't have to remind anyone of the terror that is defensive end Ryan Kerrigan (#94). Nicknamed "Superman" by his coach, the senior single-handedly sunk Ohio State last season behind four TFLs, three sacks and two forced fumbles -- one of which he recovered.  If there's a better ball-stripper in the nation, I've yet to see him and Kerrigan is back to dominating again this year, leading the conference in sacks (5.5) and TFLs (14) despite drawing extra attention every time he lines up for the snap.  The Boilermakers are young inside with a sophomore and freshman starting at defensive tackle, but Kerrigan and fellow end Gerald Gooden (#2), a junior, help offset the youth.
Youth is not a problem in the linebacking corps as the unit fields a junior, a redshirt senior and a sophomore, Dwayne Beckford (#3) in the middle, that has a year and a half of starts under his belt.  The opposite is true of the secondary, where all four starters from last season's squad have been replaced and the group features a former walk-on, Logan Link (#35), at strong safety to go along with a sophomore and freshman at cornerback.  Both corners are a bit undersized, so if ever there was a week to try to take advantage of the size of Posey or Washington, this is it.
Purdue's special teams rival the Buckeyes at times in their inconsistency.  The return game is pretty awful with the punt return group ranked 118th in the nation, while the kick return group is ranked 117th.  Kicker Carson Wiggs (#37) hammered three field goals in the win over the Buckeyes last season and is back, going 7/10 on field goals this season, while showing a bit of range (2/2 from 40-49), while Wiggs and freshman Cody Webster (#42) will share the punting duties.
Buckeye Breakdown
After a decade of largely avoiding the injury bug under Jim Tressel, Ohio State has been hit pretty hard this season, especially on defense. Already out were safety C.J. Barnett and Tyler Moeller, but the bad news continued when both linebacker Ross Homan and defensive back Christian Bryant were ruled out this week.  Homan suffered a foot injury against the Badgers last week and will likely be out for some time, while Bryant saw a foot infection turn into a hospital visit requiring surgery, meaning he'll be out for a couple of weeks as well.
Jonathan Newsome will get another chance to step in at linebacker and though he underwhelmed a bit in Madison, will be looking for a breakout against the Boilers.  In the secondary, Jermale Hines will slide over to the Star position in the nickel package with Aaron Gant filling in at safety in that configuration.  Purdue won't challenge the Buckeyes through the air, so Gant may not see the field a whole lot outside of obvious passing downs.
On offense, you have to be a bit concerned about where Pryor's head will be coming into this one.  He could just as easily press and try to do too much early in full-on revenge mode as he could come out calm and relaxed, making the plays to carry the team down the field.  The staff has said his quad injury isn't a problem, but anyone that watched the Wisconsin game knows otherwise, so it will be interesting to see how he responds to that as well.
I'll be watching Adams and Shugarts as they try to contain Kerrigan.  Shugarts has a lingering foot injury and was exposed at times against J.J. Watts last weekend, so it will be interesting to see how he responds, or even how much of the game he'll be able to go.
Finally, now would be a pretty great time to get the running game clicking.  It seemed to rev up about this time last season and though Purdue won't make it easy to run, they can be run on.  Boom really impressed with his play in Madison and you'd like to see that carry over into this week, while Saine will be looking to rebound in whatever roll the staff cooks up for him.
Prediction
Coming off the stinging loss of last week and mindful of what happened in West Lafayette last season, you have to like the Buckeyes to bounce back.  I think revenge will be in the back of everyone's mind, from the staff down to the players, but at the same time, the staff will do a good job of making sure the mood doesn't consume the players, affecting their output.
Ohio State 30, Purdue 13