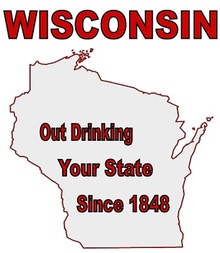 In the dog days of summer, when Buckeye fans were telling anyone that would listen how well the schedule set the team up for a potential MNC run, the one game that stood out more than any other as a potential deal-breaker was Saturday night's tilt in Madison.  Even thought Jim Tressel has a 3-0 record against Bret Bielema and Bielema is, well, Bielema, the Badgers were returning a ton of talent from a bowl team that punished the Miami Hurricanes and the crowds at Camp Randall are rowdy enough to help spark their boys to a 40-4 home mark since 2004 and they would be getting an extra 5-8 hours to get their buzz on.
We might not have expected the Badgers' loss to Michigan State, but we also didn't expect a Bielema team to enter so disciplined. The Badgers have committed just 20 penalties this season, tied for fewest in the country and they have not turned the ball over since the 2nd quarter of week two, a span of over four games.
So here we are, with a pivotal night game to kick off the second half of Ohio State's season. A win would keep the train rolling setting up a run for Tressel's 4th BCS Championship game appearance in his decade at Ohio State, while a loss would likely eliminate the Buckeyes from consideration, especially given the doubt that seems to follow the team, from the perspective of national pundits at least.
Opponent
As Keith pointed out earlier in the week, the Badgers are great at coming out and imposing their will on other teams through a run-heavy, pro-style offense.  Reigning Big Ten Offensive Player of the Year John Clay (#32) enters averaging over 100 yards per game and six yards per carry, but the Wisconsin offense has a new wrinkle: freshman shape-shifter James White (#20). While Clay has been his usual defender-crushing self, White has emerged over the last three games, rushing for 361 yards and a pretty amazing eight touchdowns over that time. Further, White seems hell-bent on proving something to the Ohio State coaches that failed to recruit him out of high school in Fort Lauderdale.  The two represent the most talented backfield the Buckeyes will see this year, short of running into Alabama later, and the change of pace they offer will challenge even the best defenses.
5th-year senior Scott Tolzien (#16) is having a decent year, perhaps not as statistically eye-popping as some envisioned given the weapons he has to work with, but his career pass efficiency rating and completion percentage are good enough for tops in Badger history and he brings a 15-4 record into the game as a starter.  Despite his experience, he can still be rattled, as his 44% outing in East Lansing attests to, but when the running game is clicking for the Badgers, he's efficient and can kill you with play-action.
Tolzien's two primary targets are tight end Lance Kendricks (#84) and junior wideout Nick Toon (#1).  Kendricks, like most Wisconsin tight ends, will continue his play in the NFL next season and currently leads the nation in receiving yards for a tight end with 391, while also leading his team with 25 receptions. Toon, the son of former Badger and New York Jets receiver Al Toon, has the athletic ability and size (6-3/218) to be one of the conference's best, but has missed three games this season with a turf toe injury.  He returned for the loss to Michigan State, and was held to just one catch, but rebounded nicely last week against the Gophers with six catches for 52 yards. Complimenting Kendricks and Toon is the diminutive David Gilreath (#85).  At 5-11/169, he's certainly not the Big Ten's most physical receiver, but Buckeye fans remember the damage he's capable of on bubble screens and end arounds.
Wisconsin, like Iowa, and a few other schools, is known for producing offensive line talent. The group has been maligned by the locals for underachieving a bit this year (if you can believe underachieving leads to two backs with 6.0 YPC averages or greater), but the unit is a mammoth one (the group averages 6-5/320), featuring a nice mix of youth and experience. The Badgers will prefer to run behind the left side of the line, where tackle Gabe Carimi (#68) and guard John Moffitt (#74) operate.  Despite what the hometown fans have to say, the line is leading an efficient offense. Last year, the Badgers set a school record by scoring touchdowns on 75 percent of red zone trips; this year it's scoring touchdowns at a 78.7 percent clip.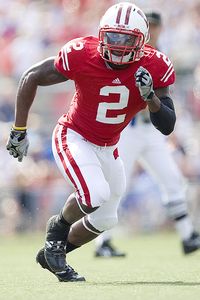 As you can imagine, any defensive front that has to practice against that group will typically be seasoned enough to handle its own against good opposing offensive lines. The Badgers are led on the front four by junior defensive end J.J. Watt (#99) and he is absolutely killing it this season. He's 2nd in the Big Ten with 8.5 TFLs and is 2nd on his own team with 30 tackles, but amazingly, also leads the conference with six pass breakups. As a defensive end. Needless to say, the national leader at PBUs out of the defensive end spot, is adept at dropping into zone coverages.
The Badgers suffered a blow when 2009 Big Ten Freshman of the Year Chris Borland re-injured his shoulder against Arizona State and was lost for the season, but sophomore linebacker Mike Taylor (#53) is doing his best to pick up the slack. Currently, Taylor is second on the team with 6 TFLs and fourth with 26 tackles, despite missing the opener against UNLV.
11W nemesis Jay Valai (#2) is returning from an injury and will be available at safety for the Badgers after sitting out against the Gophers last week. I don't need to tell any of you about his hitting prowess -- he crushed Boom and Dane two years ago in Madison -- but thankfully, this will be the last time we'll see the 5th-year senior.  Some Wisconsin fans wanted to pin the coverage lapses against the Gophers last week on Valai being out, but the Badger corners can be attacked, with or without Valai in the game.  In particular, Niles Brinkley (#29) will have to be at his best unless he wants to see Posey's afterburners.
Wisconsin features a pair of dependable specialists in Phillip Welch (#18) at kicker and Brad Nortman (#98) at punter. Welch is efficient, but lacks elite range (just 4/6 from 40-50 and no attempts outside of 50), while Nortman is one of the top two punters in the league. Like the Buckeyes, the Badgers struggle with kick coverage. They almost went down to Arizona State in week three because of this and just last week, surrendered a long return to the hapless Gophers.
Buckeye Breakdown
Opposing defenses have come into every game against the Buckeyes hell-bent on taking away OSU's rushing attack. This, for the most part, has suited the Buckeye staff just fine as they've made it a goal to come out and pass this year and the opposing approaches have paid off to the tune of six not-so-close games on the way to an undefeated start. Though one thing Bret Bielema is not is predictable, don't be surprised to see the Badgers follow that pattern, given how suspect the OSU passing game appears to outsiders.
The passing game is a work in progress and will continue to evolve with Brandon Saine lined up to catch passes out of the backfield and in the slot.  DeVier Posey and Dane Sanzenbacher should match up well with Wisconsin's underwhelming corners, but they'll have to keep their head up when catching balls over the middle, lest Valai put someone out again.
From an injury perspective, the Buckeyes are as close to healthy for this one as they've been in some time. Tackle J.B. Shugarts, after sitting out the 2nd half of the Indiana game, is cleared to start and we'll aslo see the return of tight end Jake Stoneburner, which adds an entirely new dimension to the OSU passing attack (all due respect to Fragel who filled in for Stoneburner admirably).
The game will feature a good test for Shugarts and Mike Adams as they attempt to keep Badger end J.J. Watt in check and as always, the offensive and defensive fronts for the Buckeyes must come out and match the physicality of Wisconsin who will be playing with an extra boost from the home environment at night.
The key for the Buckeye defense will be linebackers Brian Rolle and Ross Homan. The two excellent backers will have to focus on stopping the two-headed Badger rushing attack while also keeping an eye on tight end Kendricks.  If the Buckeye front can get constant pressure on Tolzien, like they did last season, that will go a long way towards turning a close one into a comfortable one.
Prediction
Despite the hype and numbers backing up Wisconsin's home field play, I'm not too concerned with the crowd or the fact that it's only Ohio State's second road outing. This game will be a war, like most matchups with the Badgers, but it really comes down to this: Would you rather have the team led by Scott Tolzien and coached by Bret Bielema or the one led by Terrelle Pryor and coached by Jim Tressel?
Ohio State 24, Wisconsin 20