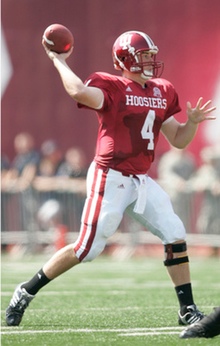 Jim Tressel will be going for his 100th win on Saturday against the Indiana Hoosiers, hoping to reach the mark in his 121st game at Ohio State, a full 17 games faster than John Cooper and 23 games sooner than Woody Hayes, the only Buckeye coaches to have reached the milestone. Tressel downplayed the achievement at his press conference earlier in the week, wisely saying he'd rather have his 6th win of the 2010 season, to which we say, let's do both. 
Normally, we'd try our best to avoid such fate-tempting talk, but Indiana enters with an all-time record of 12-66-5 against Ohio State. Their last win in the series came in 1988, so it's a good bet some of you have never even witnessed a Hoosier win over the Buckeyes.
The tilt will be a matchup of the conference's top passing offense and pass defense, with the Hoosiers averaging 348.2 yards through the air in four games (thanks Wolverines!) and the Buckeyes yielding just 161.8 per game in their five outings. For that reason alone, it's an important game, serving as a real test for a secondary that was perceived to be one of the team's weak spots before losing two starters for the season.
Opponent
Bill Lynch loves to run the ball, especially out of the pistol formation. Unfortunately, he has a smart 5th-year senior who also happens to be amazingly accurate, so he'll have to live with Ben Chappell (#4) rewriting the Indiana record book. Thanks in part to a big day against the Wolverines last Saturday -- his 480 yards through the air were the most ever against the Wolverines paired nicely with 45 completions on 64 attempts -- Chappell is currently 3rd in the nation in both completions (29.0) and yards per game (342.5).  
While Jacory Harris has more of a cannon and maybe, maybe a tad more touch, Chappell, the scholar athlete, will make nowhere near the amount of boneheaded mistakes Harris tends to make. He throws a lot of passes and has seen just about everything a defense might bring, so he'll be solid with audibles and will make good decisions with his progressions.  His numbers for the year, a 71.6% completion percentage with 12 touchdowns to go along with just one interception, reflect that, even though he's yet to face a great defense.
Indiana, of late, seems to be freakishly overloaded at one position. The last two years, it was along the defensive line. This season it's at wide receiver. All three of Chappell's primary targets measure at least 6-3/200 and they occupy the top three spots on the conference reception leaderboard. The man drawing the most attention right now is Tandon Doss (#2), a junior out of Indianapolis power Ben Davis. The reason he's drawing said attention is because of his performance against the Wolverines last weekend: 15 catches for a career-high 221 yards, 6 rushes for 21 ayards, 5 kickoffs for 111 yards and finally, 1 punt return for 10 yards. IU will put the ball in his hands as often as possible, including sweeps, bubble screens, and even snaps out of the wildcat formation, hoping for a repeat of the 363-yard performance.  Chappell dropped a hint about Doss throwing earlier in the week, so the Buckeyes will need to watch for potential trickery.
Doss is a beast, but it's fellow junior Damarlo Belcher (#88) that leads the league receptions (7.75/game) after finishing 5th in the Big Ten last season.  At 6-5, he's a legitimate red zone threat, indeed burning the Wolverines on a 2-yard touchdown reception last weekend. Rounding out the trio is senior Terrance Turner (#1), who you might remember had a 97-yard touchdown turned into a safety after the Hoosiers were whistled for holding in their own end zone against Michigan last year. All he's done as the third option is haul in six passes per game, further illustrating the need to have three solid cover guys when playing the Hoosiers.
When Indiana does run the ball, sophomore Darius Willis (#28) will be the one carrying it. He's nursing a groin injury and is listed as questionable on Indiana's injury report for this week, so I imagine he'll go, but may not be effective against the OSU front. If Willis can't go, Trea Burgess (#21) will assume the light load. I'll give you some background on him and you can decide how worried you should be: he has just 12 carries for the year and he was moved to linebacker prior to the 2009 season before bouncing back to running back.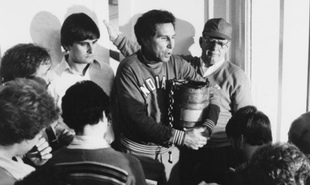 Indiana's offensive line took a hit Thursday night when the unit's only senior, starting right tackle James Brewer (#73), was ruled out for the Ohio State game because of an ankle injury.  Junior Justin Pagan might slide over from right guard, but after that things get murky. The group has only surrendered four sacks this year, but that's likely a function of Chappell's quick release and smart decisions coupled with weak competition through their first four.  The defensive line sort of mirrors their offensive counterparts: somewhat adequate, but certainly not spectacular. Still in search of the next Middleton or Kirlew (who had a sack and a forced fumble against Pryor last season), the team's four sacks on the year attest to how far away from finding replacements for those two they are.
Linebacker Tyler Replogle (#46), a Centerville native, leads the team in tackles with 26 has 15 starts under his belt, with the last 13 coming at the strong-side.  He's heady, and at 6-2/239, he has the size to be a run-stopper, but his coverage skills need some work and can be exploited.
The Hoosiers are down a safety and cornerback, so, like the Buckeyes, they've been forced to look to their bench to fill starting positions. Cornerback Lenyatta Kiles (#22) earned his first career start against the Wolverines, and linebacker/safety/nickel hybrid Donnell Jones (#10) seems to be in line for more work in the secondary based on Lynch's comments earlier in the week.
With Doss handling returns and averaging over 31 yards per kick return, that aspect of the Indiana game is in pretty good shape.  Junior Chris Hagerup (#12), who must be hated because his brother had the audacity to sign with Michigan, is only getting about 37 yards out of each punt and the Hoosiers feature a pair of green kickers, so they'll need to step up on those fronts if they want to have a chance to keep this one close.
Buckeye Breakdown
Chappell and the Indiana passing attack will be a solid test for the Buckeye defense, coping with the loss of another starter for the season. Tyler Moeller, with his awareness and superb underneath coverage skills, would have excelled in a matchup like this. Freshman Christian Bryant is now in line to earn a baptism by fire of sorts as he steps into the star spot. He's clearly impressed the staff, moving above older players on the depth chart, but I'm a bit concerned about the inches he'll be giving up whenever he's assigned to cover one of the Hoosiers' trio of tall receivers. At just 5-9, he will have his work cutout for him, particularly in the red zone.
The Indiana passing game is as good as any Ohio State is likely to face this season, but I can't imagine the personnel being more talented than what the Buckeyes saw out of the Hurricanes.  Miami moved the ball, but Heacock's troops stepped up when they needed to, the Hoosier offensive line is nowhere near the level of the Hurricanes.  The Michigan front picked up two sacks against Indiana, rushing three for a good part of the afternoon, so Heyward, Williams and friends should get to Chappell, but I think Lynch will have a plan to get rid of the ball quickly. If they do get to him, wrap Chappell up. At 240+, he's a load to bring down.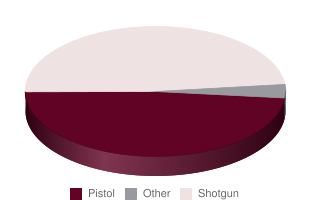 Though it's a pass-heavy offense, IU is somewhat predictable based on the formation they roll with. Two-thirds of the time they will be passing out of the pistol, 90% of the time they will be throwing out of the shotgun, and wildcat or ace formations almost always telegraph a running play.  If running back Willis is unable to go, the Hoosiers will truly become a one-dimensional offense, and that will enable Homan and Rolle to play pass-first, leading to better reads and position in their drops.
You would think the Buckeyes weren't putting up over 44 points per game based off of all of the handwringing going on, but expectations being what they are in Columbus, this game presents a wonderful opportunity to get the running game on track. Last season, they outrushed Indiana 219-18, with Brandon Saine notching a career-high 113-yard performance and Pryor chipping in with 63 of his own.
Of course, Pryor's health is integral to the team's success on the ground, considering he leads the team in rushing. After the scare in Champaign, Tressel is now saying it was just Pryor's knee brace that popped and the quarterback is 100% for Saturday. I'm back and forth between whether I believe that or whether it's the funniest/most ridiculous things to come out of the Vest's mouth in some time.
Stoneburner has been ruled out, taking away one of Pryor's targets, but Fragel has filled in admirably and Dane's performance the last few weeks is forcing teams away from the auto-double on Posey. 
Finally, this weekend will be a great test for the Ohio State kickoff team. If they can contain Doss all afternoon, I'll put more stock in the improvements the unit has shown the last two weeks.
Prediction
Some teams, for whatever reason (the kickass helmets?), seem to roll over when they play Ohio State, belying how decent said team is. The two teams that come to mind first are Northwestern and Indiana. Year-in and year-out, both teams appear much better on paper than the final score usually indicates. Similar to magnets, we'll just enjoy the fact that it does work instead of trying to unravel the mysteries behind the cause.
Ohio State 37, Indiana 17