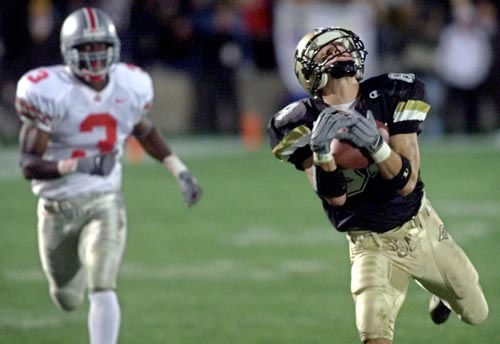 For the first time in 12 games, Ohio State enters a game week coming off a loss. It shouldn't come as a total shock even though the Buckeyes were the No. 1. They lost to Wisconsin by making the same mistakes they've made all season; the special teams breakdown(s) clearly being the most glaring. Now Ohio State must regroup and aim for a sixth straight Big Ten title. 
A national title is a long shot, but this team still has a lot to play for: the before mentioned Big Ten championship, a Rose or other BCS bowl bid and a seventh consecutive victory over Michigan. 
You can believe those things are not lost on the coaching staff or players. They'll come out ready to roll and make sure Saturday's loss in Madison doesn't define them. 
Jim Tressel knows there is a light at the end of the dark tunnel Buckeye Nation is currently inhabiting. He talked about a wide range of topics Tuesday at his weekly press conference. Most of it, though, involved tiptoeing. 
Tressel on Wisconsin:
I think I would start by acknowledging the fact that Wisconsin played a heck of a football game and I don't want to discount that in any way, shape, or form. I reflect back a little bit between the last two contests we've had with Wisconsin and it really clarifies what's important in the game of football a year ago, they turned it over and we ran two of them back for a touchdown and we ran a kickoff back for a touchdown and all the rest, and then this particular year, we let a kickoff go for a touchdown. We didn't create the takeaways.
I feel like Wisconsin's play was something people didn't talk about enough after the game. After the Miami game, the theme was Ohio State would only lose if they beat themselves. Well, that wasn't true. Wisconsin won Saturday because they played nearly flawless football for 60 minutes. The Buckeyes had their share of mistakes, but Wisconsin's superior play was the difference. The Badger OLine vs. the OSU DLine was the biggest difference. Dexter Larimore and Cameron Heyward were dominated, as well as the rest of the defensive linemen. You can't give up five yard runs on what seemed like 50 percent of Wisconsin's offensive plays and expect to win. 
The thing that really put the Buckeyes behind the eight-ball, though, was the opening kickoff. I know there was still an entire game left, but you can't allow someone to return the opening kick, especially a team that is already good and playing a night home game. Inexcusable. The first offensive possession was also a disaster. Not to mention, OSU's opponents usually have a good first drive. Wisconsin was no different, as they marched right down the field to take a 14-0 lead exactly five minutes into the game. At that point, the nightmare scenario was underway. 
Tressel on the injury report:
Ross Homan is going to be out. That concerns you. He'll be out for a couple weeks probably, but his thing will be fine. A little bit concerned about Christian Bryant. He had an infection last week and we thought we had it under control and he played a little bit in the game and then he had a not very good reaction to it on the plane ride back once we finally got on the plane, and he's been over at Ohio State Medical Center trying to get it under control and I don't know all the whys and the wherefores and whatnot, but it doesn't look like he'll be out of there until late this week and just want to make sure that we get that calmed down, you never know with infections and whatnot, so obviously he won't have a week of practice. I'm trying to think of who else was out of the game. Ross will be out for a couple weeks.
Bryant's injury is very concerning. A young, healthy, active person should be able to fight off an infection. It's definitely scary and will be monitored closely by 11W and the rest of the media as the week goes on. 
The loss of Homan should not be felt the next couple of weeks. Purdue and Minnesota are probably the worst teams in the conference, so if they lose those games, they have bigger problems than Ross Homan's absence. He'll have the bye week to rest, too, before Penn State comes to Ohio Stadium the first week of November. By then, you'd think he would be healthy, but foot injuries can linger. If he happens to miss the rest of the season, which I highly doubt will happen, it could pose big problems for OSU with a November slate of Penn State, Iowa and Michigan.
Tressel when asked if Bryant's infection was staph: 
COACH TRESSEL: No, no, don't be starting to spread rumors. I did not -- strike that from the record. I did not say anything about that word. He has an infection. I don't know.
REPORTER: I want to ask about your defensive line. In years past, Coach Heacock has rolled guys in and out. In that 19-play drive, Jonathan Hankins was the only guy that came in. In past situations, he would have put four new guys in to stop the tide. Do you not have the depth there? What is the assessment of where that's at now?

COACH TRESSEL: I can remember many times we've talked since last February that one of the concerns was that five of our eight in our eight-man rotation were graduating or going out early, one of the two. So, yes, we were concerned about would we mature to the point where we could get into an eight-man rotation. Jonathan Hankins, I think, has been a guy that's come along. We think Adam Bellamy's coming along, Garrett Goebel's coming along. What you get into in a ball game like this is, you know, is it the right time and the right place to put someone in? Obviously the conclusion that was drawn in that drive in particular or in that game was that certain guys played, certain guys didn't, but that's probably been something we've talked about as much as anything is that if we were going to progress to become the team we would like to be, we have to grow fast with some of the younger guys and that's still our goal and -- but are we as deep and can we rotate as much as when we had -- you know, you had Thaddeus and you had Lawrence Wilson, you had Doug Worthington, you had Todd Denlinger, you had Rob Rose. Those guys all were the rotators last year and, you know, they're rotating elsewhere right now. But that's where we are. Don't get me wrong, I don't think Jim would tell you that he's disappointed with the progression of Adam or Garrett or Solomon Thomas or anyone, but he just, at the moment, felt like that wasn't the best decision.
The depth on the defensive line could be a problem. The DLine was perceived to be a strength and now it might be a weakness. Who knows? One thing is certain, though, regardless of whether the starters can get the job done, you need depth. Big Hank is certainly an adequate back up. Adam Bellamy and Garrett Goebel need to do a whole lot of improving and Solomon Thomas has never materialized into what some thought he could be. 
Tressel on Wisconsin's offense:
Oh, I think the one that probably hit us, that gashed us more, we use that word sometimes when we're talking about eight- and nine-yard plays, was the one right after our poor punt coverage where they got the ball out about mid field and they were already up 7-0, and that one, to me, looked very different than we've ever seen. Outside of that, they had their moments and they made their first downs by a bit and -- but you have to be built to stop all that stuff because the next week you might face that and that's just part of the deal.
Tressel points out something that was overlooked by most people Saturday --- OSU's first punt. The Buckeyes were already down seven and just had a horrible first possession. They followed it up with a punt that put Wisconsin near mid-field. As everyone knows, Wisconsin proceeded to run in down the Buckeyes throat and take a two TD lead. I believe the opening kick and that punt were the two biggest plays of the game. Obviously, both were special teams plays. Tressel always preaches about the special units and people mock him, but Saturday showed how important they truly are. 
REPORTER: What's your depth chart there, is he now the guy in place of Homan?

COACH TRESSEL: Well, Andrew would play inside and Johnathan finished the guy at the Sam and without having a depth chart in front of me, I can't think of that many more options.
Sweat is solid, but more so at Will than Sam. It will be interesting to see how he fills in. Granted, I don't know how big a deal it is since he'll probably be playins Sam against Purdue and Minnesota. 
REPORTER: Jim, Ryan Kerrigan really gave you guys fits last year, can you talk a little bit about him?

COACH TRESSEL: He's a good player. I think our league has some outstanding defensive ends. You think back last year with Graham, and Odrick, the big D lineman at Penn State, and of course Cam Heyward and J. J. Watt, and Ryan Kerrigan, we've got some good ones. We've got some guys that you better understand that they're everywhere. So, I mean, he did some real damage against us a year ago. And so we've got to -- we've got to have an answer for that one.
Make no mistake about it, Ryan Kerrigan is going to make some plays Saturday. I fully expect OSU to win, but Kerrigan will have his moments. Pryor's mobility will help, though he did have the worst game of his career against the Boilers last season. I assume the Buckeyes will throw some double teams at Kerrigan. Ohio State is going to be out for revenge from last season's debacle and have something to prove after last Saturday's disaster. 
Tressel on Pryor's play:
I think he played extremely competitively. I thought he did some real good things in both the run and the pass. I thought there were a couple of things that obviously he would have liked to have done better and we would have liked to have him do better, but as far as competing and wanting to do anything he could do for the good of the team, he would have gone down to cover kickoffs if you let him, that's just his nature. Another good experience for him. Fun atmosphere. Hard to communicate at times. And still have to keep the focus. And, you know, we had a ball or two dropped. We had a ball or two that probably weren't delivered where we needed them. I'm sure he'd like to have that last throw back because we had a chance with it. Dane was breaking open over top of that linebacker and didn't get it done, but he competed. I don't know what else you can ask of a guy as to leave it on the field and he left it on the field.
Pryor was fine Saturday. Sure there were things he could have done better, but he kept OSU in the game. He engineered two great drives in the third quarter. He didn't seem to panic much, if at all, which the old Pryor definitely did. I still don't know about his ability to lead must score drives, though. Terrelle is a good quarterback, I'm not saying he's not. He just hasn't shown me what I want in a quarterback when my team is coming from behind. Bobby Hoying, Joe Germaine, Troy Smith...you were confident OSU was going to win when those guys led drives in the fourth quarter. I don't think many people feel that way about Terrelle.  
REPORTER: One loss and people get desperate around here and think --

COACH TRESSEL: You think? I haven't noticed that.
Nice sarcasm from Tress. I love you fans, but you need to take a deep breath after losses and reevaluate the game/situation/season. 
Ohio State is going 11-1. Iowa is the only game they could possibly lose. I still think Michigan State has at least one (probably more) loss in them. If I had to say right now, I'd put OSU in the Rose Bowl. I know they'll need help for that to happen, but I think the everything will fall into place.