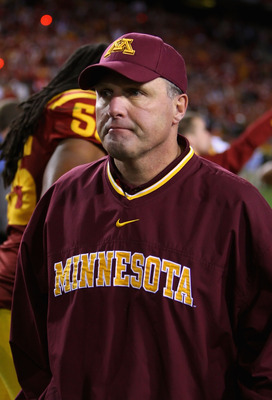 The Buckeyes got back to their winning ways Saturday with a 49-0 dismantling of the previously unbeaten (in the Big Ten) Purdue Boilermakers. Expect much the same this weekend in the Twin Cities. Minnesota looks like they're one of the worst Big Ten teams in a decade. 
Ohio State is still in the thick of things for a Big Ten title and Rose Bowl bid. The best scenery for them is a three-way tie (7-1) with Michigan State and Wisconsin. If that happens, the team with the highest BCS ranking goes to Pasadena. Even though OSU lost to the Badgers, BCS gurus are saying they have the upper hand because of Wisconsin's weak late season schedule and Ohio State's game at Iowa. 
Jim Tressel discussed a myriad of topics Tuesday at his weekly press conference, including the injuries to the defensive backfield, which has become a weekly topic. 
Tressel on the special units:
Special teams, we always say, is the key when we go on the road and I think if anyone has an interest in Big Ten football and doesn't think that the special teams had maybe the biggest impact on last weekend, Wisconsin's fake punt was probably the turning point in that game. Michigan State's fake punt was probably the turning point in that game. I think Iowa missed a field goal, which was big, and an extra point, perhaps. The Cleveland Browns, I didn't see it, but the little reverse pass or whatever they did was huge in their game, and on and on and on. Missouri, I think, didn't they bring the opening kickoff back?

So special teams is something that we'll never stop talking about and you'll never be able to convince me of its relative impact on the emotion of the game, and football is an emotional game. And so we've got to make sure that despite the fact that we've had to go with a lot of different lineups due to injuries in the linebacker and DB areas, we've got to get better at special teams, especially on the road. It's a huge impact. Purdue found that. Go full circle, Purdue found that out, coming over here, you can't make two big special teams mistakes and think you're going to win in someone else's stadium.
Tressel is spot on here. I talked about this last week, too. People always say he over emphasizes special teams, but that couldn't be further from the truth. The Ohio State-Wisconsin game and the examples Tressel gave are indicators of that. It isn't really a concern this week, but it should be against Iowa. Minnesota is pathetic, let's be real here. Iowa, though, with Derrell Johnson-Koulianos, will be a stiff challenge. He's third in the league in kick returns and had a touchdown against Ohio State last season. Penn State has the No. 1 returner in the conference in Chazz Powell, so the Buckeyes will continue to be tested. I don't know if someone will take one to the house again, but I'm sure there will be more big returns against the poor OSU special teams. 
On the injury report:
Health-wise, Christian Bryant is still in the hospital. His foot's doing good. The effects of all the medications and so forth, still haven't released him yet. We hope here today or tomorrow, last I heard. But his foot's doing fine. I'm sure it will be six weeks or better before he can play football.

Ross Homan, I think, will do a little land running today. He's been running in water a lot. I don't think there will be any way that he would be ready for this weekend. Who else am I missing? Corey Brown's going to be out for the year and the spring.

REPORTER: Dorian Bell?

COACH TRESSEL: Dorian probably won't make it for this week, but we'd like to think that he'll be back sooner than a week ago. He's not going to be -- it will be close probably for -- after the bye week, yeah.
Very surprised Bryant is still in the hospital. Tressel didn't seem overly concerned, though, so I'm sure he is/will be fine.
Homan being out another week isn't a big deal. Remember, it's Minnesota. With the bye week, he should be healthy and ready to go for the November home stretch.  
Corey Brown's injury is unfortunate. A) Ohio State could use him. B) He's also going to miss spring practice. The secondary is totally depleted. Another injury and they might start trotting walk-ons out there. 
Bell is another guy that will be fine. 
REPORTER: J.B. Shugarts, it seems like he's trying to cut things out as much as he can with his foot. Is this a game where he may not play a full game? Last year you rested Boren in one of the games, is this a potential? Would that help him to have two weeks of rest leading into your final? And the other part of this is what is the push/pull for this, he gets beat in a sack in the game on Saturday, is that potentially because he's not a hundred percent?

COACH TRESSEL: The one time that 94 ran around him, he just had a poor kick slot, just poor technique, got off the ball a little bit late. If you get off late on 94, I don't care if your feet feel good or don't feel good, you're not going to get him. As far as feet, I've said to you before, I don't know if he'll ever have good feet. We were hoping to get 25 plays before it got too inflamed and that kind of thing and we got 39, I think, before it was just -- all of a sudden he couldn't do the job. I thought he did the job pretty well. In fact, I think he graded a winning performance in the ball game.

So, no, we wouldn't go into this game saying we're going to rest anybody. This game obviously has conference implications and everything else. And I think the game Justin might have sat out was New Mexico State, and probably if it was a conference game, you would have wound it up and so forth. But he's hurting. And like you say, he's just trying to fight through it.
The truth here is Shugarts just isn't that good. I agree that Kerrigan (and Watt) are good, but Shugarts has shown he is not the hyped recruit everyone thought he was. Also, if he did grade a winning performance, it further proves how big a joke the grading system is. Remember, Pryor has never had a winning performance. As for the resting part, Shugarts might not have a problem against the Gophers. After all, they won't have any NFL talent coming off the edge. His feet aren't going to get better until the season ends and he won't become a better player by resting. 
REPORTER: Has Andrew Norwell been a pleasant surprise especially coming off such a serious injury? Obviously you like him, you recruited him.

COACH TRESSEL: I don't know about a surprise, because you think you've got a good one, how's he going to adjust, how's he going to be away from home, how much is he going to know about pass protection. High school guys usually are pretty good run blocking because the guys against them aren't quite as big and all that, but he's got very quick feet. He's very instinctive. Got a long way to go, but the experiences he's getting now, we're lucky he's as good as he is, and the experiences he's getting are tremendous, but he's still a freshman playing a very difficult position, but we're happy he's a Buckeye for sure.
I was somewhat critical of Norwell earlier this season, but I will gladly eat my crow. He is progressing well and seems like he'll be an adequate lineman the next few years. He broke his leg during his senior season and was shied away from because of that. The Buckeyes definitely did their homework, though, and made a good decision by sticking with him. With the general ineptness on the line, his versatility will continue to be a boost. Shugarts' problems (feet, bad play) are sure to continue, so look for Norwell to receive a decent amount of playing time in November. 
REPORTER: Terrelle said something after the game about how the starters haven't really gotten to play the whole game very much this year, and I know after Wisconsin, he thought that was one advantage they had on you guys, their guys had gone a full game and you guys hadn't. Is that something that concerns you going forward that you've had a lot of games wrapped up early and haven't gone the distance?

COACH TRESSEL: Our first conference game was Illinois. I'd say we went all the way there. Miami wasn't a short one. We have had a couple, there's no question. I guess you could look at it one of two ways. It could end up being a detriment to you. It could end up if you go a bunch of long games and a bunch of guys get hurt, and, oh, my gosh, it might have been nicer if we didn't have so many plays. Again, you know, who cares? We're playing Minnesota, here's the guys that -- here's what we've done before and here's what the schedule is, here's what the open date is, here's what time they're telling us to play. Now, what you do in that game is going to determine whether or not you're successful.
I really hate this argument. Ohio State losing to Wisconsin had NOTHING to do with the starters not playing the entire game against the likes of Eastern Michigan and OU. Wisconsin was the better team, dominated OSU's DLine and had big special teams plays. That is why they won. This topic wouldn't even be brought up unless OSU lost. And if Ohio State had played a bunch of good opponents before Wisconsin, people would say that was the problem. People get way too caught up in teams' schedules. 
REPORTER: You guys do different things on offense, but at this point in Terrelle's career, what is it that you think he likes best or does best or have you had a day where you said, Terrelle Pryor, you're calling all the plays today, what do you think he would lean toward?

COACH TRESSEL: He's starting to call a few more of them now. He came to us at one point in him game and said, here's the way they're playing this, we've got to throw this and all of a sudden he hits a 19-yard dig route, he had it cold. And all of a sudden he came back and called the next play and I've got, man, we've got all you other guys up there, what do I need you for? But understanding is greater. Are we to point yet where we say, hey, we're just going to give him a formation and you're going to take over? Probably not there yet. Will we ever get there? We'll see. We study things in the pass game by protection because that's what it's all about and which things do you do best in protection and in fact we're right now in the midst of a pretty intense study of ourselves by protection, by quarterback in this case, although we were teasing Terrelle that if you take Big Ten stats original, Terrelle's fourth in the league in passing efficiency and Bauserman's first. So we've had fun with that all week, believe me. Right now, as we look at our various protections, which ones are we executing better, numbers sometimes lie, so the first thing you do is you get the numbers, and then you go back and look at the film and say, did we execute this because of protection, because of the actual design or in spite of the fact, you know, he dodged three people and jumped up in the air and threw a pass and that type of thing, but you know right now, I think the fact that he's been under center a little bit more and done a little more throwing from under center than he did early in his career, I think he's becoming more comfortable in that and that's something we want him to. I think he's comfortable with the five-man protections where he's got to do more Q throws and all that and I think he's also comfortable with the seven-man protections where he knows if they green dog someone, he's going to be protected or if someone has poor technique and they beat us around the corner. So I think comfort level is coming along in all those things. And I think I said on the Big Ten call, someone asked me about Terrelle and where you really have an appreciation of his growth is when you're getting ready for a team, we're getting ready for Minnesota, so you watch him last year against Minnesota and you've been watching him every day now, he's like a different guy. Now, that slant throw that he misfired and was picked, he couldn't sleep for two days, but he knew exactly what he did. Two years ago, you might have that same issue, and you don't even -- you had no idea why because we were just trying to get the ball out of our hand, that type of thing. But we'll just keep grinding away at that. And I don't even remember the question.
There is no doubt Pryor has progressed greatly each season. However, I think his jump from last year to this season has been fairly remarkable. He still isn't an NFL quarterback, but the guy has proven that he can throw the ball. His decision-making is better and he shown great leadership qualities. Tressel's play-calling clearly shows that he has trust in Pryor to run the offense. Ohio State has become a pass heavy team and the only time that has happened during Tressel's tenure at OSU was when he had veteran QB's whom he trusted. Earlier this season, a number of people were surprised at how the offense was being run. It came as no surprise to me. Tressel's history showed you what the play-calling would consist of. 
You can tell that Pryor is better with progressions and reading defenses. Every once in a while, he'll force a throw and get lazy. I'm also not sold on him when the team needs to come from behind or is in close games late. All in all, though, I'm satisfied with his play. 
I'm not saying Terrelle Pryor is the greatest QB ever. All I am saying is he has made great strides. He still isn't Bob Hoying, Joe Germaine or Troy Smith when it comes to throwing the ball. And he isn't Vince Young or even Cam Newton when it comes to being a dual-threat player. What he is is a solid college quarterback who will still continue to improve. 
The "and so forth" count: Five.