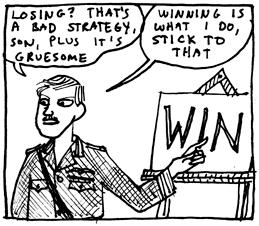 Terrelle Pryor: passing quarterback. Yeah I said it. Our boy number 2 had a career day, going 24/30 and passing for 334 yards as he stayed in the pocket like there were man eating tigers parked outside of the offensive tackles. The defense, which stayed in nickel for most of the day, did an terrific job against a team with a number of passing threats, holding Ben Chappell to all of 106 yards passing and picking him off twice.
Some negatives though, as the running game is more or less nonexistant at this point. Saine seems to have been relegated to a pass catching role, but Boom had a hit or miss day himself despite averaging 5.7 yards a carry. A lot of the blame can be put on the offensive line, but the RBs are missing holes far too frequently.
Still, the good far outweighed the bad; TP's day, the defense looked good, and perhaps best of all, despite all the grief we give him, James "Jim" Tressel posted his 100th win as the head coach of the Ohio State Buckeye football team. We love you, coach (even when we say we don't).
Now let's rock out to some of Ohio's own as we gear up for WISCONSIN WEEK: