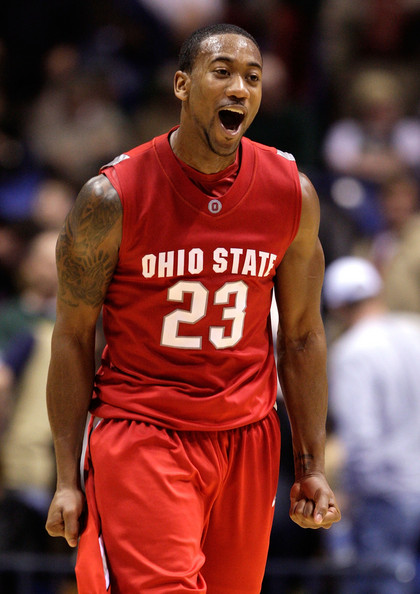 CHICAGO – Speculation and arguments are two things that fuel college sports. But when it comes to which conference is the best this season in college basketball, save your breath. There is no reason to argue because it's a no brainer: the Big Ten.
"This year we're by far the best conference in the country," Minnesota coach Tubby Smith said Thursday afternoon at Big Ten media day in Chicago.
Whether it's the teams at the top or the depth, no other league can match what the Big Ten offers up for the 2010-11 season. Before Robbie Hummel's season-ending injury, the conference boasted three legitimate Final Four contenders. While his injury certainly lessens the buzz, Purdue should still be an NCAA Tournament team. Three Big Ten teams are featured in the preseason coaches' Top 10, five are in the Top 25 with two others receiving votes.
"I've always had tremendous respect for this league," Iowa coach Fran McCaffery said. "But when you look now at three of the top five teams, arguably, and five of maybe the Top 18 and projecting seven teams maybe to go to the tournament, very few leagues that you look at, not only this year, but over the years that have that kind of depth and with that many teams with a legitimate chance to go to the Final Four."
Despite losing do-it-all national player of the year Evan Turner to the NBA, the Ohio State Buckeyes are one of those legitimate Final Four contenders. They enter the season ranked in the Top 5. The main reason is because the Buckeyes return their other four starters from a team that won 29 games and a share of the Big Ten regular season championship before romping to the conference tournament title. Combine that with the six-man recruiting haul Thad Matta brought in and the Buckeyes are poised to make a run at a national title, something that has only been done once in the program's history (1960).
The main target in that recruiting class was Jared "Big Sully" Sullinger. Once again, the Buckeyes have a big man everyone in the country wanted.  There was never much doubt, though, where Sullinger would end up. His brother, J.J., was a Buckeye and he was born and raised in Columbus.
"Jared Sullinger is committed to one thing and one thing only and that is the Ohio State University," Matta said.
Sullinger's versatility and dominance make him the instant go-to-guy in the paint. It will not be a surprise if he started from Day 1.
"I think Jared has been very good to this point," Matta said. "I think the biggest thing was he's really resurrected his body. He's gotten himself in very good shape."
With his ability to affect play on both ends of the court, Matta will have him out there.
Matta added: "For his size, his hands and his feet are very good. He's got a great touch. You know, he can put the ball in the basket from down on the block, finishing around the basket. He steps out, shoots 3s. He can show he can handle the ball. And that's been exciting to see."
That's no knock on senior Dallas Lauderdale. His 6.5 point average and 5 rebounds per game will be key to OSU's success.
"I would come in and do what I need to do," Lauderdale said about coming off the bench this season. "It doesn't matter to me [if I start]. I just want to win games. Whatever I have to do to win games, I'll do."
The past few seasons (especially last year), Ohio State has had a six to seven man rotation. Those days look like they're numbered. The Buckeyes can go nine-deep this season, which will be a boost as the season progresses.
David Lighty, coming off his second foot injury in as many seasons, should be 100 percent all season, barring any unforeseen setbacks. He, Jon Diebler, William Buford and newcomer Aaron Craft are likely to be point guards by committee during the beginning of the season. The point guard position is probably the biggest question mark entering the season. Craft is likely to be the best ball handler, but can he handle the Big Ten? Sure, he was great in high school, but he played at the Division III level. The intensity of the Big Ten is a whole 'nother level.
"He's got a tremendous understanding," Matta said. "He's got a toughness about him. He, as a freshman, appears to have a great feel for where the ball needs to be when it needs to be there. And he shot the ball a lot better than we had seen him coming in out of high school."
Craft's great defensive ability, combined with his offensive acumen, will likely earn him the job, though.
"I've seen everything from him," Lauderdale said. "I've seen him knock down the open shot; he's been able to run the offense. He is very athletic for his size and very intelligent. He doesn't stop playing hard. [Aaron] is a great addition to our team and I'm excited to be able to play with him."
Diebler and Buford are known around the conference, but both have the chance to step into the national spotlight this season. Diebler is one of the best shooters/scorers around and the Buckeyes will need his percentage to rise this season. Many are thinking Buford could have a Tuner-like season this year. While those comparisons are somewhat unfair, he has shown the ability to be a dynamic player.
Along with Sullinger and Craft, fellow freshman DeShaun Thomas (forward), Jordan Sibert (guard) and Lenzelle Smith Jr. (guard) are expected to play significant minutes this season. Rumors are circulating that J.D. Weatherspoon will be redshirted. Thomas, one of the most prolific scorers in Indiana high school history, will provide instant offense off the bench. The lefty is already being called a mix of Ivan Harris and Daequan Cook.
"His work ethic has been great," Matta said regarding Thomas. "I think that as he continues, you know, the one thing DeShaun can do is put the ball in the basket. We've had a couple of scrimmages. I think he's led us in scoring in all of them. The big thing we've got to get him to understand is you have to stop the other guy down at the other end from scoring, too."
Sibert and Smith (out until November with a wrist injury) both posses good guard skills, but will need some polishing. They'll both be looked to, though, once the season gets rolling.
A 20-win season is a high probability with a Big Ten title a definite possibility. OSU is looking at another Top 4 seed when the NCAA Tournament arrives in March. If things fall the right way, a trip to Houston could be in the future. And, no, that would not be a problem.