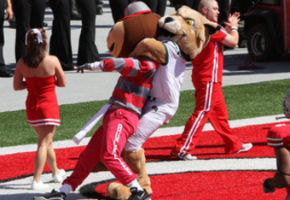 The fact that this week's spread is 44 points and people are actually betting Ohio State is absolutely absurd. How great is it to root for a team that has bettors actually confident that the money they put down on a 6+ touchdown victory will come through? After Purdue Harbor I'm sure many of you weren't sure a day like this would be possible with Terrelle Pryor behind center, but just short of a year later, boy is it great to be a Buckeye. Anyway, on to the important stuff and the Thursday skull session.
People are starting to take note of Mike Adams, including Adam Rittenberg of ESPN's Big Ten Blog. Rittenberg relays a story many of us are now familiar with, about how Adams has overcome injuries and off the field incidents early in his career and has started to show why he was regarded as "The next Orlando Pace" coming out of high school. I'm not sure if Big Mike will ever reach Big O status, but through three games he certanily looks like a future NFL left tackle. Also featured in the Big Ten Blog is Mel Kiper Jr.'s list of NFL Prospects for the 2011 Draft. Cameron Heyward is his 15th overall prospect, Brandon Saine is his 5th ranked senior running back, Ross Homan is his 4th ranked outside linebacker, and Mike Brewster is his 1st ranked non-senior center.
A lot has been written about Rufus's attack on Brutus this week. The good news if you've been keeping tabs on the story is that Brutus is probable for this week. Tressel confirmed the mascot's status at Tuesday's presser after talking to last week's victim at a Block O event Monday night. Good to hear The Senator is looking out for Brutus, even if the players reacted with bewilderment and a feeling of helplessness at the situation developing right in front of them.
It's hard to keep tabs on the recruiting front during the season, but Along The Olentangy has a good breakdown of the recruiting big board. With 17 spots filled in the class, look for the Bucks to add 5-6 more players, but as mentioned, either or both of Duron Carter and Keith Wells could be back in C-bus as well in 2011. One of the prospects on that list, Connor Crowell, took a visit to Happy Valley this past weekend, but rumors are flying around the he is a Buckeye-lean after his visit for the Miami game. Crowell would be a huge get as the Bucks currently don't have a single linebacker prospect in their class of 2011, so look for that story to develop as his announcement date of November 5 approaches.
In other recruiting notes, be grateful OSU didn't sign tight end Dion Sims a few years back. Sims chose Michigan State over the good guys and other top schools, but things haven't exactly worked out for him in East Lansing. Sims was recently charged in a scandal along with members of the "Helly Helly Boys" gang in stealing and selling laptops from the Detroit public school systems. Didn't Dion learn a thing or two from the guys on the UConn hoops team or Jeremiah Masoli?
Finally, we all know Tim Brewster's seat is hotter than the equator, and if you wondering if this might be his last season in the Twin Cities, Minnesota basically removed all doubts by hiring Mark Mangino as a "consultant" to the program. Mangino, the former head coach at Kansas, supposedly has come as a friend of Brewster, but don't be surprised to see the Minnesota athletic department ordering some XXXXXXXXXL coaching polos when bowl season hits.