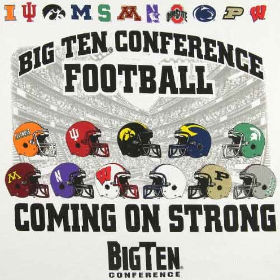 The 2010 regular season has been very enjoyable thus far. The good in the Big Ten has included Ohio State beating Miami, Michigan and Michigan State beating Notre Dame, Wisconsin downing Arizona State, and both Indiana and Northwestern starting off undefeated. The bad features Minnesota losses to South Dakota and Northern Illinois, Iowa going down in Tuscon, Penn State getting beat like a rag doll in Tuscaloosa, and Illinois once again losing to Missouri. 
While all the out of conference play has given us a chance to see who looks good and who doesn't, the only thing that matters the rest of the way is the Big Ten season, which starts this weekend. The winner of the conference is the recipient of an automatic BCS bid, giving anyone a chance to redeem themselves for poor starts (even the 1-3 Fightin' Tim Brewsters). Starting this week the intensity will go up a notch, teams will appear more focused, small injuries will be pushed aside, and fans will finally get to see the true colors of the conference's teams as they march towards the Big Ten crown.
The Buckeyes have won a share of five straight conference titles, and are looking to set a record by going after number six. Things won't be easy this year as a night game at Wisconsin, road game at Iowa, and home games against Penn State and Michigan stand in the way. OSU will be the favorite, though, heading into week five of the season, but it will be interesting to see how things play out and how the contenders sitting right behind the Bucks fair when it matters most. Let's take a look at how Ohio State's Big Ten foes currently stand heading into Big Ten play and draft a forecast on the next eight weeks or so.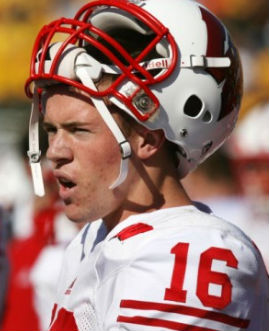 #10 Wisconsin (4-0)
The Badgers are undefeated after beating UNLV, San Jose State, ASU, and Austin Peay thus far. John Clay and freshman James White have set the tone on the ground with a combined 770 yards and 10 TDs, following the lead of what may possibly be the nation's top offensive line. Scott Tolzien has not been that impressive with just 2 TDs against 2 INTs, and his play will really be the determining factor when it comes to Wisky having a shot at the title. The Badgers have a tough opening game at Michigan State, which will tell a lot about both teams. If they can skate past that game, they will have to face OSU and Northwestern at home, and Iowa and Michigan on the road which will all prove as difficult tasks. The Badgers are good, but I see them only winning two of the latter four games and I think they finish 6-2 in the conference and 10-2 overall, possibly sliding into a BCS game.
#18 Iowa (3-1)
Iowa lost a tough game at Arizona a few weeks ago, but rebounded strong, pummeling Ball State 45-0. Ricky Stanzi can show up as Jekyll or Hyde for Kirk Ferentz's team and it seems the special units are a toss-up as well. The one standard is the defense which will be tough all season long and I can't wait to see the first meeting between Mr. Clayborn and Denard. The Hawkeyes have a really tough stretch coming up, as they play Penn State at home, Michigan on the road, Wisconsin at home, and MSU at home. They then take on Northwestern in Evanston two weeks later before playing the Buckeyes at Kinnick the following week. I'm not sure Iowa has what it takes this year as they are down to just one running back and their offensive line has taken a step back from 2009. I will say the Hawkeyes go 6-2 in conference play and finish 9-3 on the season, heading to the Capital One Bowl.
#19 Michigan (4-0)
Is Michigan really back this time? That is the question everyone wants to know. They looked impressive taking down UConn and Notre Dame the first two games, but then again UConn is 2-2 (after a loss to Temple in week 3) and Notre Dame is sitting pretty at 1-3. Their other two wins have come in a close 42-37 victory over FCS UMass and this past week against BGSU. One thing that is for sure is that Denard Robinson is one heck of an athlete and can beat any team in the nation with his legs. His passing numbers have been great, but I for one, don't believe his 10 yard slant passes to wide-open receivers that go for 50-yard catch and runs will fly in the Big Ten. No team in the conference will be able to stop Shoelace, but teams will be able to slow him down and contain him, forcing him to make passes while under pressure. He also may not hold up the entire Big Ten season as he clearly is extremely fragile, having to leave in two games this season. UM will shoot it out with Indiana this week before three straight games against MSU, Iowa, and Penn State. Games against Wisconsin and at OSU to end the season won't help, but expect Michigan to improve upon last year's 1-7 conference record and make their first bowl game since 2007. Meeeeeeeeeeechigan finishes 4-4 in the conference and 8-4 overall, good for a trip to the Outback bowl.
#20 Penn State (3-1)
I don't think Penn State is a good football team this year and I think they have proved they are at least a year, if not two away from seriously contending for the Big Ten title. Rob Bolden has tremendous potential, but the game at Alabama showed he's just not ready for primetime. And what about Evan Royster? Oh yeah, the "Heisman Contender" has just 297 yards and 1 touchdown this season and has not looked like the workhorse Joe Pa will need in a tough Big Ten this year. PSU goes to Iowa next week, before facing a tough three game stretch in late October-early November against Michigan, Northwestern, and OSU, and finally taking on Sparty at home in the final game of the season. Penn State finds a way to go 5-3 in the conference with defense and the running game (supported by Stephfon Green and soon-to-be-stud frosh Silas Redd) and ends up 8-4 in the Alamo Bowl.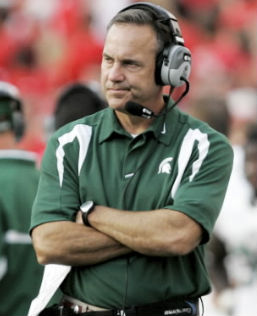 #21 Michigan State (4-0)
Before you get your panties in a bunch about MSU, know that they haven't played anyone noteworthy other than Notre Dame (who is now 1-3), and needed a fake field goal for a score in OT to take them down. The one thing Sparty has going for them is that they don't have to play Ohio State this year, allowing for them to make a legitimate run at the Big Ten crown. The problem though is that the next five games are home against Wisco, at Michigan, home against Illinois, at Northwestern, and at Iowa. They will be lucky to win two of those games in my opinion and their season finale at Penn State is no cupcake either. Michigan State finishes the conference slate at 3-5 and 7-5 on the season. They go bowling, but a disappointing finish to what appears to be an exciting start to the 2010 season.
Northwestern (4-0)
NU is probably not going to win the conference this year, but they are going to pose some serious problems for opponents. Like MSU, the Wildcats fortunately do not have to play the Buckeyes (or Michigan), but games at PSU and Wisconsin and at home against MSU and Iowa pose threats. Dan Persa appears to be the real deal, throwing for over 260 yards per game with 8 touchdowns against just 1 interception so far this season. He will lead NU to a 4-4 conference record and will bring Northwestern to another bowl game at 8-4 on the season.
Indiana (3-0)
Smart move by IU scheduling Towson, WKU, and Akron to start the season 3-0, but the only other "gimme" on their schedule is the October 16 non-conference game at home against Arkansas State. The Hoosier offense can certainly put up a lot of points, but their defense is lousy and will have trouble stopping many improved Big Ten offenses this year. I do think they will give Michigan a game this coming week before falling just short, but the rest of the way will not be pleasant and IU will finish just 1-7 in the conference this year, missing a bowl game at 5-7 overall. 
Illinois (2-1)
Illinois has no "gimmes" the rest of the way in a schedule that includes eight conference games and a trip to Fresno State to end the season. The Fighting Illini open up with OSU, Penn State, and MSU to start the conference slate, and finish with road trips to Ann Arbor and Evanston in two of the last three games. I think Illinois wins one game at best in the conference and loses at Fresno to finish at 3-9 and pretty much finishing Ron Zook's stint in Champaign.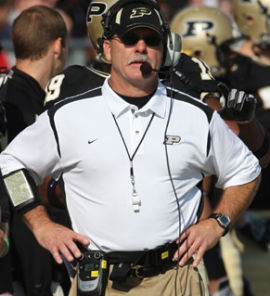 Purdue (2-2)
Purdue looked alright, with their only loss coming to Notre Dame, but then they just went and did something silly, losing to Toledo at home on Saturday. The Boilermakers are such a hot and cold team and could lose or win any game on their Big Ten schedule this year. I can see them going 2-6 or 3-5 in the conference to finish 4-8 or 5-7 overall, not exactly a step forward from last season. A lot will depend on the health of Robert Marve, who has been banged up of late (and missed most of the Toledo game), as well as the play of the defense who, as Buckeye fans know, can be a big difference maker in many games. The schedule difficulty isn't terrible, but I just can't see Purdue getting it done to make a bowl game this year.
Minnesota (1-3)
Ever want to see what it's like for an entire football team to give up on a coach? Take a trip to Minneapolis, where it once looked like an OSU road trip at night to TCF Bank Stadium could be an upset-alert type game. Now Tim Brewster's team is the laugh of the conference, after losing games to South Dakota and Northern Illinois and narrowly beating Middle Tennessee State 24-17. The Gophers did play USC tough, only losing 32-21, but it appears they have just completely folded this season. I can't see Minnesota winning more than one game at best in the conference and an 0-8 season is definitely possible. Think a 1-11 or 2-10 season ends Tim Brewster's run at Minnesota? Want Glenn Mason back Gopher fans? The answer to both of those questions is yes.