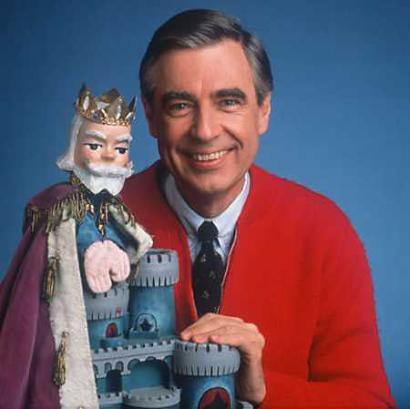 Hello everyone. It's so nice to see you all. Last week I feel that I was somewhat pessimistic in my recap of the Ohio game, and after some serious soul searching I've come to the conclusion that this is not the kind of writer I want to be. Yes, there are some potential concerns in the running game, and yes, our special teams need work. But on the other hand, the offense was dominant. The defense looked incredible. Football, the greatest sport ever devised by man, was being played in one of the greatest stadiums ever built. It was a beautiful day in the neighborhood.
So in the interest of appreciating the great wide world that surrounds us, today I want to share (and have you share) your favorite memory of a game that meant very little in the grand scheme thing of things, or a game that was not perfect but beautiful nonetheless. The Japanese term for this concept is wabi-sabi, and it is reflected in our hearts and minds every time we watch Ohio State destroy a directional college, an in-state school, or Northwestern. There is beauty in imperfection, and I think during the time between our big out of conference game and the start of Big Ten season we should remember that every game is special, just the way it is.
My own personal Best Game Ever takes us back all the way to September 24th, 2005...
In 2005 I was still an undergrad History major at Ohio State, living in Neilwood Gables on north campus in a fairly comfortable room within spitting distance of the stadium. The night before the 24th it had rained, and there was a cool breeze in the air, making conditions perfect for a noon starting time against the Iowa Hawkeyes. I awoke several hours before the game, went to the commons and made a delicious waffle with a Block O emblazoned in the center, and then strode happily along Lane Avenue, watching all the various and sundry items of interest along the way. A dog eating a hot dog. A man trying to hide a bag of weed, poorly. A child happily kicking an empty can of PBR. The smell of gyros mixing with the smell of roasted peanuts mixing with the smell of cigarette smoke. Citizens of all shapes and sizes staggering out of their homes and domiciles, hungover and smelly, but excited for football and thirsty for more beer.
I took my seat in C Deck in the west side of the stadium, and watched an asskicking of epic proportions unfold before me. Iowa was getting absolutely nothing done offensively as AJ Hawk and company were flying everywhere to the ball. Troy Smith, on the other hand, showed flashes of the brilliance that would eventually carry him to a Heisman, slinging the ball to the then little known Anthony Gonzalez 9 times for 60 yards and running for 127 yards himself. Antonio Pittman had an excellent day as well, running over, around, and through Iowa defenders to the tune of 171 yards.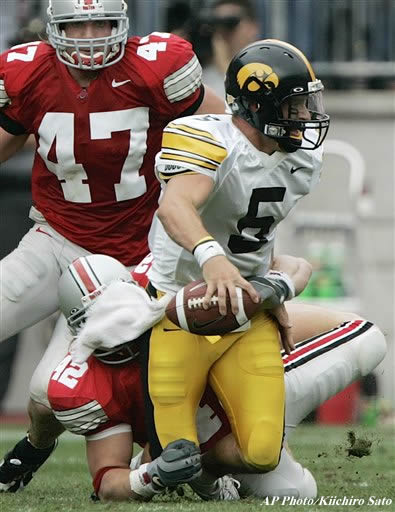 As the first half ended with OSU up 17-0, I hoped that the game would never have to end. I have never been more relaxed watching a football game, knowing that your team, though not ahead by an enormous margin, was incapable of losing. I leaned back on the bench and looked skyward, ignoring my usual fear that a bird might poop on my face, and closed my eyes, thinking that the FDA should somehow package the 2005 Iowa game in pill form.
The second half continued much the same as the first; Drew Tate, the Iowa QB, was sacked and harried constantly while the Buckeye offense continued to prosper. After a final sack by Bobby Carpenter, a decidedly un-zenlike Tate spiked the ball in frustration, drawing both a penalty flag and a collective U MAD from over 100,000 people. The sky, which had started cloudy, began to open up toward the conclusion of the game, bathing Ohio Stadium in a mid-afternoon autumn light. Finally, sadly, the game was over. Ohio State, 31. Iowa, 6. Ohio State had racked up 530 yards of total offense to Iowa's 137. Drew Tate made me laugh. And best of all, it was only 3:30. Plenty more football to go.
And that is why the Iowa game in 2005 was my Best Game Ever. No medals were awarded, no records were broken. It was just a good old fashioned thrashing on a beautiful day.
This Saturday, the Ohio State Buckeyes will play the Eastern Michigan Eagles. The current line is -44, which might be being generous to the Eagles. But the forecast is 72 degrees and sunny. There will be beer. There will be food. And most importantly, there will be football. I can't wait.
So everyone, I will tell you this: you can have fun on a train. You can have fun in a plane. You can have fun in the rain. You can have fun with a friend, you can have fun for just pretend. You can have fun in your house, in your school or at the mall. But football, yes football, is the most fun of all.
Please share in the comments your own Best Game Ever.