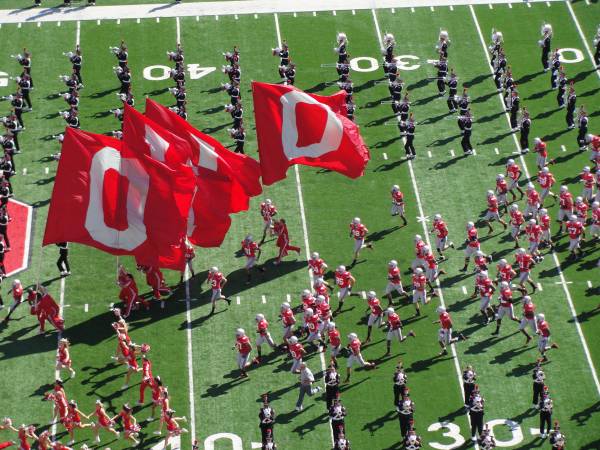 The drive from Athens to Columbus is beautiful this time of year, and if the Ohio Bobcats wanted any chance of making their Saturday afternoon anywhere as pleasant as that drive, they were going to have to play like, well, not the Ohio Bobcats. Unfortunately for them, they ran into a giant scarlet brick wall and the Ohio State Buckeyes coasted easily (maybe too easily) to a 43-7 victory.
The day began on a somewhat odd note as both teams entered the stadium led by four flags reading O H I O, in what some might consider to be somewhat cruel joke at the expense of the red/green colorblind fans in attendance. The second cruel joke on the day was the Bobcat offense, which could get absolutely nothing going in the first half of the football game. Their problems started almost immediately, with QB Phil Bates being intercepted less than a minute into the game by everyone's favorite freight train from hell, Tyler Moeller. The resulting series had some nifty plays, including a great reception by Stoneburner in traffic, but the result was a field goal and a 3-0 Buckeye lead.
Julian Posey, DeVier's older brother, almost ran the kickoff back for a touchdown but a block in the back called it back. It may not have counted but it showed that the coverage still is seemingly made of swiss cheese, which apparently Ohio makes more of than any other state (that's true, I looked it up). 
Still, the Bobcats could do nothing and on the next Buckeye possession the offense put together their best looking drive of the day, going 55 yards in 8 plays. Pryor had a mixed day throwing the ball, but on this drive he made some excellent passes, including one to a triple covered Stoney (who has a go-to move that I call "be taller than everybody else") and a great read on a 9 yard TD pass to Saine. 10-0 Buckeyes.
Another 3 and out by the Bobcats, helped by a 12 tackle for loss by Moeller, was very quickly turned into another OSU TD in a drive where DeVier showed some Ginn-esque skills and turned a 15 yard reception into a 35 yard reception. 17-0 Buckeyes. Not everything was roses, however. Both Devon Torrence and his backup Travis Howard both got hurt, and though Torrence returned, Howard did not. After the game Devon would say that he was fine and just had the wind knocked out of him, and that Howard had some kind of "shoulder thing." In the next OSU drive, the 2nd team made an appearance at the end of the 1st quarter and managed to put across a field goal at the beginning of the 2nd. 20-0 Buckeyes.
On the next Bobcat drive HE ATE ME Hankins made his presence known and caused a fumble, which was recovered by Nate Williams at around 12:30 in the 2nd quarter. 4 plays and 33 yards later and it was 27-0 Ohio State. After another OU turnover, this time in the form of a fumble recovered by Heyward, Pryor ran for 27, found T-Wash (!!) open for 10, and Boom knocked it in with 8:22 to play in the half. 34-0 Buckeyes.
After this I think both myself and the team slipped into a collective coma because I don't remember anything that happened until the end of the half, where Pryor captured the consecutive completions record and then promptly threw a ridiculous interception right before the end of the half.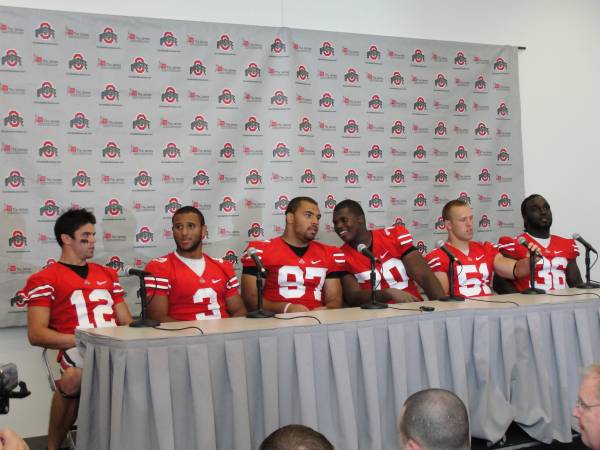 The second half was not a pretty one for either team; Cam managed to notch a safety to make it 36-0, Pryor made another poor decision that led to an INT, and Boom needed 4th down to get it across the goal line to make it 43-0 and finally let Tressel pull the starters for good. In the 4th quarter the Bobcats finally got on the board, spoiling the shutout and making me very angry, both because there would be no shutout and also because my personal prediction was like 42-3 and I would've looked like a genius.
There are a few things to take away from this game, I think. First of all, special teams is still not fixed. A blocked punt and a nearly allowed return TD are serious issues that will come back to bite this team if they aren't fixed by the start of Big Ten season. Secondly, the running game has got to be more consistent. The offense was helped by several short fields and the complete inability of OU to hold on to the ball (more on this in a second), but when OSU wanted to run, they couldn't. In total the offense had 158 rushing yards, but those came on 41 carries for only 3.8 per. I'm starting to believe that this really is a pass first team, but Tressel knows more than anyone that successful teams aren't one dimensional. When your #1 RB is doing 2.3 per carry for his last two games and your #2 is at 4.2, something has to change, be it blocking or playcalling or personnel.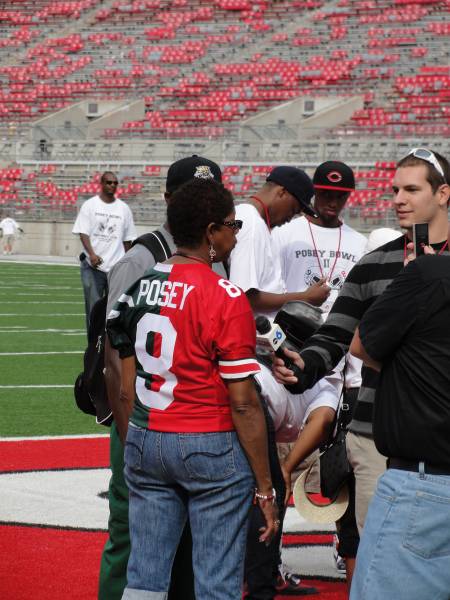 Overall though, the Buckeyes showed again that when the offense is clicking it can be deadly. Despite the gaffes, which he would later say that he was "pissed" about, Terrelle was 22-29 for 235 yards, which is nothing to sneeze at. DeVier, who had 5 receptions for 62 yards, was asked after the game who won the Posey Bowl, and he just grinned and replied "scoreboard." Jake Stoneburner continued to make my prediction that he'd be the third leading receiver on the team look good by hauling in 5 catches for 61  yards, and Dane Sanzenbacher also joined the high five club with 5 catches and 58 yards. It's hard to deny how impressive three different players having 5 catches  for over 50 yards is, but the trick is to keep that going consistently. Also, I would be remiss if I didn't point out that this team has a terrific and insanely opportunistic defense (the team is already at +10 in turnover margin and only allowed 158 yards of total offense, 111 of those in the 2nd half) that should once again be one of the top 5 in the nation. Whatever problems the offense might have, this defense has the ability to shut down anyone and everyone and keep the team in games. Hopefully next week we can see our first shutout of the year against the Eastern Michigan Eagles.