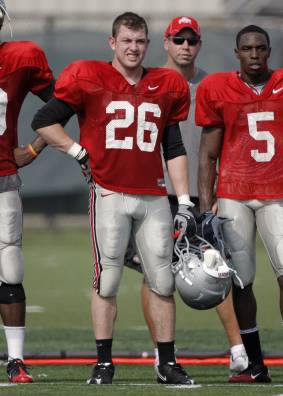 The story has all of the elements that make for good drama: overcoming limitations, success, tragedy, grappling with adversity, vindication, and ultimate triumph. It is the story of a young man from a not-always-Buckeye-friendly town who works his way onto the big OSU stage, only to have the moment crushed in a singular act of malice. Best of all, it is a story of the growth of indomitable determination and progress to the point of excellence, and of the moment when that young man, now more mature for the experience, finds his way back onto the stage and gives a memorable performance. We are currently enjoying the better part of the story in the form of Ohio State "Star" Tyler Moeller.
It was never a certainty that Moeller would have success as a Buckeye, or that he would even be one. As late as early June of 2005, OSU seemed to have little interest in the linebacker/safety prospect from Cincinnati's Colerain High School. At that time, his only offers were from Indiana, Kent, Miami (OH), and a few others. However, he picked up offers from Virginia Tech, Cincinnati and Kentucky after running a 4.52 40-yard dash at the UC camp, which were followed quickly by an offer from Iowa. In early July, there were signs that Ohio State was starting to seriously consider an offer of their own, and shortly afterward Tennessee got into the mix. Finally, OSU made an offer on 7/26, and Moeller accepted on 9/15.
Moeller played linebacker in high school, and that was his preference for college. However, his size (6'1", 205) had most colleges projecting him at safety. But OSU initially placed him with both groups to see where he would fit better. From the beginning, there were questions. No one doubted his hitting ability, and he proved that out with several big hits in his first spring game. But some doubted whether he had the size to take on blockers at LB, or the speed to stay with elite college receivers at safety. The questions were moot in his freshman season, as he took a redshirt.
As a redshirt freshman in 2007, Moeller worked into a few games at LB and played extensively on special teams. He blocked a punt in his first game against Youngstown State, but afterwards his impact was minimal. In 2008, he made a solid contribution at the hybrid "Star" position (a sort of linebacker/safety combo player). In the Illinois game, he made his first start, and turned the heads of many observers, logging 7 tackles and many big hits. As the 2009 season approached, Moeller was penciled in as the starter at LB, and his future appeared to be very bright. But then the unthinkable happened.
Shortly after midnight on July 26, Moeller was visiting Florida for his grandparents' 50th anniversary and had gone out with his uncle and sister to a place called Gator's Cafe & Saloon in Treasure Island, FL. A man named Ralph Gray Decker was also present at the bar and began conversing with Moeller's sister. Afterward, Moeller began speaking to Decker. As the conversation continued, Decker suddenly reared back and punched Moeller on the chin. Moeller fell backward and his head crashed into the floor. Decker was arrested and charged with a misdemeanor. However, Moeller suffered injuries and fluid build-up in the brain, which required surgery. As a result, the charges against Decker were ultimately raised to the felony level. Meanwhile, doctor's told Moeller after surgery that he might never play football again.
Fortunately, the story got better from there. Moeller missed all of 2009, but ultimately was cleared by doctors to play football again, and he made his way slowly back to his previous level of play. Since then, it has been full speed ahead for the now-experienced defender. As OSU coaches went with the "Star" more often, Moeller eased into the role and now seems to embody it. Against Marshall in the 2010 opener, he led the team with 5 solo tackles including a bone-crushing blow to the backside of QB Brian Anderson that caused a fumble. As a result, he was named Big Ten defensive player of the week. He had 4 solos and 2 assists in the big win over Miami, then followed it up with 3 tackles, one tackle for loss, and an interception against Ohio. For the season, Moeller leads the team with 3 1/2 TFL's and 2 forced fumbles, and he is second in tackles with 16. There is no doubt that Moeller is making a big impact on opposing teams.
But even more than that, the mere fact that he is out there, after all of the adversity, is an inspiration for teammates and coaches alike. Moeller's relentless energy, combined with his triumph over long odds and difficult circumstances, seems to lift the team as a whole to greater heights. What will the ending of the story look like? We'll have to wait and see, but if it ends with a crystal football being hoisted high in celebration in Glendale, don't be surprised to see number 26 celebrating more than most. He'll have a lot of reasons to be proud.