One more night is all that separates us from the start of a new season of college football. If you are anything like me, you've been operating with full attention on the game, much to the chagrin of our employers. While our productivity may have lessened, the focus and nervous anticipation has been jammed to full throttle for the better part of a week. Along with this, it's not uncommon to think with a little bit of good fortune, where this team might be in four months time. That, however, would be getting ahead of ourselves so rather than do that, let's ponder a little more deeply about what this team needs to do to accomplish the utlimate goal.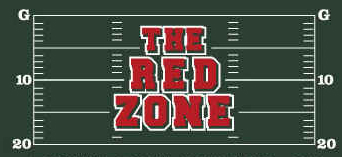 There has been great discussion all summer about our hopes for the team and who we may think will step up and play a vitale role. We all want to see the tight end involved much more and we don't mean as an extra tackle in max protect. Naturally, the offensive line needs to find some solidarity and become a trusted unit. Having the Vest dive a few more chapters into the offensive playbook would also be grounds for rejoicement and seeing Zach Boren used in the passing game would add another layer to the attack. Plus, I'd be remiss if I didn't mention how the return of Tyler Moeller should be felt right away. These are all wrinkles most fans would love to see.
In addition to those useful tactics, what about some other factors that often get overlooked? One important one which is often glossed over would be our offensive red zone efficiency, which ranked as one of the worst in the Big Ten last year. This is even more disappointing coming from a team of our quality regardless of the warts the offense had. Ohio State ranked ninth in the league by converting 79% of the red zone trips into points. Far be it from me to get sabermetrical, but the problem with this calcuation is it essentially awards the same value to field goals as it does with touchdowns. Stripping out the field goals, the team scored 25 touchdowns on 47 trips which works out to be a tick over half the time. Not good, unless you think its acceptable to be hanging around the likes of Indiana, Minnesota and, ahem, Michigan. Couple this with five trips that resulted in no opportunity for points as a result of a turnover or some other calamity, one can pretty quickly see this is an area in need of improvement.
What makes the red zone numbers more important for Ohio State is our style of offense. While the team isn't necessarily as conservative as some think, they definitely have backed themselves into high risk situations as a result of a low risk offense. There's absolutely nothing wrong with this if you convert your red zone opportunities into points. If you don't, hello white knuckles and clock managment. Taking it step further, it's not just points that are important but points by way of touchdowns. Being content with field goals actually can give a morale boost to the opposition because, in their eyes, they just held you out of the endzone...again.
|   | OPP | TDs | TD% |
| --- | --- | --- | --- |
| Wisconsin | 56 | 42 | 75% |
| Ohio State | 47 | 25 | 53% |
We saw this problem in its purest form a few times in the last two seasons. In the first half against Texas in the Fiesta Bowl, the offense was marching up and down the field on the Longhorns but could not convert opportunities to touchdowns. As a result, after chewing up sizable yardage, Ohio State had virtually nothing to show for it on the scoreboard at halftime. A similar occurance happened this past year against USC and Oregon. Against the Trojans, we had to settle on field goals after being inside the five yardline twice. That very well may have been the difference in the game and it was nearly so against Oregon. In a game where Ohio State possessed the ball for a vast majority of playing time, it still was a close game in the last quarter. Four field goals, including one off a 19 play drive, left the door open for the Ducks.
Solving this issue is likely a combination of factors. The staff needs to be a little more aggressive in targeting the endzone much like they did with Posey late in the Rose Bowl. Running backs need to buckle down and fight for first downs and be physical at the point. Execution has to be tighter because the team is operating in a condensed space where the defense can use the boundaries as extra defenders. Lastly, it may be wise to rely on players who have considerable physical advantages like 6'7" wide receiver, Ty Williams. As Darrel Hazel, his position coach, put it recently when talking about his potential:
He is going to be spectacular...he might be one of the best guys ever to come out of here...he is going to be a phenom. I love him.
I'm not suggesting Williams shoulder all the responsibility but if he garners praise like this from his coach and can score a few touchdowns off jump balls, then a redshirt may not be in order.
Improving red zone efficiency from an offensive perspective isn't a guarantee for wins, of course.  Elite teams also need intangibles like leadership which is as important as any statistic in a boxscore. The 2002 team exempfied this as well as any. Howeveer, red zone efficiency is certainly a crtical element to a team's success or, at the very least, how easy the success comes. I'll be watching closely in hopes for definite improvement, higher TD conversions and, with apologies to Devin Barclay, fewer field goals.