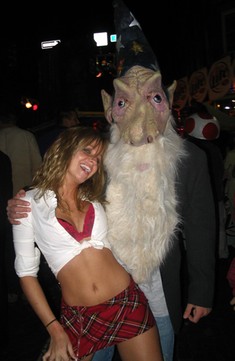 Not too long ago, when Nebraska was suffering through the dark days of Bill Callahan and his newfangled concept of an offense built around the forward pass, it was fashionable to bag on the Cornhuskers for cutting Frank Solich loose. After all, all he'd ever done was average eight wins per seasn, including a three year stretch where he went 33-5. Now that former Buckeye Bo Pelini is in place and restoring the Huskers to their rightful place atop the college football food chain, you can't help but wonder if things didn't ultimately work out for the best for all parties.
Sure Solich took a pay cut (and a shot to the ego) with his move to Athens, but he's now the man instead of the man trying to fill the shoes of the man that came before him, as he was with Nebraska. After 4-7 finish in 2005, his first season with the Bobcats, Solich rebounded to go 9-5 in year two and went on to match that mark last season, when they captured the MAC East for the second time in his tenure -- the only two times since 1968 that Ohio has captured any type of conference crown in the MAC. The Bobcats have gone bowling in two of the last four seasons and Solich's record at Ohio is on the sunny side of .500 (if just temporarily), something almost unheard of down there. Indeed, highly regarded Jim Grobe left Ohio with a 33-33-1 mark in seasons.
It was Solich piloting the Bobcats in their near upset of the Buckeyes in 2008, before a late punt return from Ray Small, called by yours truly, secured the win for the home team. The Bobcats enter the game 0-6 against Ohio State and 0-14 against ranked teams in the last twenty years, but you don't need me to tell you that Jim Tressel's teams like to make games interesting against heavy underdogs from within state. While I believe this squad to be one of Tressel's most talented and don't expect a close game, there is a mountain of empirical data to support otherwise (pardon me for entering the Holtz zone on this one).
Opponent
The Ohio offense, anemic as its been this season, is led by quarterback Boo Jackson (#8), the same guy that tormented the Buckeyes with his feet in the 2008 game after a young Jermale Hines knocked starter Theo Scott out with a bone-rattler. Though he finished just 9/25 with three interceptions on the day, he did pick up 55 yards on seven carries, often eluding the first Buckeye in the backfield.  The JUCO transfer went on to flourish that season in Scott's absence, passing for 2,355 yards and 19 touchdowns, both good enough for top-five status in Ohio's record books.
Jackson was poised to build on those numbers in 2009 but went down with a shoulder injury, requiring surgery and causing him to miss 10 games.  He returned to lead the Bobcats to a win over Wofford in their opener, but struggled in week two against Toledo, tossing three interceptions, and failing to get anything going when Ohio needed it the most, trailing in the fourth quarter. As such, the senior is currently listed as a co-starter with the dubious "OR" on the team's depth chart, despite currently holding school records for career completion percentage (.603) and pass efficiency (135.2). Redshirt junior Phil Bates (#5) will be quick to enter should Jackson struggle early and might present a little bit more of a threat on his feet than Jackson, though neither quarterback has the athleticism to deal real damage to this Buckeye defense.

Solich's Bobcat offenses tend to be balanced with a slight preference towards running the ball, but due to struggles in the passing game this season (Ohio is last in the MAC in pass offense, pass efficiency and total offense), skews a lot more towards ground production.  Jackson will have runs called for him, while senior tailback Vince Davidson (#26) is your feature back. In his first season as a starter, he picked up 70 on 17 attempts against Wofford, but was shutdown by Toledo, picking up just 22 yards on 12 attempts.
With a veteran quarterback and the talented LaVon Brazill (#7) lining up at wideout, it's a surprise that the passing game has struggled so badly. Brazill gets more pub as a punt returner (more on that in a minute), but returns after a 53 catch, 702 yard season in 2009. He didn't do anything in the opener against Wofford, but against Toledo last week, Brazill hauled in six passes. Though not one of the larger receivers OSU will come across, Brazill has excellent top-end speed and is likely the only true homerun threat on Frank Solich's roster.  Lining up on the other side is fellow senior Terrence McCrae (#11). McCrae is 6-4 and used that height in the red zone on the way to tying a school record with nine touchdown receptions last year.
The Ohio offense line replaced two starters this season, including an all-MAC left tackle.  The Bobcats track linemen stats in ways most teams don't and senior right tackle Joe Flading (#78) led the team in "decleaters" last season, while right guard Eric Herman (#77) paced the group of with 45.5 pancakes.  Center Skyler Allen (#65), just a sophomore is grading out as the Bobcat's best lineman through two games this season.  Overall, it's a decent, but not great group, allowing just two sacks per game in 2010.
On the defensive side of the ball, the team reflects Solich hard-nosed mentality. The defense is second nationally in pass defense and 9th in total defense heading into Saturday's game.  Though they've only recorded one sack on the season, the front four is probably the strength of the group, featuring tackle Ernie Hodge (#95), nose guard Marcellis Williamson (#62) and ends Dak Notestine (#51) and Stafford Gatling (#36).  Notestine and Gatling are captains with the former leading the team with 6.5 sacks last season.  The group would have been even stronger had it not lost end Melvin Payne earlier in the summer, when he decided to live life by the Grand Theft Auto Code.
The star of the defense is undoubtedly middle linebacker and captain Noah Keller (#47).  The senior led the MAC with 155 tackles last season, averaging 11.07 per game, good enough for 6th-best nationally and is a candidate for MAC Defensive Player of the Year this season.  Flanking him on the weak side is Grove City product Eric Benjamin (#30).
Safety Gerald Moore (#13), a Sporting News freshman all-American last year on the heels of a 68 tackle and six interception season, and cornerback Julian Posey (#9), older brother of Ohio State wide receiver DeVier, are the key players in the Ohio secondary. Posey is currently leading the MAC with 1.5 pass break-ups per game and had a 28-yard fumble return for a touchdown against Wofford. It's rare that brothers face each other in FBS football, and even rarer when they will line up directly across from each other, but expect Julian to draw DeVier's number all day. Tressel said it best when he mentioned that DeVier would have a "long lifetime" if older brother gets the best of him Saturday.
Almost as a gift from the gods, the Buckeyes will get tested in the area they need the most work with the fine return combo from the Bobcats. Wide receiver Brazill was the only player in FBS to return three punts for touchdowns last season and Posey is averaging a very impressive 25.5 yards per kick return this year. Kicker Matt Weller (#49) earned freshman all-American honors from the Sporting News last season after setting a school record with 21 field goals.
Buckeye Breakdown
Much like Marshall, the team that upended Ohio in the Little Caesar's Pizza Bowl last season, the Bobcats are hopelessly overmatched from a talent perspective, meaning this should be a great game for the Buckeyes to work out some kinks, whether it be in the aforementioned kick coverage game or in the red zone.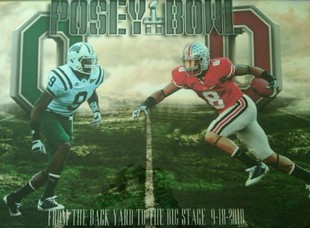 It's important for the team to come out and take command of the game early, build up a nice lead, and get some of the youngsters onto the field. I'm particularly excited to see some of the younger receivers get a chance to shine, with the chance one of them will begin to emerge as Pryor's third receiver, and the second team offensive line figures to get into the game early, perhaps within the first four series.
With Andrew Sweat injured, this is a golden opportunity for Jonathan Newsome to step up and prove he's capable as he figures to draw the first start of his career. We've long been fans of "Double Nickel" around these parts and would love nothing more than to see a huge game out of him. In the secondary, Orhian Johnson will be looking for an opportunity to get back into the flow of the game after coming in to replace the injured C.J. Barnett last weekend. He should have an easier adjustment this week with the dramatic drop in talent and speed the Bobcat offense represents when compared to Miami.
Both the offensive and defensive lines should have their way the fronts of Ohio and that should translate to a rather lopsided result. Always paramount in these games against in-state schools is whether the starters can escape without any type of serious injury. The defense, in particular, is starting to resemble a MASH unit, so getting out of the game without taking another hit would be nice.
Prediction
In the past, the Buckeyes have struggled at times with overmatched schools from in state. The kids from the other team enter the game fired up, with most of them having grown up in Ohio and dreaming of playing for the Buckeyes and that has led to some uncomfortable second halves under Tressel.
With the talent on this squad, we don't see that playing out this Saturday, or any Saturday this fall (looking at you, EMU, next weekend).
Ohio State 38, Ohio 9