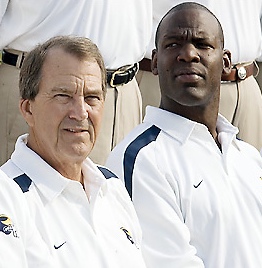 Ron English brings his merry band of stanksters into the Horseshoe as 44ish point underdogs Saturday, and though my inner Holtz is urging me to write "anything can happen on any given Saturday", I just can't bring myself to do it. After taking over as head coach of the Eagles prior to the 2009 season, English has watched his team stumble their way to 15-straight losses, including last week's 52-14 pantsing at the hands of Central Michigan, an outfit fresh off a three point loss to Temple.
Just how bad is this team? The 0-12 2009 campaign included nine losses by double-digits, five of which saw EMU surrender 45 or more points. They did open 2010 on a little better footing, piling up a 285 rushing yards in a 31-27 loss to Army in the opener and then taking a tie into the fourth quarter against Miami in week two before eventually suffering a 28-21 defeat. Jim Tressel was kind in describing the shellacking against Central as a "step backward" last weekend, but we'll be a little more direct: this is a lousy team.
Couple that with English's lack of success against Ohio State as Michigan's defensive backs coach from 2003-05 (OSU: 2-1, 27.7 pts/gm) and defensive coordinator in from 2006-07 (OSU: 2-0, 28.0 pts/gm), and subsequent firing when Rich Rodriguez arrived (so he could hire Greg Robinson?), and the Eagles appear to be in for a rough afternoon.
Regardless, Eastern Michigan will gladly accept their $850,000 appearance fee, the Buckeyes will light up the scoreboard, hopefully working some kinks out, and we as fans, will try to make it through the second half without a) falling asleep, b) demanding to see more of our favorite youngster, or c) both.
Opponent
Eastern Michigan enters ranked in the bottom third in the nation in both passing yards and rushing yards per game. Quarterback Alex Gillett (#8), one of the few signs of life on the offense, has decent, but not great numbers on the year: 34/59 for 350 yards, 4 TDs and 3 INT to go with 39 attempts for 172 yards and one touchdown on the ground. The dual-threat quarterback actually attended OSU's camp when he was younger, so the staff knows a little bit more about him than what they'd normally be able to glean from film. Backup Devontae Payne (#4), a redshirt freshman out of Cleveland South, saw the first meaningful time in his career at EMU last weekend, finishing 13/24 for 134 yards. At 6-6/231, he's a poor man's Pryor and could very easily see plenty of action Saturday if the game gets out of hand early.
On the offensive line, a mix of youth and experience helped pave the way to a 285 yard team rushing performance in the opener against Army. They haven't been able to sustain the attack, led primarily by senior Dwayne Priest (#22), as Central Michigan stuffed the unit for just 72 yards on the ground last week. Priest is a bit of threat catching swings out of the backfield and will likely see his number called more often than usual Saturday as EMU tries to handle Ohio State's front seven.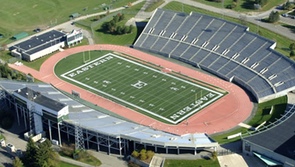 Sophomore wideout Kinsman Thomas (#1) paces his group six receptions for 197 yards (32.8 average, yo) and two touchdowns on the year and has the size (6-2/205) and speed to challenge even the best defenses. Freshman Donald Scott (#17) caught two long balls against CMU and has also rushed four times this year, so look for him to provide wrinkles to the Eastern Michigan offense as they look for ways to get the former AAU All-American in the triple jump the ball. Senior Ben Thayer (#81) and sophomore Kyle DeMaster (#44) will see plenty of action in EMU's two tight end sets. Thayer actually leads EMU in receptions with 10 this season, so look for a lot of quick throws his direction (in addition to dumps to Priest and other backs).
The EMU defense is relatively mature, featuring six seniors and five juniors, but the experience is a bit misleading. Opposing offenses are averaging 414 yards per game, 253 of those on the ground, while converting 54% of their 3rd downs against the Eagles. Further, the group doesn't cause a lot of turnovers, recording just one interception and two fumble recoveries in their first three games.
Junior defensive end Javon Reese (#90) is worth keeping on eye on as he leads the Eagles in sacks (3.5) and TFLs (4), while senior linebacker Neal Howey (#40) currently leads EMU in tackles with 34. In the secondary, Louisville transfer Latarrius Thomas (#2) will do his best to patrol the secondary from the free safety spot and has the size (6-2/210) to deliver hits from the spot.
Sophomore punter Jay Karutz (#37) is currently averaging a shade over 44 yards per attempt, and return guy Corey Welch (#26) is good for 21.5 per kickoff return on the season, but the punt return group ranks 116th out of 119 FBS teams, registering just one punt return for -1 yards in 2010. As with most things EMU in 2010, some bright spots, but mostly spots representing chaos and awfulness.
Buckeye Breakdown
While the Eagles are bad enough to turn a barrage of Terrelle Pryor arm punts into a 40+ point loss, it's important for Ohio State to execute and not play down to the level of their competition. There are only so many football Saturdays each year and teams that want to be great do not waste any of them.
Much of the talk this week has centered on the lack of a running game in Columbus, with the Tressel calling designed runs at the lowest rate of his tenure at Ohio State and Pryor, once again, leading the team in rushing. Brandon Saine suffered what's being called a "turf burn" at practice earlier in the week, but is said to be 100% for Saturday. If he does play, he'll be looking to bounce from a rough couple of weeks that saw him pickup 55 yards on 24 attempts against Miami and Ohio. Boom Herron, the team's third-leading rusher, struggled himself last week, picking up just 27 yards on 9 attempts.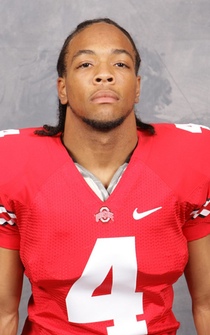 If the Buckeyes can execute early and take control of the game before halftime, we might get to see a healthy dose of both Jordan Hall and Jaamal Berry (currently averaging 5.1 and 9.4 yards per carry, respectively). I suppose in a perfect world, they'd each get ten or more totes because establishing some type of threat back there could be the difference between merely playing for crystal and actually taking it home.
Taurian Washington stepped up last weekend, catching both balls thrown his way, but Corey (Philly) Brown appears to still have the edge to capture the third wideout spot given that Washington didn't even see barely saw the field against the Hurricanes two weeks ago. Like, the rushing situation, getting a dependable third wide receiver would be a luxury, but not a necessity with the emergence of Jake Stoneburner at tight end.
Defensively, the group must continue to do what it's done all season: fly to the football, hit the opponent in the mouth and cause turnovers. Saturday should be a great opportunity to develop additional depth on the defensive front and in the secondary, especially in light of all the injuries suffered back there.
Prediction
Evil Tressel comes out to get revenge on Eastern Michigan for going 4-1 against him at YSU in the mid to late 80s.
Ohio State 50, Eastern Michigan 0